Archidply to Unveil Innovative Building Materials at MATECIA: Redefining Construction Industry Standards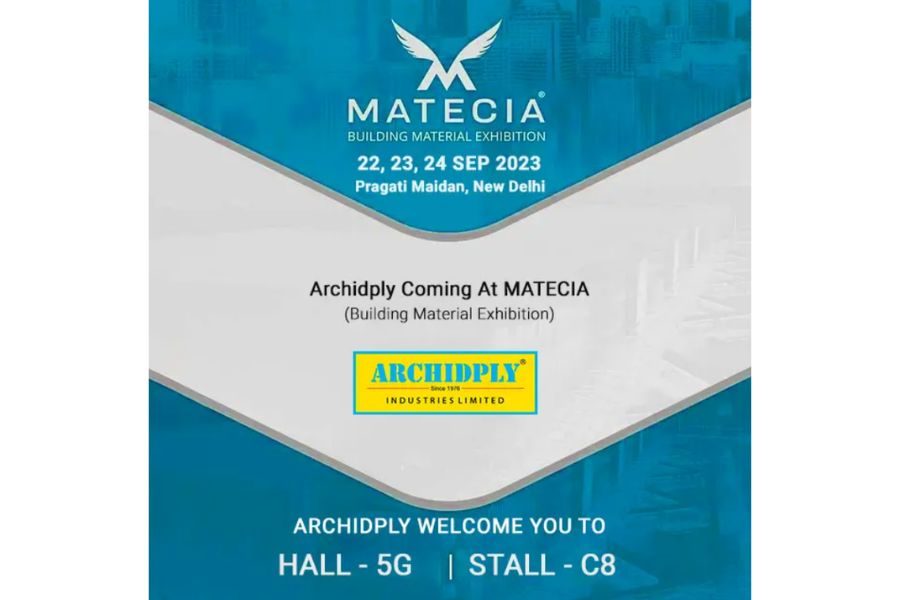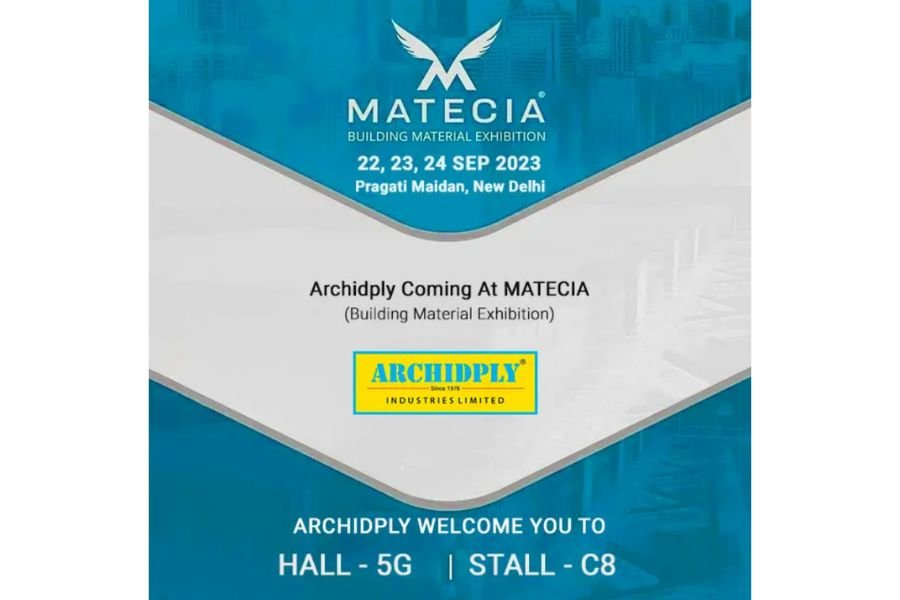 Archidply coming at MATECIA
New Delhi (India), August 1: Archidply, a leading provider of high-quality building materials, is set to significantly impact Matecia, the highly anticipated building material exhibition at Pragati Maidan from September 22nd to 24th. With an impressive showcase of innovative products, Archidply is poised to redefine industry standards and shape the future of the construction sector.
Matecia serves as a pivotal event for professionals, architects, designers, and construction enthusiasts, offering them a platform to explore the latest advancements in building materials. Archidply's participation in this prestigious exhibition highlights their commitment to excellence and their dedication to revolutionising the way we build.
At Matecia, Archidply will present a range of cutting-edge solutions designed to enhance construction projects' efficiency, durability, and aesthetic appeal. The lineup of showcased materials includes Archidply's renowned Medium-Density Fiberboard (MDF) and Extreme Density High Moisture Resistance (EDHMR). These engineered wood products are widely recognised for their exceptional strength, stability, and versatility, opening up endless creative possibilities for furniture manufacturing and interior design applications.
In addition, Archidply will unveil their revolutionary Prelaminated MDF, an innovative solution that eliminates the need for time-consuming and costly post-lamination processes. With an extensive range of pre laminated designs, colours, and textures, Archidply empowers professionals to achieve stunning finishes effortlessly, enabling them to bring their visions to life with unparalleled ease.
Visitors to Matecia will also have the opportunity to explore Archidply's collection of High-Pressure Laminates (HPL). These laminates, known for their outstanding durability, resistance to wear and tear, and captivating aesthetic appeal, strike the perfect balance between style and functionality. Architects and designers will appreciate the versatility and long-lasting beauty that Archidply's HPL brings to residential, commercial, and hospitality projects.
Moreover, Archidply will exhibit its high-quality Plywood, a trusted and indispensable material in the construction industry. With superior strength, stability, and dimensional accuracy, Archidply's plywood exemplifies the company's unwavering commitment to providing top-notch solutions that meet the highest standards of quality and reliability.
"We are thrilled to be a part of Matecia, an esteemed platform that unites industry professionals and showcases the latest trends in building materials" said Mr. Rajiv Daga, Managing Director of Archidply. "Archidply has always been at the forefront of driving advancements in the construction industry, and our participation in this exhibition demonstrates our commitment to introducing cutting-edge solutions that will redefine industry standards. We invite all professionals, architects, and industry stakeholders to visit our booth and experience the future of construction materials firsthand."
Matecia not only offers an unparalleled opportunity to explore Archidply's groundbreaking solutions but also serves as a catalyst for industry professionals to gain insights into the evolving trends and advancements that will shape the way we build in the years to come.
To learn more about Archidply and its extensive range of products, please visit its official website at https://www.archidply.com/. 
If you have any objection to this press release content, kindly contact pr.error.rectification[at]gmail.com to notify us. We will respond and rectify the situation in the next 24 hours.