From Bazaars to Bytes: Tileswale Redefines Ceramic Shopping in the Digital Age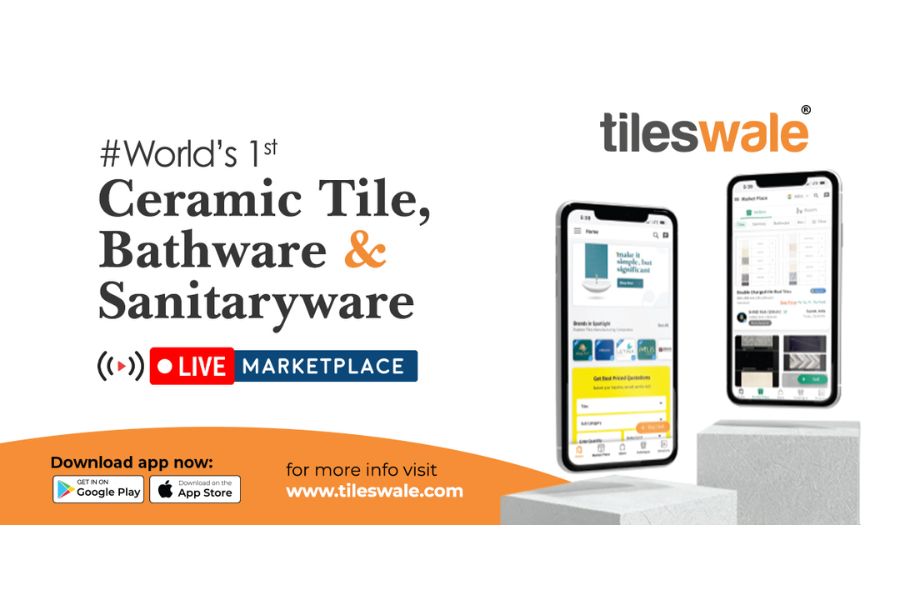 Tileswale Redefines Ceramic Shopping in the Digital Age
New Delhi (India), July 11: In an era where every industry is embracing the digital wave, Tileswale emerges as the true trendsetter, breaking barriers and redefining the world of ceramics! From the appealing passages of traditional bazaars to the palm of your hand, Tileswale transforms your tile shopping experience into a delightful digital center!
Swipe, Click, & Adore!
Bid farewell to the era of aimless wandering through busy marketplaces in search of the ideal ceramic marvels. Embrace the dawn of a new age with Tileswale, the innovative global hub where ceramic tiles, bathware, and sanitaryware bond in a vibrant, live marketplace! Transport yourself to an extraordinary territory where every click unfolds a realm of breathtaking ceramics offered precisely for your eagle-eyed consideration. Step into a realm of attraction and unlock a universe of exquisite craftsmanship at your fingertips!
Experience the Unmatched Magic
Tileswale has transformed the world of ceramics, taking you on a fascinating journey where ceramic tiles speak of artistry and bathware projects relaxing vibes. With a touch of enchantment and the proud beautification of the StartupIndia badge, Tileswale is your definitive digital shelter, seamlessly blending magic and technology in a one-stop destination.
Empowering Dreams, Boosting MSMEs
At Tileswale, they have been able to exceed the conventional boundaries of a mere marketplace; they are the architects of aspirations! Lighting the path for MSME players in the ceramic realm, they fuel commercial enthusiasm, empowering them to flourish through optimized supply chains. Their unrivaled platform empowers these visionaries to channel their energy into crafting extraordinary collections while they neatly handle the rest of the journey!
Infinite Options, Global Reach
Stuffed with over 14,500 exquisite product variations and spanning 62 countries, Tileswale's vibrant global presence calls for those with an eye for superiority. Join over 1.5 lakh discerning users who revel in the absolute collection that Tileswale offers. Discover the perfect match for your vision as you dig into the vast collection of 2500+ trendy catalogs, precisely crafted to ignite your creative instincts and unlock endless possibilities.
Your Aesthetics, Their Visualizer
The transformative power of Tileswale's state-of-the-art Visualizer is fueled by the brilliance of artificial intelligence. Immerse yourself in a world where dreams surpass reality as you curate your ideal space from a vast array of tile options. Picture your vision coming to life, capturing the essence of artistic bliss while your creativity flourishes within Tileswale's captivating live marketplace.
Expanding Tileswale Ecosystem
Sellers can further expand through the limitless possibilities that Tileswale has in store for their business! They provide an exclusive platform to elevate the brand with a complimentary business profile setup, igniting a spark of growth and prosperity. They bring to the table an extraordinary opportunity to expand business horizons and unlock the power of global exposure. As part of the Tileswale family, small business owners can relax because of the extent and possibilities of international connections, establishing bonds with buyers hailing from over 62 countries worldwide.
Innovation Fueled by Passion
Burning the flames of this groundbreaking marketplace is an extraordinary group of individuals propelled by an unwavering dedication to everlasting progression. Within the realm of Tileswale, they hold dear the insights presented to them by each and every participant and stakeholder, for it is through this helpful feedback that limitless innovation finds its rich ground to flourish.
The Future Beckons
Setting sail on an awe-inspiring journey towards establishing worldwide authority, Tileswale unfolds its grand vision to defeat the tough challenges that the ceramic industry poses. With a steady commitment to aligning with the United Nations' 9th Goal of Sustainable Development, Tileswale has resolved to guide in a future where innovation and infrastructure dance harmoniously. Fueling its motivated ambitions, Tileswale has firmly set its gaze upon a remarkable 50-fold increase in revenue by the year 2025. Without being troubled by obstacles, they navigate the complex waters of profitability, tirelessly striving to cultivate a realm where brilliance and sturdy foundations interlock effortlessly.
Discover Your Ceramic Haven Today!
Discover a digital solution of elegance where chic ceramics and appealing bathware await you! Engage yourself in the delightful magic of Tileswale's exciting live marketplace, where art, technology, and dreams unite in perfect harmony. Say goodbyes to the ordinary and open your arms to the extraordinary! Take the dive into a world of endless possibilities at Tileswale.com and board on a journey of a makeover like no other.
About Tileswale:
Tileswale stands proudly as the innovator, visionary, and pioneer of a realm where ceramic tiles, bathware, and sanitaryware find their extraordinary digital home. Step into a world where innovation unites with passion, where seamless connections between global buyers and sellers bring forward a captivating marketplace like no other. Tileswale's mission? Nothing short of revolutionizing an entire industry, fueling the dreams of MSME players, and conjuring an energetic ecosystem that honors the creativity and appeal of ceramics. Prepare to be captivated as Tileswale transports you into a realm where boundaries are shattered, and the extraordinary becomes the new standard.
The Tileswale app is available on Google Play Store as well as the IoS App Store
For more information, please visit – https://tileswale.com/
If you have any objection to this press release content, kindly contact pr.error.rectification[at]gmail.com to notify us. We will respond and rectify the situation in the next 24 hours.