Igus India more than doubles revenue in 2 years and invests to accelerate growth further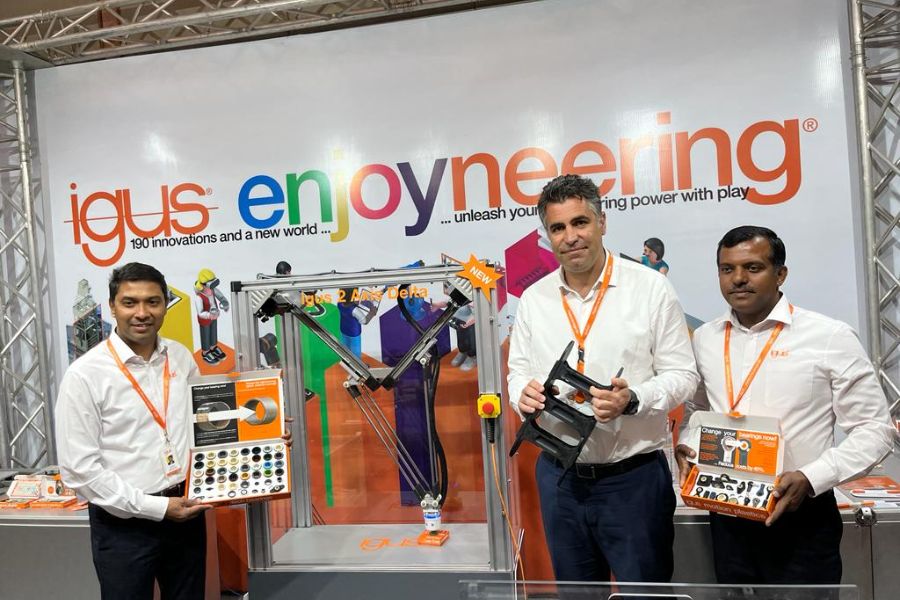 Igus India currently is the 6th largest among 38 subsidiaries, and the company's growth plans in the country have gained further momentum after doubling its growth in the market in the last two years.
Plans to invest 100 crores (12 Million euros) in setting up a new four-acre, 84,000 sq ft integrated campus in Bangalore. Also Rolls out global programme "Enjoyneering" in India, advocating fun with innovation
Bengaluru (Karnataka) [India], June 6: Igus, a world leader in motion plastics, today announced the setup of a new facility at Bengaluru in India and further strengthen and grow its successful operations in the country for over two decades since it was established as a subsidiary in 2000. Igus India, a wholly owned subsidiary of the German motion plastics company igus GmbH, announced at a press conference held in Bengaluru today that the company plans to invest INR 100 crore to enlarge the availability of items and establish value-adding processes at its new plant. Igus India has taken up a new four-acre facility near Budigere in Bengaluru. Igus' new facility will be spread over 84,000 sq feet with world-class equipment and infrastructure in motion plastic production. Igus has already invested around INR 15 crore in the first phase of construction of the facility, which is expected to be operational in the coming months.
Igus India currently is the 6th largest among 38 subsidiaries, and the company's growth plans in the country have gained further momentum after doubling its growth in the market in the last two years. Igus India revenues have grown from INR 118 crores in 2020-21 (during the pandemic) to INR 199 crores in 2021-22 and to INR 284 crores in 2022-23. Igus India forecasts to sustain and further accelerate growth with additional investments to strengthen its operations.
Igus India's growth plans are coupled with a continued quest for innovation within the space that Igus is globally recognized. The company launched 190 new products in 2023 for the Indian market and several digital services and solutions under its global program, "Enjoyneering", advocating fun with innovation in engineering. "Enjoyneering" aims to make the job of engineers fun, helping them unleash their engineering power with innovation for better productivity and success at work.
Elaborating on the growth plans for India, Deepak Paul, Managing Director, igus (India), said: "Our continued investments in our manufacturing capabilities in India reiterate our commitment to deliver cutting-edge products and solutions to customers here and globally. Igus has a global focus on cost-sensitive and sustainable solutions designed to meet customer demands, in line with our motto 'Tech up, cost down', which is also the Indian approach to technology and innovation, a key factor that has led to our significant growth in the country. With the economy looking buoyant and with our continued commitment to invest in growth, we are looking to further double our current revenues in a shorter span of the next 3-4 years."
Santhosh Jacob, Country Manager and Director of Igus India added, "Technology and innovation have always been Igus's cornerstone and prime focus. Along with the 190 new innovations, we have launched the iguverse, an igus metaverse and an efficient, user-friendly platform that empowers sales and engineering with virtual reality. This enables companies to save time, money, and resources in product development, optimization, and maintenance and virtually simplifies engineering. The digital twin in iguverse can also be used for training. Our aim is to develop new solutions for smaller companies with limited budgets and easy applications."
Talking about Igus' focus on sustainability and commitment to the environment, Stephen Moreno Simpson, International Group Development, Igus GmbH, said, "Igus has been concerned about the environmental impact of plastic and is committed to the concept of recycling to ensure sustainability. Keeping this in mind, we have initiated 'Change', a recycling program wherein customers can send their discarded energy chains to igus for recycling, irrespective of the company they purchased from, and this will be recycled responsibly. In a path-breaking initiative, the igus-bike is the world's first robust and durable fully-designed bicycle using recycled plastic. The bike uses plastic rim brakes, ensuring maximum safety, and is compatible with the common V-Break brake pads."
For more information, please visit https://www.igus.in/
If you have any objection to this press release content, kindly contact pr.error.rectification[at]gmail.com to notify us. We will respond and rectify the situation in the next 24 hours.