"Ponder Awhile: Message From The Light" – A Journey of Spiritual Enlightenment by Mohit K. Misra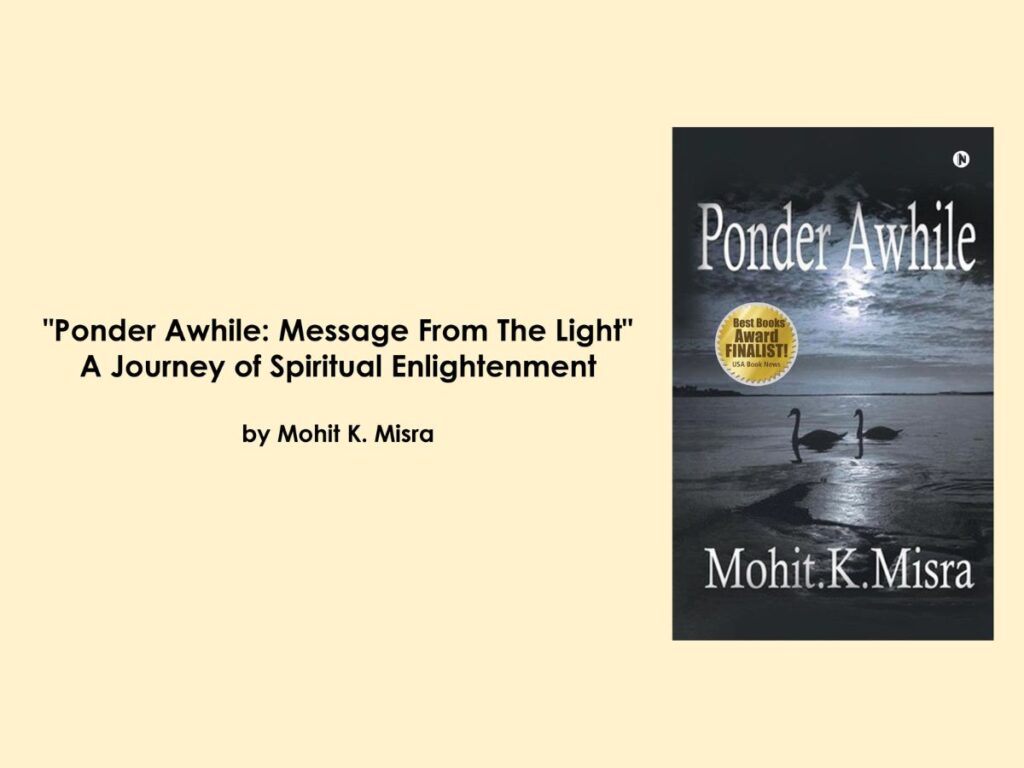 New Delhi (India), August 25: An extraordinary journey from the depths of disbelief to the heights of spiritual illumination comes to life in "Ponder Awhile: Message From The Light," a transcendent poetry collection by the remarkable Mohit K. Misra. Emerging from a background that juxtaposes religious diversity, Mohit K. Misra's poetic odyssey has earned him prestigious accolades and a profound connection with readers around the world.
Mohit's early life is a tapestry woven from diverse threads. Born into a family with deeply rooted religious backgrounds, including a Parsi priest grandfather and Hindu Brahmin lineage, he ventured into uncharted waters as a sailor. One fateful day, amidst the vast expanse of the Atlantic Ocean, divinity struck him like a bolt of lightning. This encounter ignited his passion for poetry, leading to a decade-long journey to craft and refine his magnum opus.
The accolades that have adorned Mohit. K. Misra's literary path stands as a testament to his poetic brilliance. His poetry collection "Ponder Awhile: Message From The Light" garnered numerous awards, including the "USA Book News" Spirituality-General Finalist Award in 2009 and the "eBook Mall" Top 100 Customer Recommended Religion and Spirituality Award in the same year. Further recognition followed as the collection achieved the top rank in Religious and Spiritual eBooks on "Franklin" in 2010 and 2011, and earned the prestigious title of Best Book Buys in Poetry Books in 2011. The subsequent years of 2012 and 2013 witnessed its inclusion in the Top 10 rankings for Poetry, Body, Mind and Spirit, and Philosophy – Religious Books.
In the mystical pages of "Ponder Awhile," readers embark on a poetic pilgrimage that transcends the boundaries of language. Mohit's verses delve into the profound realms of human emotions, the enigma of existence, and the journey towards spiritual awakening. Each poem is a gem, meticulously polished to reflect the kaleidoscope of emotions inherent in the human experience.
The collection resonates with the interplay between light and darkness, employing light as a metaphor for spiritual enlightenment. Mohit K. Misra adeptly weaves this theme throughout the collection, urging readers to embrace their inner light and navigate life's complexities with truth and transcendence. The vivid imagery he employs, drawn from nature's splendor, paints a vivid tapestry that elevates the ordinary to the extraordinary.
"Ponder Awhile: Message From The Light" holds a unique universal appeal, encapsulating profound spiritual insights in accessible language. This collection invites readers to mirror their own thoughts, emotions, and aspirations in its verses, making it a transformative experience that resonates across diverse backgrounds.
Mohit's poetic craftsmanship shines through in his masterful manipulation of rhythm and meter. His words flow like a symphony, creating a harmonious melody that resonates deeply within the reader. With metaphors and similes that infuse the poems with depth and symbolism, Mohit brings readers into a world of profound contemplation and reflection.
While rooted in spiritual awakening, "Ponder Awhile" also explores the intricacies of the human experience, touching on themes of love, loss, hope, and resilience. The collection seamlessly weaves the celestial with the terrestrial, creating an uplifting journey that speaks to the core of the human soul.
Each poem in "Ponder Awhile" possesses the power to console, inspire, and heal. Mohit's verses provide solace, hope, and encouragement to those navigating the complexities of life. They serve as a reminder of the deeper dimensions of existence, inviting readers to pause and engage in introspection.
Adding a unique layer to his journey, it is worth noting that it took Mohit 11 years to be truly satisfied with the creation of "Ponder Awhile: Message From The Light." During this period, he lived in a temple dedicated to Shirdi Sai Baba for 2 years, seeking inspiration and clarity to bring his vision to fruition.
"Ponder Awhile: Message From The Light" stands as a timeless treasure trove of wisdom and emotion. Mohit K. Misra's extraordinary ability to capture the essence of the human spirit through poetry is evident in every line. This collection is an indelible mark on the journey of self-discovery and enlightenment, leaving an enduring impact on generations to come.
About the Author:
Mohit K. Misra is a poet and author whose extraordinary journey from atheism to spiritual enlightenment has resonated with readers worldwide. His collection, "Ponder Awhile: Message From The Light," is a testament to his poetic prowess and his ability to capture the depth of human emotions and spiritual exploration. Mohit's words have earned him numerous awards and a place in the hearts of readers seeking solace and inspiration.
Book Link: https://www.amazon.in/dp/B08Z85RT51
If you have any objection to this press release content, kindly contact pr.error.rectification@gmail.com to notify us. We will respond and rectify the situation in the next 24 hours.