thrillets: Nourishing the World with Nutrient-Rich Millet Delights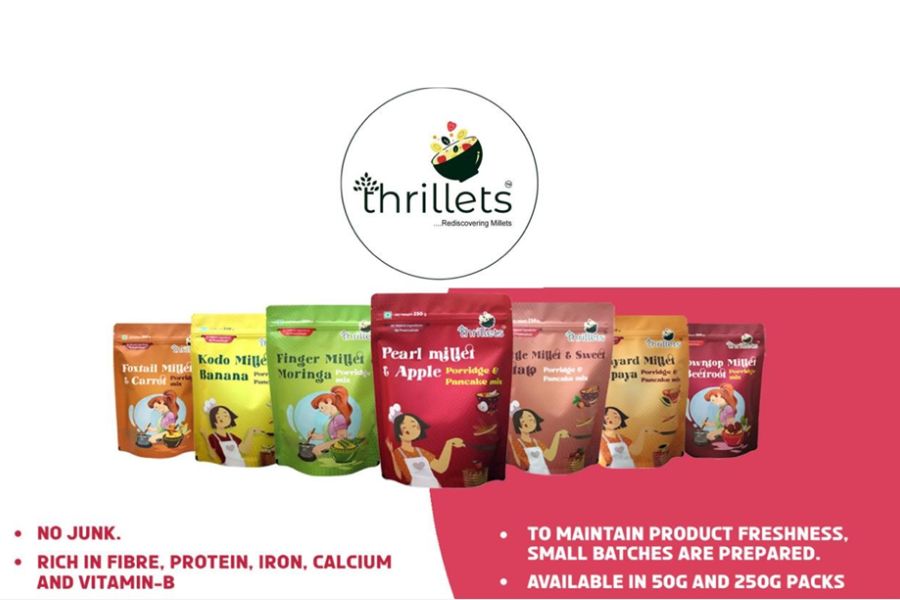 In a world where fast food is often more important than healthy food, thrillets stands out as a place that cares about health and the environment.
A Wholesome Source: Millets Straight from the Heartlands
One thing that makes thrillets stand out is that it gets its millets straight from farms in Telangana, Karnataka, and Maharashtra. By working closely with these farmers, the brand ensures that its millets are of the best quality and helps local farmers.
This method not only helps Indian farmers but also makes sure that its goods are made with the freshest and most sustainable ingredients.
Nature's Bounty: Organic and Natural Ingredients
In a world full of processed foods with many added chemicals, thrillets only use natural and organic ingredients. Every taste of their millet porridge and pancake mixes shows how much they care about cleanliness and health.
thrillets' goods are free of Maida, sugar, and preservatives, so health-conscious people can enjoy them without feeling guilty.
A Millet Marvel: The Nutritional Powerhouse
Millet, often called the "smart food" of the future, has excellent health benefits. Millets are good for your health because they contain fiber, vitamins, and minerals like iron, calcium, and magnesium.
Also, they don't have gluten, so people with celiac disease or gluten intolerance can eat them. Millets are a key ingredient for thrillets, meaning their goods taste great and help you live a healthy life.
Environmental Stewardship: A Sustainable Approach
Millets are fantastic foods because they suit your health and the environment. It is why thrillets promotes growing methods that are good for the environment. Millets need less water than other grains, so they grow well in places where water is scarce.
Also, their low need for fertilizers and pesticides makes farmland less environmentally harmful. By buying thrillets, people make a better choice for themselves and support farming methods that are good for the environment.
The Dynamic Duo: Vishal and Mounika
The owners of the thrillets, Sai Vishal and Mounika, are very smart and creative. They bring a unique mix of skills to the brand because they went to different schools and have lived in other countries. Vishal has a Master's in Biotechnology and an MBA from the UK. He has worked in the UK research organizations for over a decade.
Mounika has also worked in the UK. She has a Bachelor's degree in Pharmacy and has worked there. They made thrillets because they were both interested in healthy living and knew much about nutrition. thrillets is a brand that meets customers' needs and promotes sustainable agriculture.
Millets: A Global Resurgence
The United Nations has made 2023 the International Year of Millets to bring attention to how important millets are. This award shows millets' importance to food security and healthy agriculture worldwide.
This global effort fits perfectly with thrillets' goal: to raise awareness about millets and help farmers make more money by farming in ways that are good for the environment.
From Grain to thrillets: The Craftsmanship
thrillets cares about quality every step of the way it makes its products. Every step, from washing and soaking the grains to roasting them in clay pans, is done carefully to ensure they are as healthy and tasty as possible. It ensures that thrillets' goods are delicious and healthy, making them a great choice for people of all ages.
A Vision for the Future: Millets Everywhere
The goal of thrillets is clear: to give every customer high-quality, healthy food. Their goal is even bigger: to teach people about millet in every part of the world. By doing this, they hope to raise farmers' incomes and encourage farming methods that are good for the earth and last for a long time.
thrillets is not just a brand; it's a movement toward a better, more sustainable future for everyone.
In a world where making healthy choices is becoming increasingly important, thrillets are a light of hope. thrillets is working to change the way we eat, one healthy bite at a time, by focusing on quality, sustainability, and promoting millets.
To experience the goodness of millets and support sustainable agriculture, visit www.mythrillets.com and embark on a journey of flavor, health, and well-being with thrillers.
If you have any objection to this press release content, kindly contact pr.error.rectification[at]gmail.com to notify us. We will respond and rectify the situation in the next 24 hours.