BYJU'S Employees Celebrated Youth Skills Day by Organising a Rubik's Cube Workshop for MCN Higher Secondary School Students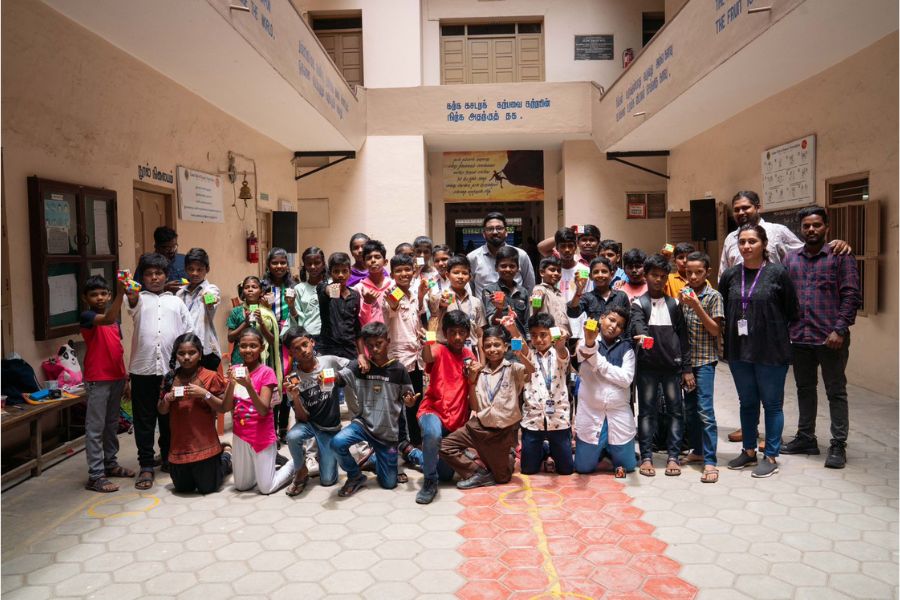 ●       The Rubik's Cube Workshop at MCN Higher Secondary School, organised by BYJU'S, brought together education and entertainment dynamically. 
●       Through this collaboration, both organisations demonstrated their commitment to promoting skill development and critical thinking among the youth.
Chennai (Tamil Nadu) [India], July 29: BYJU'S, the world's leading Ed-Tech company, celebrated Youth Skills Day by organising a dynamic Rubik's Cube Workshop for the students of MCN Higher Secondary School. The event aimed to promote skill development, critical thinking, and problem-solving abilities among the students, providing them with a hands-on learning experience.
As a part of BYJU'S EFA initiative and to recognise the importance of skill development and critical thinking, the BYJU'S volunteers collaborated and conducted this exciting workshop. With a dedicated Rubik's Cube instructor leading the workshop, the students were introduced to the intriguing world of Rubik's Cube.
The instructor shared various tricks and tips, guiding the students on how to solve the Rubik's Cube using efficient strategies. Through this interactive and engaging session, the students developed their logical reasoning skills and enhanced their ability to strategise effectively.
The Rubik's Cube has gained worldwide popularity as an educational tool. It offers numerous benefits for children, making it an essential learning aid in today's education landscape.
One of the primary benefits of the Rubik's Cube is its ability to enhance critical thinking skills. By attempting to solve the cube, students are exposed to complex problem-solving scenarios that require them to think analytically and strategically. This helps them develop logical reasoning and decision-making abilities, which are valuable skills applicable in various academic and real-life situations.
Furthermore, the Rubik's Cube serves as an effective tool for promoting spatial awareness and hand-eye coordination. Manipulating the cube's colourful facets involves precise movements and visual tracking, thereby strengthening children's motor skills and spatial cognition. This physical engagement with the cube fosters a greater understanding of geometry and spatial relationships.
In addition, the Rubik's Cube promotes perseverance and resilience. Solving the cube requires patience and the willingness to experiment, encouraging students to persevere through challenges and setbacks. This cultivates a growth mindset, teaching children that they can overcome obstacles and achieve success with determination and effort.
The Rubik's Cube Workshop at MCN Higher Secondary School successfully brought together education and entertainment, leaving a lasting impact on the participating students. BYJU'S and MCN Higher Secondary School's collaboration demonstrated the organisations' shared commitment to promoting skill development and critical thinking among the youth, preparing them to thrive in an increasingly complex and competitive world.
Sharing their thoughts on the event, Manoj. B
Horizontal Manager( Tamilnadu & Kerala) – JEE
"We believe that providing students with opportunities to engage with educational tools like the Rubik's Cube is essential for their holistic development. It not only enhances their cognitive abilities but also instils valuable life skills such as perseverance and problem-solving. We are delighted to collaborate with MCN Higher Secondary School to promote skill development among the youth on this special occasion of Youth Skills Day."
Abishek Upadhyay- Lead Manager"The Rubik's Cube workshop aligns perfectly with our vision, as it equips our students with the necessary skills to excel in the modern world. I am grateful to be a part of BYJU'S where we are committed to empowering the youth through innovative and interactive educational initiatives."
If you have any objection to this press release content, kindly contact pr.error.rectification[at]gmail.com to notify us. We will respond and rectify the situation in the next 24 hours.