Azadi – A Must Watch musical short film for every Indian by Siddharth Kasyap .!
Celebrating the 75th Independence and continuing the Amrit Mahotsav, an outstanding tribute video that summarizes the essence of true freedom is out.
Launched at the hands of Union Minister Nitin Gadkari, the song had its screening in Mumbai too. Conceived and composed by Siddharth Kasyap, sung by Mohit Chauhan, lyrics by Shakeel Azmi and directed by Anshul Vijayvargiya; this musical short film made the audiences cry not once but twice. Speaking about it, Siddharth Kasyap said that he is humbled to receive this kind of reaction to the song. When they started little did they know that the musical short film would be loved so much. The team had worked day and night on this and it is a tribute to our country and the real heroes of the nation. Being a composer, he had to ensure that he imbibes the vibes of time travel. Right from 1857 to 1947 the entire journey was to be felt through powerful music and emotions. Apart from that he wanted to create awareness among the youth about the supreme sacrifices made by our freedom fighters through our song.
Each one in the audience at the screening was seen with moist eyes after watching this heartfelt tribute to our freedom fighters. To this noted singer Mohit Chauhan added that he has sung many songs in his 25 years span of musical career but this one holds a very special place in his heart. It's a must watch for every citizen of this nation. This current generation greatly needed exposure to songs like AZADI and he is thankful to Siddharth for making him a part of this project. It was a difficult yet thrilling experience as the song was about making all those historic movements emotionally alive. The ups and downs going parallel with time travel was indeed challenging.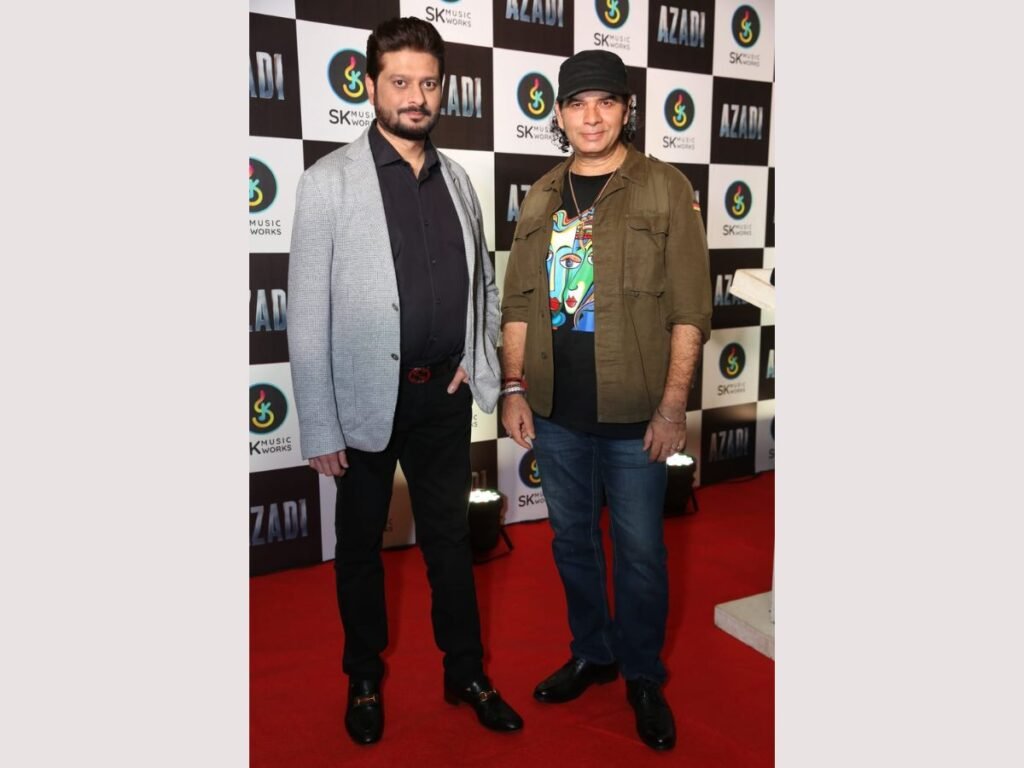 Lyricist Shakeel Azmi said that the song is different in many aspects and was difficult to write as it had emotions of known and unknown heroes without mentioning their names. The song salutes the sacrifices of all those who tolerated harassment of Britishers for the sole aim of seeing an independent India. This song underlines the importance of hard-earned independence for today's youth. Thus the hook line of the song is 'Badi Mehangi hai ye Azadi'.
Azadi gave him an opportunity to convey his thoughts on the predicament that teens, young adults and adults face today. As a writer and director, Anshul Vijayvargiya was grateful to be able to make this short film without diluting his thoughts. Real instances of history with VFX effects are made alive on screen supported by powerful lyrics and vocals. Moreover, the video complements the audio seamlessly, featuring captivating and artistically crafted shots and scenes that are visually pleasing. The team of AZADI has appealed to like and share the musical short film in huge numbers to make it a success.
Watch the video here –
About Siddharth Kasyap & SKMusicWorks:
Siddharth Kasyap is a music composer and the founder of SK Music Works [www.skmusicworks.com], where the focus is promoting original and independent music. Since its inception in 2017, SK Music Works has launched over 35 songs, backed by their respective music videos, all of which are available for viewing across all leading global digital platforms, including YouTube [https:// www.youtube.com/@SKMusicWorks ], where the SK Music Works channel has over 10 million subscribers with views crossing the 450 million+ mark
If you have any objection to this press release content, kindly contact pr.error.rectification@gmail.com to notify us. We will respond and rectify the situation in the next 24 hours.