Doctor's Day Special – Don't Ignore Repeated Infections in Kids: Best Pediatricians Advice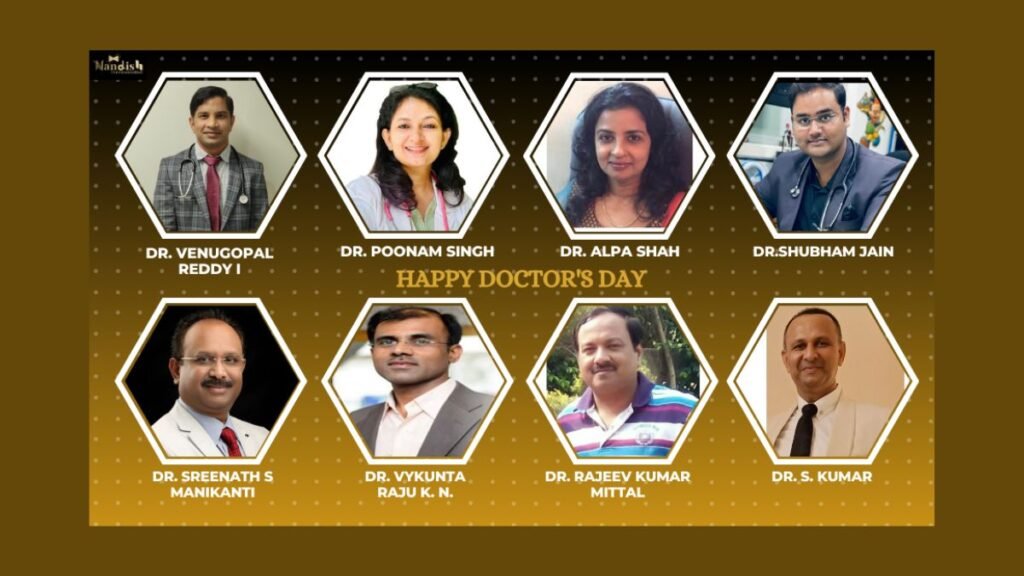 New Delhi (India), July 1: In the world of medicine, there are few roles as crucial, compassionate, and awe-inspiring as that of a pediatrician. These dedicated professionals possess a unique blend of expertise, patience, and boundless love for children, making them true heroes in the eyes of parents and little ones alike.
As this Doctor's Day approaches, it is only fitting that we pause to honor these extraordinary individuals who devote their lives to nurturing and safeguarding the health and well-being of our youngest generation.
Dr. Venugopal Reddy I, Medical Director and Consultant Pediatrician – Ovum Hospital, Bangalore
Babies are born with immature immune system encountering all viruses, bacteria, and other antigens for the first time. As a result, babies tend to get infections, usually 4 to 8 per year such as numerous colds, ear infections, or gastrointestinal upsets in a single year. Each child's response to viruses can vary, and the number of diseases decreases with age.
If your child had over four courses of antibiotics in a year, more than four new ear infections annually after the age of 4, developed pneumonia twice at any time, or more than three episodes of bacterial sinusitis in a year, required preventive antibiotics to reduce the number of infections, or developed unusually severe infections that originated from common bacterial or viral infections. If any of these conditions apply, they may have an immunodeficiency disorder.
It is crucial to provide your child with appropriate nutritious food and ensure they get enough sleep. Additionally, vaccinate your child against common childhood diseases and maintain a hygienic environment.
Dr. Rajeev Kumar Mittal, MBBS, DCH (Lucknow), PGPN (Boston University), Sanjivani Medical Center, Meerut
A child with recurrent infections may be experiencing immunodeficiency. There is no definitive consensus on the number of infections that can be considered normal. Children with recurrent infections can be classified into four basic diagnostic categories: probably normal child, allergic child, children with chronic diseases, and immunodeficient child.
As parents and doctors, it is important for us to be alert if a child experiences recurrent infections. We should take general precautions such as practicing proper hygiene, promoting healthy eating (especially avoiding junk foods), and discouraging drinking habits like consuming carbonated drinks or drinks with preservatives. Additionally, seeking proper medical advice is crucial.
Dr. Shubham Jain, MBBS, MD(Peds), FPGH(Peds Gastro), FIAMS, Pediatric gastroenterologist & Hepatologist, Senior consultant & Director, Department of Pediatric gastroenterology & Hepatology, Shubham Hospital & Child Care Center, Meerut
Our body's immune system is constantly fighting germs, and signs of repeated infection may indicate a weak immune system, showing signs of immunodeficiency. This usually happens when your body lacks the ability to produce antibodies that attach to germs and destroy them. Immunodeficiency is classified as primary and secondary. Primary immunodeficiency is due to defects in the body's immune system. Therefore, repeated infections should not be ignored, and the irrational use of antibiotics for all infections should be avoided. Good eating habits and proper hygiene should be practiced because the first lines of defense against infection are your skin and the membranes lining the respiratory and digestive systems.
Dr. Alpa Shah, MBBS, DCH, DNB (Pediatrics), Pediatrician and Newborn specialist, Special Interest -Pediatric Immunisation, Pediatric Allergy, Mumbai
It's crucial to address repeated infections in kids. Recognize the potential significance of recurring infections and take appropriate action. Ignoring these infections may lead to chronic conditions or complications. Early detection and intervention can help prevent long-term consequences. Common types of repeated infections include upper respiratory infections, such as colds and sinusitis, ear infections, urinary tract infections (UTIs), skin infections, and gastrointestinal infections, including diarrhoea and gastroenteritis. Possible causes are a weakened immune system, medical conditions, genetic factors, environmental factors such as exposure to allergens, pollutants, or secondhand smoke, and poor hygiene practices.
Red flags to watch out for are persistent or recurring symptoms, unexplained weight loss, delayed growth, and recurrent or severe infections in multiple organ systems. If you notice a pattern of repeated infections in your child, it is essential to consult a healthcare provider for a thorough evaluation. Doctors may perform blood tests, imaging studies or other diagnostic procedures to identify any underlying causes or contributing factors. Prioritize their health and create a healthier future together.

Dr. Poonam Singh, Pediatrician & Neonatologist, MBBS (Hons), MD (Pediatrics), Fellowship in Neonatology (NNF), Noida
Repeated infections in children should not be ignored. While occasional illnesses are common, persistent or recurrent infections may indicate underlying health issues. Identifying the cause is crucial for appropriate treatment and preventive measures, improving the child's quality of life. Recurrent infections may point to a weakened immune system due to factors like nutritional deficiencies, chronic illnesses, immune disorders, or exposure to allergens. Untreated infections like otitis media can lead to hearing loss, while untreated strep throat can result in complications such as rheumatic fever.
Structural abnormalities like enlarged adenoids or tonsils can also contribute to recurrent infections and may require surgery. Seeking medical evaluation, noting infection patterns, and maintaining good hygiene practices are vital. Consulting a pediatrician is advisable for recurrent infections. Thorough evaluation, including medical history review, physical examination, and laboratory tests if needed, can guide treatment options or specialist referrals. Timely intervention, prevention, and hygiene practices ensure the child's well-being and a healthier future.
Dr. Vykunta Raju, Prof and HOD of Pediatric Neurology, Indira Gandhi Institute of Child Health, Bangalore
Childhood brain infection is a leading cause of death and long-term morbidity in children in developing countries like India. Various microorganisms, including viruses, bacteria, tuberculosis, and fungi, cause these infections. Despite some improvements in living standards, infections remain prevalent due to poor vaccination coverage and the re-emergence of old infections, like the COVID-19 pandemic. Preventing brain infections requires improving the environment and administering vaccinations. Vaccines are available for viral infections such as Japanese Encephalitis, measles, mumps, varicella, rubella, and influenza, as well as for bacterial infections like pneumococcus, meningococcus, and tuberculosis.
Early recognition is vital for prompt treatment and prevention of long-term complications like intellectual disability, epilepsy, and learning problems. If a child presents with fever, seizures, or altered sensorium, brain fever should be suspected. Diagnostic tests like CT brain, MRI, and CSF analysis confirm the diagnosis. Early treatment ensures speedy recovery without lasting complications.
Dr. Sreenath S Manikanti, MBBS, MD(Ped), DCH (London), MRCPCH (UK), Senior Consultant Pediatrician & Neonatologist, Kauvery Hospital, E-City, Bangalore
A child with recurrent infections needs to be evaluated carefully, as it could be due to immunodeficiency. There is no definitive consensus among experts to determine the number of infections that can be considered normal. Children with recurrent infections can be included in four basic types of diagnostic categories: probably normal child, an allergic child, a child with chronic disease, and an immunodeficient child.
I would suggest that if there are recurrent infections in a child, both parents and doctors need to be alert. It is important to take general precautions such as maintaining proper hygiene, developing healthy eating habits, providing a nutritious diet, encouraging outdoor play, and ensuring adequate exposure to the sun. Additionally, it is crucial to seek proper medical advice and ensure that all vaccinations are received as per the schedule, including annual flu vaccinations. Remember, prevention is better than cure.
Dr. S. Kumar, MBBS, DCH, MD, Pediatric, DM (chest + Resp), International Post graduate Pediatric Certification, Consultant, Arihant Hospital, Gurugram
Do not disregard the significance of recurrent infections in kids. It is imperative to recognize that children can transition from simple viral infections to more complex and severe bacterial infections, such as bloodstream infections and pneumonia. These conditions warrant careful attention.
Recurrent infections encompass both typical infections and an escalation in their frequency over a period of time. Consequently, it is essential to remain vigilant. The presence of recurring infections in children may indicate underlying factors, such as immunodeficiency, previous hospitalizations, or the requirement for frequent or multiple courses of antibiotics within a span of six months to one year. As pediatricians, we must regard these indicators as crucial red flags, necessitating thorough evaluation and appropriate management.
By proactively addressing repeated infections and their potential causes, we can ensure the well-being and optimal health outcomes of our young patients.
Children are more susceptible to infections due to their developing immune systems and exposure to various environmental factors. Pediatricians serve as the guiding light in diagnosing and managing these recurrent infections, providing specialized care that focuses on the unique needs of children.
If you have any objection to this press release content, kindly contact pr.error.rectification[at]gmail.com to notify us. We will respond and rectify the situation in the next 24 hours.