Invisible Dental Braces with Digital Dentistry in Kolkata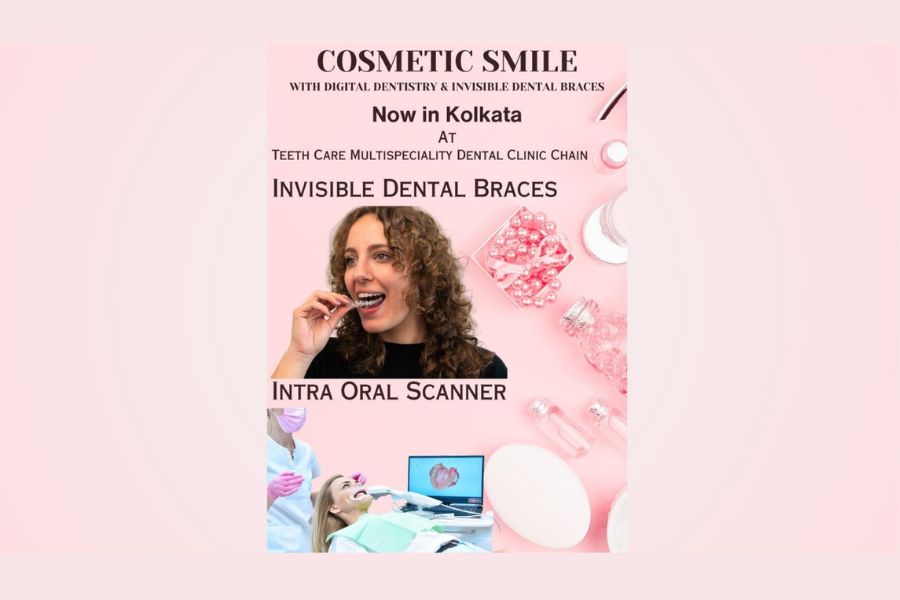 New Delhi (India), June 8: Digital dentistry is a field that utilizes technology to improve dental procedures. It involves the use of computer-aided design and computer-aided manufacturing technology, digital X-rays, and intraoral cameras to enhance the accuracy and efficiency of dental treatments.
Kolkata boasts numerous dental clinics and hospitals, among which Teeth Care Multispeciality Dental Clinic stands out as a premier provider of digital dentistry services. This esteemed facility utilizes cutting-edge CAD/CAM technology to fabricate dental restorations, along with digital X-rays and intraoral cameras.
The advent of digital dentistry has revolutionized the dental field by enhancing treatment precision and efficiency. It enables more accurate diagnoses, shorter treatment durations, and improved patient outcomes. Individuals in Kolkata have the opportunity to avail themselves of the latest digital dentistry advancements in their pursuit of optimal dental care.
Invisible dental braces, also known as clear aligners, are a type of orthodontic treatment that uses clear plastic trays to gradually straighten teeth. These trays are custom-made for each patient and are worn for a specific period of time, usually two weeks, before being replaced with a new set. They are virtually invisible and can be removed for eating and cleaning.
The cost of invisible dental braces varies depending on the complexity of the case and the length of treatment. In Kolkata, the cost of invisible braces ranges from INR 60,000 to INR 2,50,000. It is important to consult with a dental professional to determine the best treatment plan and cost for your specific needs.
Invisible dental braces are offered by several brands in Kolkata, including Invisalign, Illusion, Dentcare, ClearCorrect, K-Line, and 3M Clarity Aligners. Each brand has its own unique benefits, such as customization, affordability, flexibility, and comfort. The best brand of invisible dental braces will depend on the patient's specific needs, and a dental professional can help guide the decision-making process.
Intraoral scanner is a dental tool designed to capture precise 3D digital impressions of a patient's teeth and gums. Utilizing a handheld wand, the scanner takes images of the patient's oral cavity, which are subsequently compiled into a digital model. This advanced technology enhances the accuracy and efficiency of dental treatments, enabling improved outcomes for patients.
The utilization of 3D printing is gaining momentum within the field of dentistry. It enables the production of various dental products like crowns, bridges, dentures, and orthodontic aligners. This technology enhances precision and customization, leading to improved treatment outcomes and enhanced patient comfort. The increasing popularity of 3D printing in dentistry reflects its potential for transforming the industry.
Teeth Care Multispeciality Dental Clinic stands out in Kolkata for its comprehensive range of digital dentistry services, including CAD/CAM technology, digital X-rays, intraoral scanners, 3D printing and much more. Their expertise and advanced offerings make them a top choice for patients seeking high-quality dental care in the city.
Links
http://www.dentalclinickolkata.in
If you have any objection to this press release content, kindly contact pr.error.rectification[at]gmail.com to notify us. We will respond and rectify the situation in the next 24 hours.