Renowned Lifestyle Physician Dr. Rajender Ramagiri Honored with Prestigious Awards for Diabetes Reversal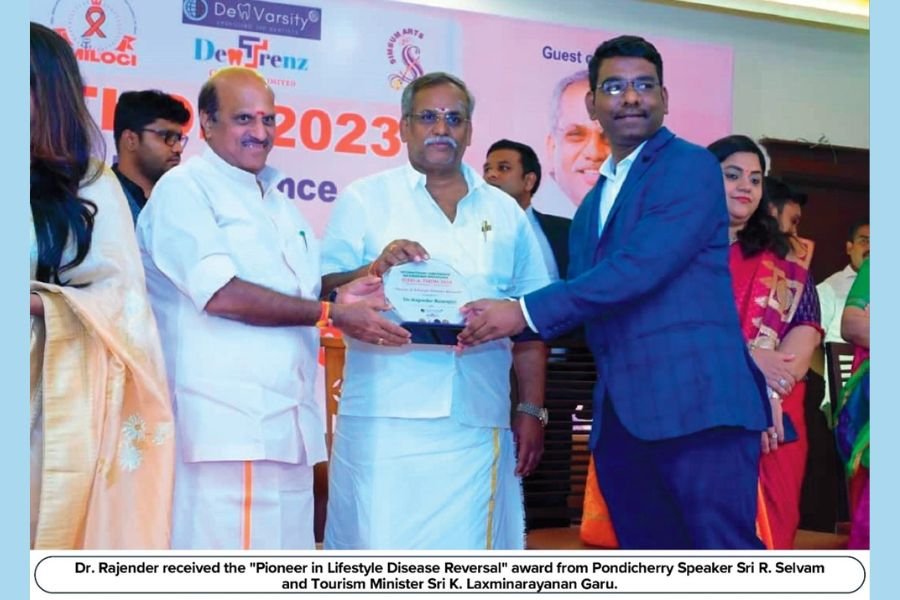 New Delhi (India), September 7: The healthcare industry is experiencing significant change due to the increasing incidence of diabetes and lifestyle-related issues among individuals across all age groups. Factors such as poor diet, sedentary lifestyles, and chronic stress have made these disorders prevalent global health concerns. With rising diabetes diagnoses, healthcare providers are adapting to address these challenges and improve patient outcomes more effectively.
Healthcare is evolving to be more patient-centered, recognizing the complex interplay of factors contributing to diabetes and lifestyle-related issues. There is now a growing focus on holistic approaches that consider not only medications but also behavioral, nutritional, and emotional aspects of care. This shift signifies a move towards preventive healthcare, emphasizing empowering individuals to adopt long-term lifestyle changes. The goal is to foster a future where people can lead healthier lives while effectively managing, and even reversing, chronic conditions.
Dr. Rajender Ramagiri stands as a beacon of hope for those afflicted with diabetes and lifestyle disorders in this dynamic healthcare environment. His groundbreaking holistic treatment approach has not only transformed lives but has also earned him accolades, including the "Best Diabetes and Lifestyle Disease Reversal Doctor" award at the Global Pride Awards and the "Pioneer in Diabetes Reversal" award from Pondicherry Assembly Speaker Sri R. Selvum.
Starting his career as an emergency physician in premier hospitals across the country, Dr. Ramagiri witnessed the disturbing rise of lifestyle-related diseases. Recognizing the urgent need for a novel approach to treatment, he embarked on a journey to tackle the root causes of these conditions.
Moving away from the conventional reliance on medications and surgeries, Dr. Ramagiri's holistic method emphasizes lifestyle medicine. This unique approach has earned him the reputation of a trailblazer in diabetes care.
The efficacy of Dr. Ramagiri's methodology is evident in the success stories of his patients. For instance, Mr. Chiranjith's remarkable transition from uncontrolled diabetes to stable blood sugar levels in just three months, without insulin or oral medications, underscores the effectiveness of Dr. Ramagiri's strategy. Equally compelling is Mr. Srinivas' story, who overcame diabetes and high blood pressure in a mere four months, allowing him to lead a fulfilling life while concentrating on his business.
Dr. Ramagiri's method merges the latest lifestyle medicine research with contemporary medical practices. It enables individuals to reverse their conditions through sustainable lifestyle changes. His Health Easy app, which facilitates online consultations and health monitoring, ensures patients have the tools and support they need for lasting health transformations.
Beyond individual care, Dr. Ramagiri's dedication also drives a wider discourse on preventive healthcare. His approach signifies a shift from reactive medical practices to proactive, prevention-centric methods, emphasizing that adopting a healthier lifestyle is often the best medicine.
In essence, Dr. Ramagiri's holistic approach to diabetes care is reshaping lives by integrating medical, behavioral, and emotional components. His visionary initiative underscores the potential of preventive healthcare and the ability for people to reclaim their health.
For more details about Dr. Rajender Ramagiri's revolutionary diabetes reversal program, visit https://myhealtheasy.in/
Alternatively, contact via email at info@myhealtheasy.in or call 9996660411 to schedule an appointment.
If you have any objection to this press release content, kindly contact pr.error.rectification@gmail.com to notify us. We will respond and rectify the situation in the next 24 hours.