Entrepreneurs Excellence Awards 2023 conferred on Innovators and Visionaries in Delhi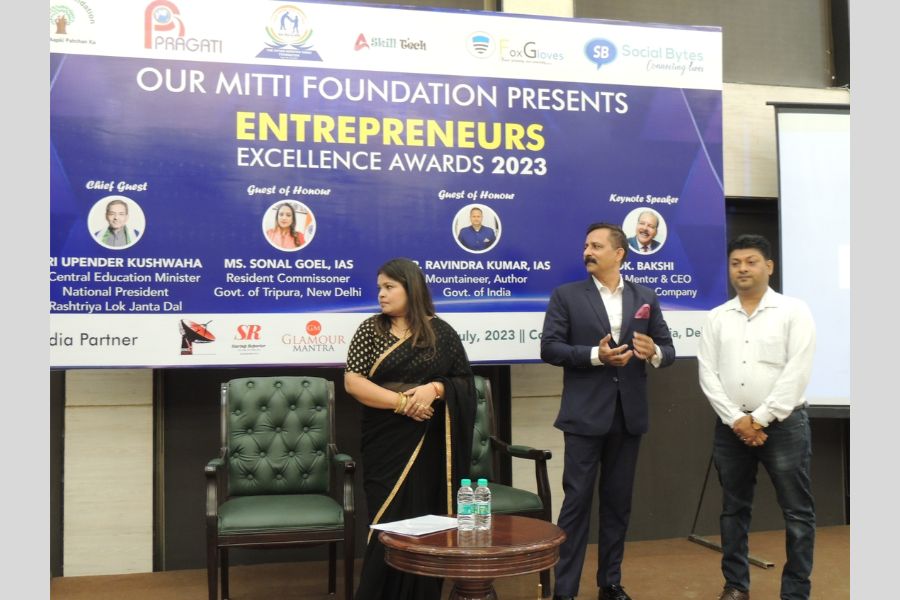 New Delhi (India), August 2: Business persons from diverse fields were felicitated with the prestigious Entrepreneurs Excellence Awards 2023 for their vision and outstanding contributions to the country's economic growth here at an event.
The event was organized by Our MITTI Foundation, a prominent NGO that has been tirelessly working towards fostering education and entrepreneurship in India.
The Entrepreneurs Excellence Awards 2023 recognized the outstanding contributions of the entrepreneurs who have demonstrated exemplary leadership, innovation, and a significant impact of their business idea in the respective domains in different parts of the country. The event was graced by prominent personalities from government organizations, policymakers, and industrialists who applauded the entrepreneurs' exceptional achievements and their role in the country's development.
The Guest of Honour, Ms. Sonal Goel, an accomplished IAS and Resident Commissioner of Tripura Bhawan, New Delhi, delivered an inspiring speech congratulating and motivating the awardees. She emphasized the pivotal role entrepreneurs play in shaping the nation's economy and highlighted the various government schemes aimed at supporting and nurturing entrepreneurial ventures.
Mr. Srikant Namdev, Director-Financial Services, Government of India, also took the stage as a Special Guest and discussed the government's policies and schemes designed to empower and uplift entrepreneurs across the country.
The event's Key Note Speaker was Mr. DK Bakshi, the Chief Mentor and CEO of Global Talent Company. His invigorating speech captivated the audience, instilling them with renewed energy and zeal to pursue their entrepreneurial dreams.
Industrialist Mr. Prem Kumar Chaudhary shed light on the untapped business opportunities in the agriculture field, encouraging entrepreneurs to explore and contribute to this vital sector.
Mr. Virender Kumar, MD of PRAGATI ELECTROCOM, shared his personal success story and emphasized the virtues of patience and perseverance, essential traits for every entrepreneur.
An insightful presentation by Mr. Monish Bhalla, tax guru and GST expert, enlightened the audience about the perils of drug abuse and his mission to make India a drug-free country. His book, "India Drugged – An Eye Opener," was distributed among the attendees to raise awareness about the menace of drug abuse.
Among the esteemed guests and speakers were Ms. Dr. Manisha Pandey Bose, an Educationist from Thailand; Mr. Kailash Bihari Singh, Management Guru and Founder of The Shyam Narayan Singh Foundation; Mr. Bipin Kumar Gupta, Principal Scientist; Mr. Sutirtha Saharia, Independent Global Consultant; and Mr. Abhinash Kumar, Founder Director of Amity Distance and Online Education.
The event was hosted by the popular FM Radio RJ, Ms. Tapasya, who kept the audience engaged and entertained throughout the evening.
Mr. Pramod Kumar Suman, Chairman of Our MITTI Foundation, assured the awardees of the NGO's continuous support in their entrepreneurial journey. Mr. Chandan Kumar, President of the NGO, shared his insights on the challenges and opportunities that entrepreneurs face in today's dynamic landscape.
Ms. Sangita Bhagat, VP and CSR Head, urged corporates and entrepreneurs to collaborate with the NGO to extend a helping hand to the underprivileged sections of society. General Secretary, Mr. Ravi Verma shared his thoughts with the entrepreneurs about the opportunities in the rural areas
The other team members, Pragya Raj, Tanvi Priya, Shweta Sahu, Utkarsh Raj, Gaurav Negi, Mihir and Suryansh R. Kumar, also contributed to making this event a successful one.
The Entrepreneurs Excellence Awards 2023 recognized outstanding entrepreneurs who have made significant contributions in their respective fields. The event received support from various organizations, including PRAGATI ELECTROCOM PRIVATE LIMITED, Skills Tech, The Shyam Narayan Singh Foundation, and Himvalley Foods. The event was professionally managed by Social Bytes Events and PR Pvt Ltd.
The list of awardees and their respective categories is as follows:
Name-Company Name & Designation-Award Category-
Prashant Bharti- Founder of SKILLS TECH- Innovative Edutech Platform-
Dr. Naveen Srivastava- Founder of ALOBHA TECHNOLOGIES- Best Software Development Company-
Amit Kumar- Founder of ONVID- Best Quality & Affordable Learning Platform-
Narendra Kumar- Founder & CEO of PROFIT BY PPC- Best Digital Marketing Company-
Vivek Pathak- Founder of TINKERLY- Most Innovative Edutech Company-
Dilkhush Kumar- Founder of RODBEZ- Best Innovative Startup-
Neeraj Jha- Founder of HANUMAN- Best Social Startup-
Mahesh Gaur- Founder of HODM- Best Digital Influencer-
Ayush Singhal- Founder of JMS WORLD SCHOOL, HAPUR- The Most Promising School-
Dr. Sandeep Yadav- Principal of HARI OM INTERNATIONAL SCHOOL, GURUGRAM- The Most Dynamic Educator-
Dr. Shashikant Singh Baudh- Founder & CEO of BOARD OF UCHHTAR MADHYAMIK SIKSHA MNADAL, DELHI- Best Social Work in Education-
Capt. Navrang Singh- Founder of FLAPONE AVIATION PVT LTD- Best Pilot Training Institute-
Amit Kumar- Founder of ECO PRABANDHAN- Best Entrepreneur- Environmental Services
Lokesh Maheshwari- Founder of SKILLS REDISCOVERY – Best Skill Training Institute-
Raja Bafna- Managing Director of COVENTRY- Best Employee Centric Industrialist-
Manuj Mittal- Founder of VEDANCURE HEALTHCARE LLP- Best Medical Tourism Company-
Pradeep Singh- Founder of GOALSMATE ACADEMY PVT.LTD- Best Cabin Crew Academy-
Preksha Gupta- Founder of GIFTTOLI- Best Corporate Gift Company-
Dr. Rajan Jaiswal- Founder & CEO of CODON PHARMA PVT LTD- Most Promising Pharma Company-
Dr. Karabi Pathak- Promising Social Leader-International Climate Change & Innovation-
Rishida Thakur- Founder of TAPASYA NARI SEWA SAMITI CHARITABLE TRUST- Promising Social Worker-
Sapna Narang- Founder of BALANCED BITES BY SAPNA NARANG- Best Nutritionist-
Mr. A.K. Somvanshi- CHRO of VICTORA AUTO- HR Excellence-
M. A. Kadri- Owner of R.A.F ASSOCIATES- Promising Architect & Real Estate Company-
Siddarth Das- Founder of AWARE AND BEYOND- Mindfulness Coach-
Capt. Navrang Singh- Founder of AIRBORNE AVIATION ACADEMY- Best Pilot and Drone Training Institute-
Kishore Kumar Kushwaha- Proprietor of ARNAVE ENTERPRISES- Best Innovative Industrial Kitchen Appliances-
Aditya Kumar Singh- Director of KUMAR ENTERPRISES- Most Trusted Construction Company-
Nizzamuddin- Owner of Construction Company–
The Entrepreneurs Excellence Awards 2023 proved to be a resounding success, celebrating the visionaries and change-makers whose endeavors have the potential to shape India's future. The event fostered an atmosphere of collaboration and inspiration, encouraging entrepreneurs to continue making a positive impact on society and the nation's economy.
If you have any objection to this press release content, kindly contact pr.error.rectification[at]gmail.com to notify us. We will respond and rectify the situation in the next 24 hours.