Indian Woman Global Awards Honouring Woman Talent in its 5th Edition Virtual Award Show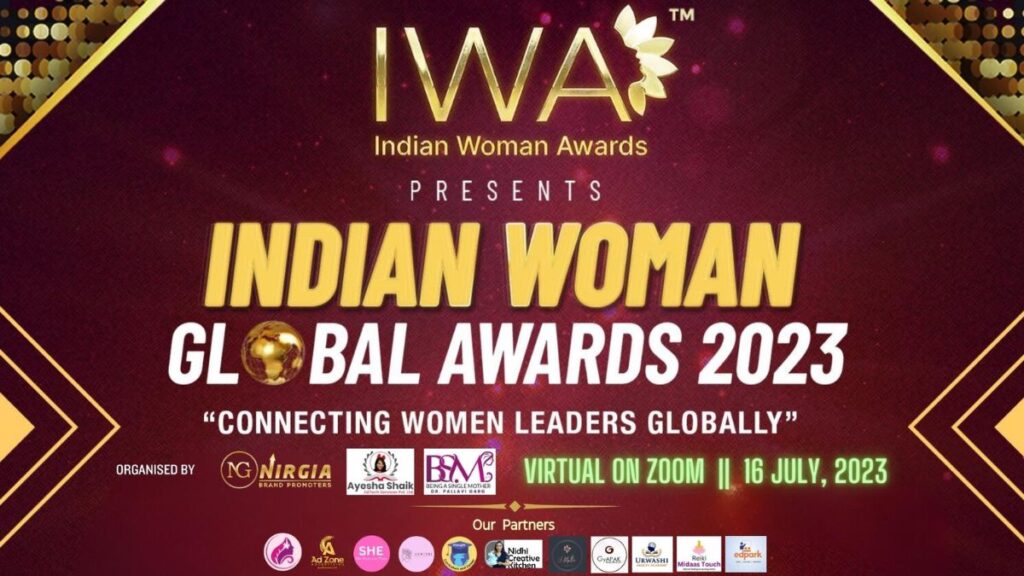 New Delhi (India), July 21: Event Management and Digital Marketing company Nirgia Brand Promoters, along with Ayesha Shaik (Founder & Director of Ayesha Shaik Edtech Services) and Dr. Pallavi Garg, who is the Founder of (Being Single Mother) organized the 5th Virtual edition of IWA- Indian Woman Global Awards (IWGA) 2023 to confer and recognize women of talent from all across the Globe. Harpreet Kaur, who is the Founder of IWA and Nirgia Brand Promoters, wanted to empower the woman across the global. In this 5th virtual event, women from different countries like UAE, Canada, Australia, USA and many more Participated in the event. The virtual award ceremony was centred on the idea that "Empowered Women Empower Women." It aimed to bring women from various backgrounds together under one roof and create a community that recognises them as the powerful entities that they are.
The IWGA has a list of event partners who are associated with the IWA brand, which includes Associate Partner – Ad Zone Advertising (Dubai), Magazine Partner – SHE (She Business Time), Supporting Partner – JANITRI, Promo Expertz, Edusight (Dubai), edpark (Dubai), Dr. Shivani's Skin Aesthetic Centre, GyAPAK-Designz The Space, Nidhi Creative Kitchen, Urwashi Abacus Academy, Reiki Midaas Touch and U Matter Live Better. The event began with welcome speeches by Hosts Mahima Kalra and Ayesha Shaikh. The duo beautifully directed all of the proceedings. Before the Award ceremony, there were speaker sessions delivered by different renowned Guests, including Kushbu Surana (Founder & CEO of Launch SHE-Dubai), Sarmistha Mitra (Founder & CEO of The Wellbeing Sanctuary-Dubai), Rosy S Ahmed (CEO at purple Vogue Events, Founder at F.A.M.E, Former Trustee at Down Syndrome OK UK), Shweta Chhabra (Clinical Psychologist), Dr. Pallavi Garg (Entrepreneur, Social Activist, Writer, Motivational Speaker). The words of all the guests ruled the event, delivering many insightful stories of hard work, struggles, and success in general.
Among the awardees were many entrepreneurs, doctors, teachers, educators, artists, and others. The category of Entrepreneurs included Shalini Vij, Dr. Mahua Bhattacharyya, Supriya Shivaji Pawale, Meghna Gupta, Jaswinder Kaur, Supriya Chauhan, Subha S, Geetha Shetty. They also included Shahana Khan for Business Award, Aanchal Punchhi as Cake Artist, Shweta Gupta for Chef Award and Dr. Eva Pradhan for IWG Doctor Award. Balwinder Kaur, Atiyyah Anees, and Charlotte D'Souza, who are also entrepreneurs, received Educator Awards. The Awardee who received the IWG Artist Award at the event were Nidhi Gupta, Vidisha Pandey, Debopriya Banerjee Goswami, and Preethi Tatambhotla in the field of Fitness Category, Isha Jain, and Neha Sharma, awarded as IWG Fitness Award.
Aside from the ladies mentioned above, other ladies who received Leadership Awards include Rachel Anitha Gowada, Hema Dubey, and Snigdha Sharma. The Spiritual Leaders felicitated enlisted Ananya Chattaraj and Mousumi Karmakar. The women who bagged Art & Culture Award were Gayathri Sankarasubramanian, Dr. Meenakshi Tyagi and Susmitha Dhruva Chitradurga. Jyoti Pachisia and Dr. Tanima Roy Goswami were honoured in the category of Dietician. On the other side, Binaragini Mahapatra, Naaz Ali and Moina Shariff got accorded with IWG Make-up Artist Award.
There were a lot of other females that were felicitated across many other varied forms of categories. The names of the conferred winners get recognized as follows – Dr. Payel Kumar Roy for Healthcare & Nutritionist, Naga Swathi T J for Inspirational Coach, Ekta Kumar for Photographer, Shabana Sanchawala for Psychologist, Vaishali K Shah for Researcher, Himsikha Hazarika for Women Leadership and Bhutoo Zia for Writer.
The list does not end here; honorees in the area of Entertainment include Madhu Lakhotia and Prof. Srichithra Pradeep Pillai. Moreover, Dr.Lakshmi Lalita (Dr.Sony Teja) and Neha Silva awarded with Influencer Award and Nisha Tandonm and Ravuri Suez for IWG Social Worker Award.
Harpreet Kaur, founder of Nirgia Brand Promoters, says of her platform, "My platform primarily focuses on honouring women all around for all the hard work and effort they put in to make society a place worth living." As a result, these awards serve to encourage women to continue doing good while also letting them know that their efforts are not in vain and are recognised. The females we honour were chosen following a careful process of understanding their work and intelligent approach, as well as being sure that this is something that will last in the long term."
Indian Woman Awards believes that by obtaining such distinctions, more women would have the courage and confidence to make their mark in the business and inspire others to move beyond their comfort zone and achieve amazing success in the professional sphere.
If you have any objection to this press release content, kindly contact pr.error.rectification[at]gmail.com to notify us. We will respond and rectify the situation in the next 24 hours.