"2023-2024's Dynamic Quartet: Leading Entrepreneurs, Top Industry Experts, Inspirational Women, and Pioneering Companies Shaping the Future"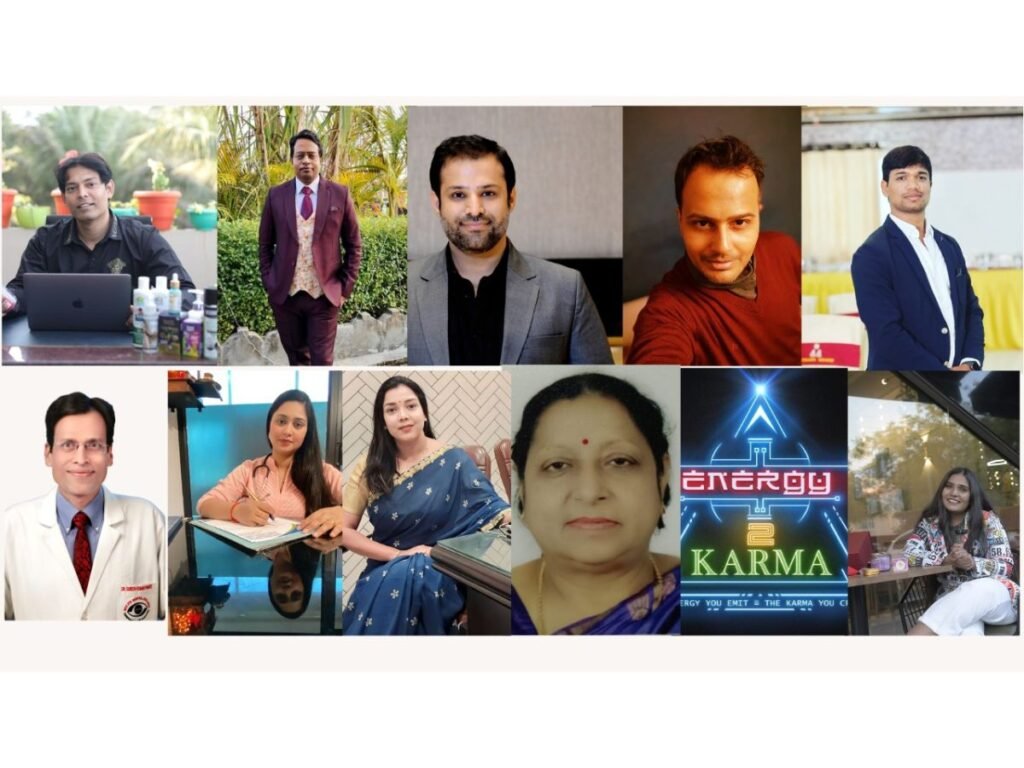 New Delhi (India), September 25: "Welcome to '2023-2024's Dynamic Quartet,' where we embark on a journey to explore the visionary entrepreneurs, inspirational women, and pioneering companies that are collectively shaping the future. Join us as we delve into the stories, innovations, and strategies driving the global landscape towards new horizons."
1) Santhosh Balasundaram
Santhosh, a visionary entrepreneur and venture capitalist who founded Shadow Etail, a leading D2C brand hub in India. The company owns about 25 thriving brands in categories such as Auto Care, Home Care, Health & Beauty, Pet Care, and Personal Care. Shadow Etail was awarded "Start-up of the Year 2017" under Santhosh's leadership. Over a million products have been sold, making a vast base of satisfied customers. Santhosh's entrepreneurial skills have played a crucial role in shaping the e-commerce industry in India. Additionally, he is committed to social inclusivity and currently employs 30% special needs women.
2) Nimish Srivastava
Digital Nimish, led by visionary entrepreneur Nimish Srivastava, is the driving force behind Impact Branding Hub, the fastest-growing digital branding company of 2023-2024. Unlike one-size-fits-all solutions, Digital Nimish offers tailored brand identities that resonate with your unique values and audience. With a commitment to innovation, their creative team crafts captivating visuals and content. What sets them apart is their data-driven strategy, ensuring not just great looks but also measurable results. Having empowered 256 personal and company brands, Nimish Srivastava's mission is to unleash the power of digital branding for exponential growth, inspiring a new generation of digital success stories.
3) Abhinav Gandhi
Abhinav Gandhi, the visionary entrepreneur behind "WedKnott," has earned a coveted spot among the Top 10 Entrepreneurs of 2023-2024. His brainchild, WedKnott, is revolutionizing the matchmaking industry with a unique focus on corporate and industrial professionals. With a dedicated emphasis on IVY league education and a commitment to verifying and hand-picking genuine profiles, WedKnott's services cater to a diverse clientele. From millionaires to busy executives, Abhinav Gandhi's matchmaking services promise quality connections for those ready to find their life partners. WedKnott's inclusive approach ensures that love knows no boundaries in the world of business and entrepreneurship.
4) Rohit Kumar SL Maheshwari
Rohit Kumar SL Maheshwari (Rah S Tee – as popularly known on Social Media), hailing from a tea dynasty dating back to 1858, leads Chandy and TEAfontaine1858 brands amongst others, a pioneering venture that offers eco-conscious tea directly to consumers. With 17,000 hectares of tea plantations and a workforce of 13,700 impoverished families, their commitment extends beyond quality tea to sustainability and social impact. Implementing biomimicry, renewable energy, recycling, and cutting-edge technologies like AI and drones, they've transformed agro practices. From a modest INR 18 Crore revenue in 1997 to a remarkable INR 2560 Crore in 2022, the group's future vision aims for steady expansion and a stock exchange listing, all while supporting 13,700 underprivileged families. Rohit is armed with degrees in Rural Sociology and Agronomy from the prestigious University of Wisconsin, Madison, USA and schooling from Eton of the East, Mayo College, Ajmer.
5) Bojja Bharath Simha Reddy
Bojja Bharath Simha Reddy, a dynamic Indian businessman, emerged as a trailblazer in the finance sector. Despite no family inheritance, he founded Collagenics and now chairs Collab Group. Recognized with the "Inspiring Indians Award-2023 SEASON1," Reddy's dedication and leadership inspire positive change. Professionally certified in banking and finance, he bootstrapped his way to success, managing five thriving companies. Committed to philanthropy, he donates a significant portion of his income to SeedIT, supporting education. An astute investor, Reddy has backed over 10 startups, further cementing his influence in the business world. His journey exemplifies determination and achievement.
6) Dr. Suresh K. Pandey
Dr. Suresh K. Pandey, a world-renowned eye surgeon, motivational speaker, and author, is the Director of SuVi Eye Hospital & Lasik Laser Centre in Kota, Rajasthan, India. Inspired by his freedom fighter grandfather (late Dr. Kamta Prasad Pandey), he overcame financial challenges to excel in his medical career. Dr. Pandey has a very impressive academic record, with an ophthalmology residency at PGIMER, Chandigarh, and international fellowships in the John A. Moran Eye Centre, University of Utah, Salt Lake City, USA, and Sydney Eye Hospital, University of Sydney, Australia. He has presented over 150 papers, published numerous articles, and authored several books for medical professionals. His books- 'Secrets of Successful Doctor: A Complete Guide Fulfilling Medical Career', 'Entrepreneurship for Doctors: How to Build Your Own Successful Medical Practice', 'A Hippocratic Odyssey: Lessons From a Doctor Couple on Life in Medicine, Challenges and Doctorpreneurship', and 'Diary of an Eye Surgeon: My Experiences in India, America, and Australia' remain the best seller on Amazon. Alongside his wife, Dr. Vidushi Sharma, he has performed over 100,000 eye surgeries and conducted motivational lectures for coaching students and aspiring medical professionals. Dr. Pandey can be reached at 9351412449
7) Dr. Deepa Mishra
Dr. Deepa Mishra is a compassionate Sports Physiotherapist with a remarkable dedication to pain management and athlete well-being. Her expertise in physiotherapy is complemented by a wealth of knowledge gained from professional workshops and seminars, including Basic Life Support, Sports Taping, Dry Needling, MFR, and Sports Massage. Deepa's academic journey includes a Master's in Physiotherapy (Sports) from GGSIPU and a Bachelor's from Delhi University. She also has experience of CRPF. Her career spans roles at ITB Police, BLK Super Speciality Hospital, and volunteering at Research & Referral Army Hospital. With a focus on evidence-based practices, on-field assessment, and advanced techniques, she is a valuable asset in sports injury management.
8) Dr. Priyanka Maurya
Dr. Priyanka Maurya is a well known Homeopath Doctor by profession, Social Worker & a Senior BJP Leader based out of Lucknow. She has millions of followers on social media. She is actively running Health Awareness programs, Road Safety Awareness programs & Anti Drug Awareness programs in the state of Uttar Pradesh.
She is active in politics and public policy, voicing her commitment to social work.
9) Dr. Poonam Nigam Sahay: A Beacon of Inspiration*
Dr. Poonam Nigam Sahay isn't just an esteemed Assistant Professor of English at Ranchi University; she's a symphony of talent and versatility. With bilingual poetic prowess, she addresses contemporary concerns and revels in nature's beauty. Her profound research into playwrights like Vijay Tendulkar and Girish Karnad showcases her dedication to literature. Beyond academics, her contributions to women's literature and her active engagement in social initiatives, particularly through the Lions Club, exemplify her broader societal commitment. Whether anchoring for Doordarshan, organizing fine art competitions, Attending INKDEW litfests or advocating women's empowerment, Dr. Sahay truly embodies an inspiring beacon for all, especially aspiring women.
10) India's first Hindi search engine
A Mumbai based indigenous company. Energy2Karma a company owned by Nikunj Irani, who has been working untiringly and remotely
Has designed the first Hindi search engine. This search engine is designed with the sole aim of promoting the Hindi language.
This company is aiming at filtering Hindi language searches in India through this search engine.
This engine has been developed by a remote team who are spread all over the country. This company has partnered with Google Programmable engine.
The company aims at filtering millions of searches in Hindi language. Which will be done through HindiEngine.in
11) Lajja Brahmbhatt
Lajja Brahmbhatt is the visionary behind Neera Naturals, India's pioneering handmade bathing luxury brand. Her commitment to crafting exceptional, all-natural products has earned Neera Naturals the prestigious President's Award. Lajja's dedication to her craft and her remarkable journey as an entrepreneur were recognized when she received Her Start Award, a national honor bestowed by the President of India in October 2022. Her inspiring achievements have not only elevated her brand but also served as a beacon of inspiration for women entrepreneurs across the nation.
If you have any objection to this press release content, kindly contact pr.error.rectification[at]gmail.com to notify us. We will respond and rectify the situation in the next 24 hours.