A venture studio called Ellenox is set to become India's YCombinator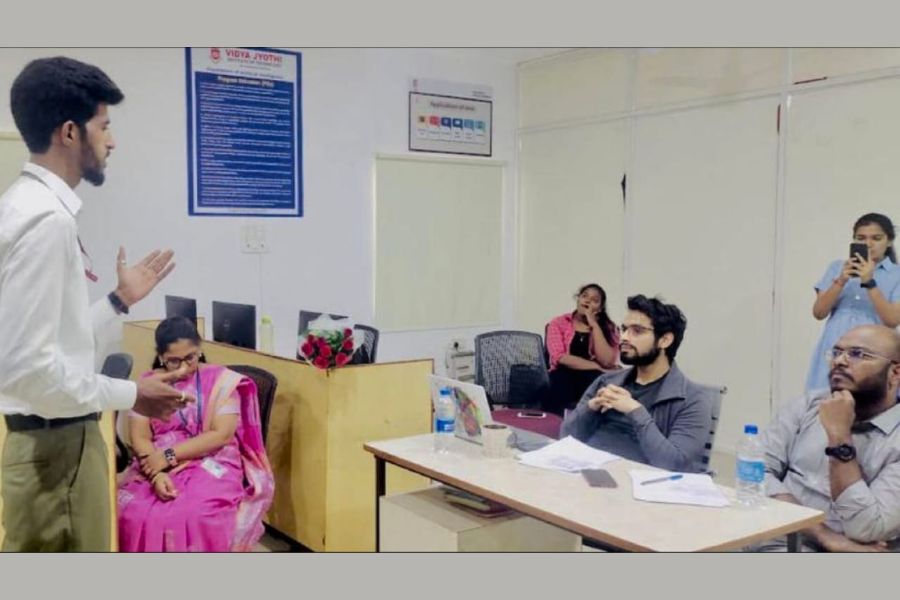 The Ellenox founders being pitched a startup idea at an AI lab
Bengaluru (Karnataka) [India], September 4: The Indian startup ecosystem has long been characterized by its challenges, with early-stage startups often struggling to secure the necessary support and resources. Addressing this gap, Ellenox, a rapidly growing venture studio, is making significant strides in bringing funding, resources, and community support to Indian startups in their nascent stages. Founded by experienced entrepreneurs Prashanth and Ankur, Ellenox aims to reshape the landscape for early-stage ventures in India.
Ellenox is a fast-growing venture studio in India that connects early-stage startups with funding, resources and support.
Having worked with 50+ startups, the venture studio has already started reshaping the Indian ecosystem. Prashanth and Ankur, the founders of Ellenox, bring a wealth of experience from Silicon Valley, having previously founded and exited companies in the global startup epicenter.
"When we got back to India, the biggest change we felt wasn't in the talent or innovation – it was the lack of community. The lack of support for these brilliant kids," says Prashanth. India has long had an exposure problem – kids in tier 2 and tier 3 colleges don't have access to startup circles. And when kids don't have exposure, they don't realize they have options.
Prashanth, a founder and angel investor himself, realized first-hand how hard it was to find young startups worth investing in. In San Francisco, everyone was online, and you could show up to any startup meetup and meet promising founders. Not so in India.
The Indian startup ecosystem has long been fragmented, and most startups are only visible to their peers in Discord servers and coworking spaces. There is no central hub for conversation, and a lot of value is lost. Ankur believes the secret is in giving value first.
"I joined a bunch of Whatsapp and Telegram groups to learn more about the scene here, and most of them were full of spammers trying to sell their services. We need more value and growth-focused spaces for early-stage founders."
The Ellenox founders met some of Silicon Valley's top entrepreneurs at startup events – and were shocked to find how much the bigwigs cared about the new generation. The startup ecosystem is built around a culture of giving-first and mutual growth. The Ellenox team wants to build this culture of trust in India.
"There's a multiplication of value when you care about the people around you and help them without expecting anything in return. This is doubly true for founders – anyone around you could be your mentor or your next big business deal."
Ellenox's approach transcends geographical boundaries. The venture studio is collaborating with non-resident Indians worldwide, leveraging their expertise and financial backing to fuel early-stage startups in India. Many Indians working in Silicon Valley, equipped with disposable income, see the potential of supporting nascent companies in their home country.
"There's a lot of incredibly smart Indians working in Silicon Valley with disposable income. These people see the startups being funded in SF. They recognize the potential of funding early-stage companies. And they want to give back to India."
Ellenox's impact extends across diverse sectors. From collaborating with the New York-based social app Clockout to supporting the mental health-focused initiative We Hear You, the venture studio prides itself on being adaptable and outcome-focused. As Prashanth notes, there is no one-size-fits-all formula for startup success;
Ellenox's self-proclaimed mission is to 'get sh*t done'. As Prashanth puts it,
"If there was a blueprint to startup success, we'd see a lot more unicorns. Every startup is unique. We don't have a specific formula; we just make sure whatever needs to get done gets done."
The team so far has done everything from secure funding for startups, doing market research, designing the product, building the tech stack, talking to users and even implement go-to-market strategies. Ellenox considers itself a partner and a toolkit for every startup it works with.
What sets Ellenox apart in the competitive landscape of startup incubators is its commitment to the community.
"We're 100% community driven. We help the people who deserve help. We believe in the long-term vision of India as a startup hub, and we're willing to forego short-term profits to realize that vision."
Ellenox's rapid growth and distinct approach have positioned it as a key player in India's evolving startup ecosystem. As the country aspires to create its version of renowned accelerators like YCombinator, Ellenox is emerging as a trailblazer in fostering a culture of early-stage startup support and collaboration.
Check out what Ellenox is up to, and join their ecosystem at www.ellenox.com.
Contact:
Media Relations
Ellenox
Email: press@ellenox.com
If you have any objection to this press release content, kindly contact pr.error.rectification[at]gmail.com to notify us. We will respond and rectify the situation in the next 24 hours.