"Age No Barrier: Dev Bhavsar's Dual Startup Story Inspires Worldwide"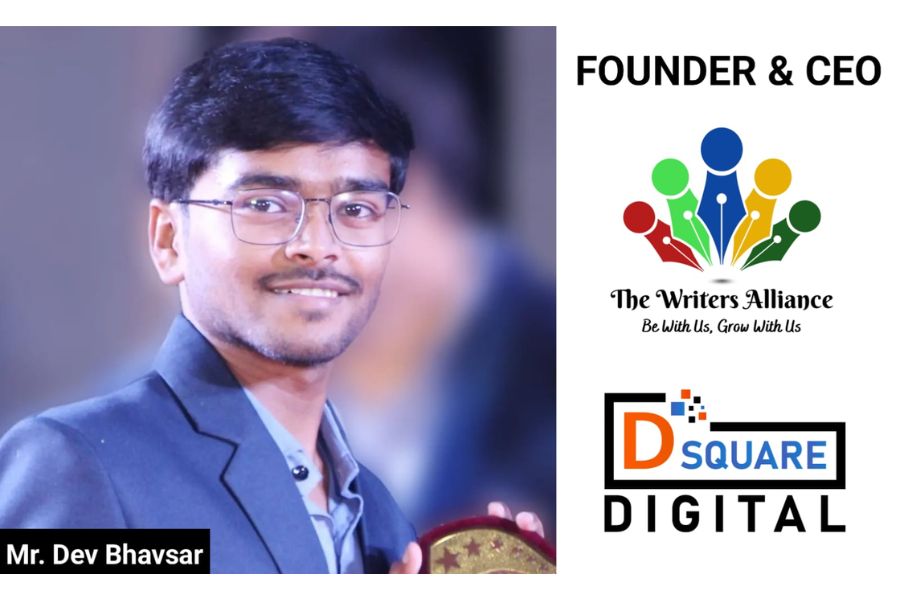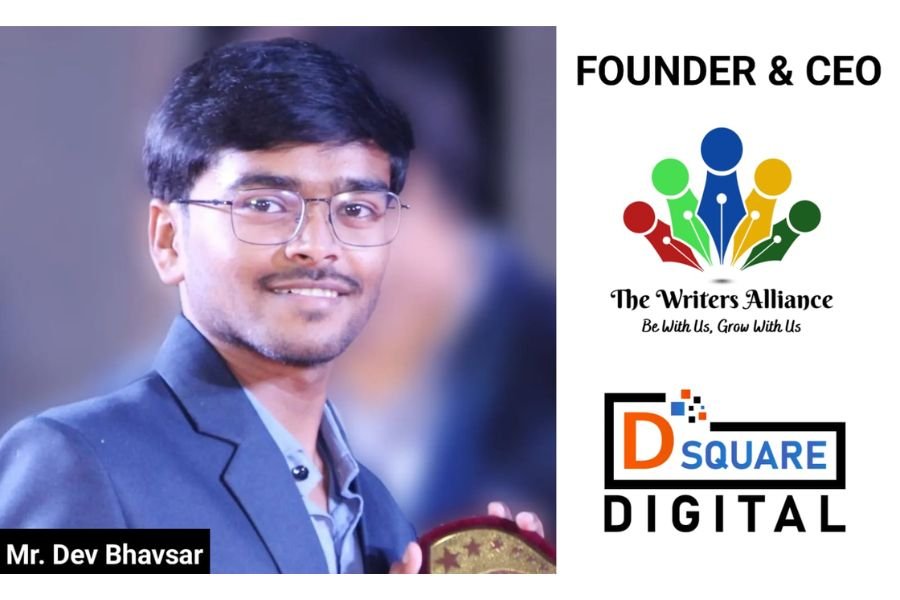 New Delhi (India), August 12: In a remarkable journey of transformation, Dev Bhavsar, a young prodigy hailing from culturally city of Ahmedabad, Gujarat, has etched his name as a beacon of entrepreneurial success. At the tender age of 20, he turned his writing passion into a thriving entrepreneurial journey, leaving an indelible mark on the startup landscape. With his ventures, The Writers Alliance and DSquare Digital, he has broken barriers, shattered records, and established himself as a force to be reckoned with in the business world.
Who is Dev Bhavsar?
Dev Bhavsar, a dynamic entrepreneur from Ahmedabad, has made a significant impact and at just 20, he established The Writers Alliance and DSquare Digital, achieving remarkable success and his leadership fostered a thriving community and propelled a digital marketing agency to prominence. Awards, recognition, and a clear vision highlight his journey, inspiring aspiring entrepreneurs globally.
Lockdown Revelation and a Journey Unveiled
The COVID-19 pandemic brought the world to a standstill in 2020, but for Dev Bhavsar, it ignited a spark of creativity and determination that changed his life forever. From the depths of lockdown-induced introspection emerged an entrepreneur extraordinaire, who has since risen to remarkable heights at just the age of 20.
At just 20 years old, an age when most are still searching for direction, Dev Bhavsar emerged as a beacon of inspiration. His journey is nothing short of remarkable, as he defied norms to make a groundbreaking mark in the entrepreneurial realm.
Beginnings and Entrepreneurial Spark
Born on November 17, 2002, in Gandhinagar, Gujarat, Dev Bhavsar has emerged as a trailblazer, challenging conventional notions of entrepreneurship. The young visionary established himself as the CEO and Founder of two flourishing startups: The Writers Alliance and DSquare Digital.
Early Success with The Writers Alliance
Under his leadership, The Writers Alliance has become a hub for over 300+ writers, offering them a platform and valuable guidance to nurture their literary aspirations. Moreover, the organization has evolved into a reputable publication house, where they provide personal mentorship to budding authors, helping them bring their stories to life. Dev Bhavsar's journey with The Writers Alliance began on July 4, 2021, when he was a mere 18 years old, showcasing his determination and foresight at such a young age.
Establishing DSquare Digital
However, Dev's entrepreneurial brilliance doesn't halt there. In a remarkable feat at the young age of 19, precisely on November 11, 2022, he established DSquare Digital – an eminent digital marketing agency based in Ahmedabad. With rapid momentum, the agency has ascended to a position of prominence, spearheading innovative digital marketing campaigns for diverse brands and businesses, not only within the local landscape but also reaching far beyond. This achievement profoundly underscores Dev's remarkable acumen in recognizing potential opportunities and skillfully transforming them into flourishing endeavors.
Recognition and Awards
In December 2022, Dev Bhavsar earned a spot among India's Top 10 Entrepreneurs through the prestigious Dr. APJ Abdul Kalam Award. At the age of 19, he achieved a remarkable feat by composing a 'Unique 20 द-iner Poem,' securing placements in the "Inkzoid Book of Records" and the "Glorious Book of Records."
In 2022, he was recognized as the Youngest CEO & Founder in Ahmedabad, Gujarat. His dynamic entrepreneurship also garnered the "Best Budding Star of 2022" award at the Indian Stardom Awards. Additionally, his venture, The Writers Alliance, was honored as the "Best Community of Gujarat" in July 2023.
Dev Bhavsar's remarkable journey showcases not only his keen business acumen but also his dedication to nurturing talent and driving innovation. His achievements stand as an inspiration to aspiring entrepreneurs worldwide, proving that age is no barrier to making a significant impact on the business world.
Personal Details:
Date of birth: 17th November 2002 (Sunday)
Birth Place: Gandhinagar
Age (as of 2023): 20 Years
Father's name: Shailesh Bhavsar
Mother's name: Sangita Bhavsar
Sister's name: Kruti Bhavsar
Hometown: Ahmedabad
School: Shakti Vidhyalaya
College/University: LJ University
Profession: Entrepreneur
CEO & Founder: The Writers Alliance, DSquare Digital
Religion: Hinduism
Nationality: Indian
Dev Bhavsar has given a missile of inspiration, igniting the path for today's youth to follow. At the age of 20, he's carved a remarkable journey that defies expectations, leaving a trailblazing impact in the world of entrepreneurship.
A Vision for the Future
As Dev Bhavsar stands at the crossroads of his entrepreneurial journey, his vision remains clear – to continue innovating, inspiring, and impacting lives through his ventures. His story serves as an inspiration to aspiring entrepreneurs and dreamers alike, reminding us that with passion and dedication even the loftiest goals can be achieved.
Contact Information:
For inquiries or more information, please reach out to Dev Bhavsar at devbhavsar1711@email.com.
If you have any objection to this press release content, kindly contact pr.error.rectification[at]gmail.com to notify us. We will respond and rectify the situation in the next 24 hours.