Aireo: India's Leading B2B Travel Company Providing Comprehensive Travel Solutions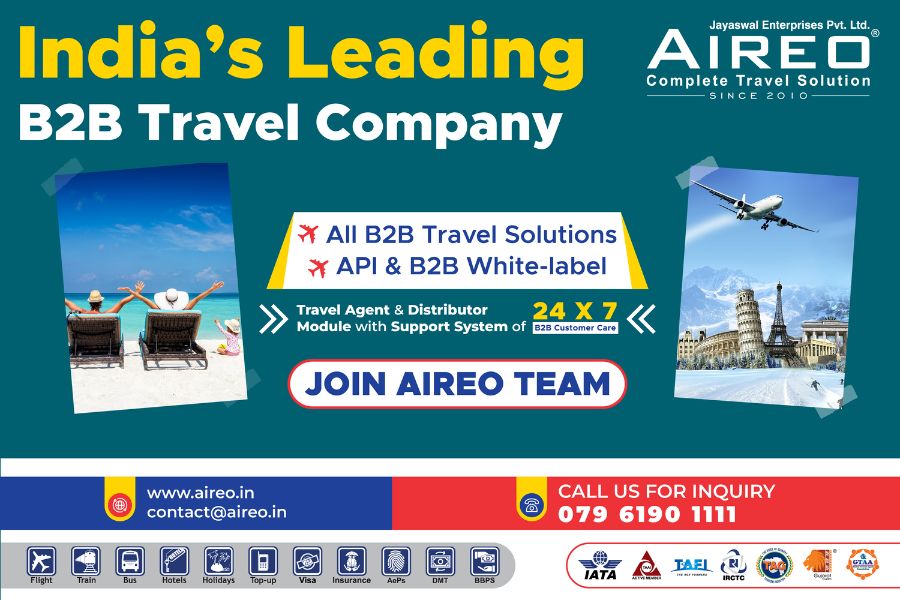 New Delhi (India), May 31: Aireo, www.aireo.in the premier B2B travel company in India, is delighted to announce its exceptional services catering to travel agencies and agents across the nation. With a wide range of offerings, including airfare deals, railway tickets, bus tickets, hotel bookings, holiday packages, visa services, and DMT services, Aireo is committed to providing a complete travel solution that ensures seamless and hassle-free experiences for its esteemed partners.
As India's leading B2B travel company, Aireo has built an extensive network of over 20,000 agents, spanning 100+ cities and 15+ states. This widespread coverage ensures that travel agencies and agents can access Aireo's services easily and efficiently, regardless of their location. The company's vast network facilitates seamless transactions and reliable support, allowing its partners to offer comprehensive travel solutions to their customers.
With over 13 years of experience in the travel industry, Aireo has developed a deep understanding of the evolving needs and preferences of both travelers and travel agencies. This expertise enables Aireo to provide tailored solutions that meet the diverse requirements of its partners. The company's commitment to excellence and customer satisfaction has established it as a trusted and reliable B2B travel service provider.
One of Aireo's key strengths lies in its wide range of services. The company offers competitive airfare deals, ensuring that travel agencies have access to the best available rates for their customers. Additionally, Aireo provides seamless railway ticket bookings, making it convenient for travel agencies to arrange train travel for their clients. The bus ticketing service further enhances Aireo's comprehensive offerings, allowing travel agencies to cater to different modes of transportation.
Aireo also excels in hotel bookings, offering an extensive selection of accommodations to meet every budget and preference. From luxury resorts to budget-friendly hotels, Aireo's vast inventory ensures that travel agencies can find the perfect accommodations for their clients. Furthermore, the company provides attractive holiday packages that cater to a variety of destinations and interests, offering a range of options for travelers to choose from.
In addition to its core services, Aireo specializes in visa services, assisting travel agencies in streamlining the visa application process for their clients. With Aireo's expertise, travel agencies can ensure that their customers have a smooth and hassle-free experience when obtaining the necessary travel documentation.
Furthermore, Aireo offers DMT (Domestic Money Transfer) services, enabling travel agencies to provide secure and convenient money transfer solutions to their clients. This value-added service enhances the overall travel experience by facilitating financial transactions in a reliable and efficient manner.
Aireo takes great pride in its commitment to professionalism, innovation, and superior customer service. The company's dedicated team of experts works closely with travel agencies and agents, offering support and guidance at every step. Aireo's user-friendly platform and robust technology infrastructure ensure that its partners can access services seamlessly, facilitating smooth operations and efficient service delivery.
As Aireo continues to grow and evolve, the company remains committed to its mission of providing comprehensive and reliable travel solutions to travel agencies and agents across India. With its extensive network, vast experience, and diverse range of services, Aireo is well-positioned to serve as the preferred B2B travel partner, empowering travel agencies and agents to deliver exceptional travel experiences to their clients.
If you have any objection to this press release content, kindly contact pr.error.rectification[at]gmail.com to notify us. We will respond and rectify the situation in the next 24 hours.