Crown Vet Brings Exceptional Pet Care Services in HiTech City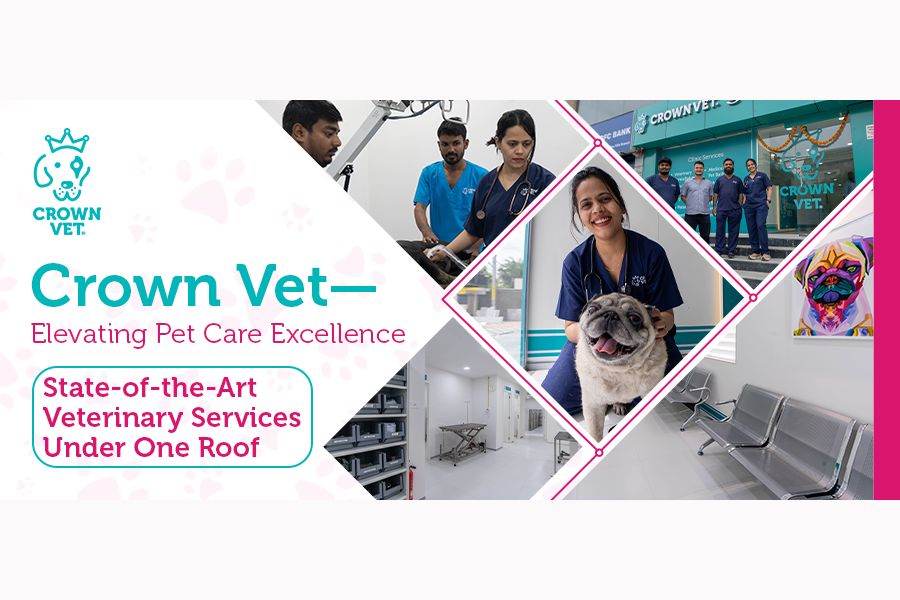 Hyderabad (Telangana) [India], July 27: Crown Vet, a prominent player in the veterinary care sector, proudly announced the grand inauguration of its flagship CV Clinic on July 16th, nestled in the heart of HiTech City, Hyderabad. This state-of-the-art establishment sets unprecedented standards in pet care services, with a strong focus on 24/7 Emergency Care, Preventative Care, and cutting-edge State-of-the-Art Veterinary Clinics, all conveniently housed under one roof.
By introducing the CV Clinic in HiTech City, Crown Vet effectively expands its reach and reaffirms its commitment to delivering exemplary pet healthcare. The facility offers a comprehensive array of services that cater to every facet of your beloved pet's well-being. From routine check-ups and vaccinations to advanced surgical interventions, Crown Vet ensures that all animals entrusted to their care receive the finest treatment possible.
Understanding the immense stress and unpredictability of pet emergencies, Crown Vet's CV Clinic operates tirelessly, providing immediate medical attention to distressed pets at any hour of the day. The experienced team of veterinarians and dedicated support staff are always on-call, assuring pet owners that their cherished companions are in safe and expert hands.
Sheroy Wadia, CEO of Crown Vet, expressed, "At Crown Vet, our commitment is to elevate the standards of pet care in India. The launch of our CV Clinic in HiTech City is a significant milestone in our journey to offer accessible and exceptional healthcare services to pets and their families."
He further conveyed, "We empathize with the anxiety and concern that arise during pet emergencies. Our 24/7 Emergency Care service is thoughtfully designed to provide immediate assistance, ensuring that pets receive critical attention whenever the need arises, day or night."
The HiTech City CV Clinic places particular emphasis on preventative care, safeguarding your pet's health and happiness. Through regular check-ups, screenings, and personalized health plans, the clinic aims to proactively detect potential health issues, ultimately ensuring a longer and healthier life for cherished pets. Mr. Sheroy added, "Preventative care forms the bedrock of a pet's well-being. Our comprehensive health plans and early detection protocols empower pet owners to make informed decisions and enhance the overall quality of life for their furry companions."
Mr. Sheroy further articulated, "Our State-of-the-Art Veterinary Clinics synergize the latest technology with our veterinarians' expertise, allowing us to administer precise and effective treatments. We are unwavering in our dedication to providing the best possible care to each and every pet that crosses our threshold."
The CV Clinic boasts a world-class infrastructure replete with cutting-edge technology, ensuring unparalleled diagnostic accuracy and treatment precision. From digital radiology and ultrasound capabilities to advanced laboratory facilities, our clinic empowers our skilled veterinarians to make informed decisions and deliver optimal care for your cherished furry friends.
Dr. Shireen, a distinguished veterinary doctor affiliated with Crown Vet, enthusiastically expressed her excitement about the HiTech City expansion, stating, "Our team has invested tremendous effort into creating a pet care facility that not only upholds the highest standards of veterinary medicine but also fosters a warm and welcoming environment for pets and their owners. We remain dedicated to delivering exceptional care, and our new CV Clinic is a testament to that unwavering commitment."
Given their already established facilities in Mumbai, Pune, Bangalore, Delhi, and Hyderabad, the decision to inaugurate a second clinic in Hyderabad is a direct response to the escalating demand for top-tier and easily accessible pet care within the city. In addition to making care more accessible, Crown Vet HiTech City clinic presents an exclusive promotion, providing a remarkable opportunity to avail of a 50% discount on grooming services and memberships during the launch event.
Crown Vet professionals firmly embrace the principle that prevention is far more beneficial than seeking a remedy after a problem arises. As a result, they have introduced a membership plan to address any gaps in a pet's care, providing owners with peace of mind in ensuring their beloved companions lead healthy lives.
Through their membership plan, pet owners can avail of a 10% discount on various essential services, including vaccinations, deworming, microchipping, spaying and neutering, dental scaling, regular vet consults, and even pet food. Additionally, members are entitled to complimentary services, such as nail trimming, ear cleaning, and a free health examination.
By offering this comprehensive membership program, Crown Vet aims to empower pet owners to take proactive measures in safeguarding their pets' well-being, making certain that preventive care is readily accessible and contributing to the overall health and longevity of their cherished animal companions.
For comprehensive information about Crown Vet and its services, please visit www.crown.vet or directly contact the clinic at +91 83569 65099 or email hitechcity@crown.vet.
About Crown Vet: Crown Vet stands as a renowned name in the veterinary care industry, devoted to promoting the health and happiness of pets through exceptional medical services. With a team of experienced veterinarians and cutting-edge facilities, Crown Vet continues to set new benchmarks in pet care across the nation.
If you have any objection to this press release content, kindly contact pr.error.rectification[at]gmail.com to notify us. We will respond and rectify the situation in the next 24 hours.