Discover the Power of Alkaione Water, brought to you by M4T Electronics! Experience the refreshing and revitalizing benefits of this revolutionary technology. Hydration never tasted so good!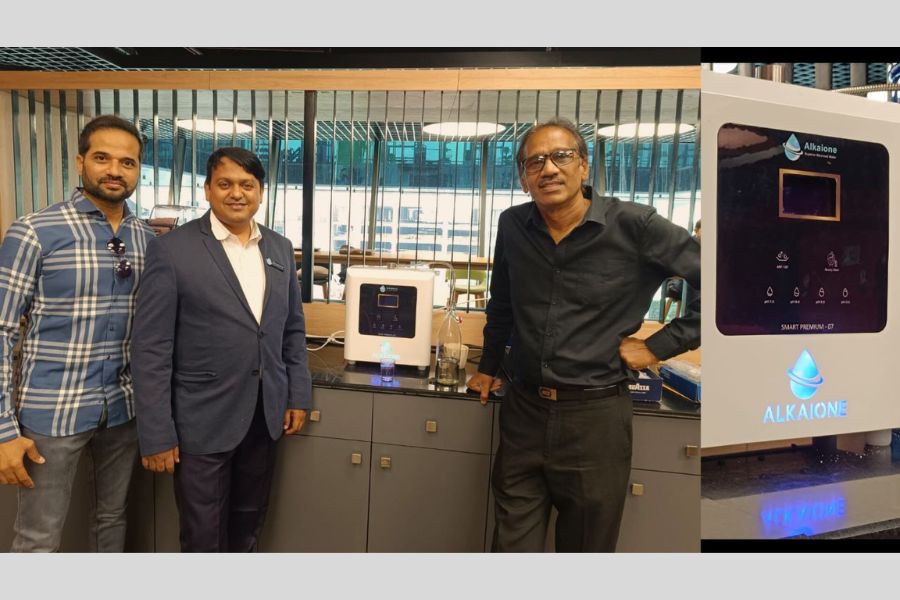 New Delhi (India), July 5: M4T Electronics Pvt Ltd, a leading electronics company based in Hyderabad, India, is proud to announce the release of its latest product, Alkaione. Alkaione is a state-of-the-art, fully automatic water ionizer that utilizes advanced in-water ionization technology. This groundbreaking device, the first of its kind, developed in India, is set to revolutionize the way we drink water and unlock its potential health benefits
With the introduction of Alkaione, M4T Electronics aims to redefine our perception of drinking water, offering a solution that not only purifies our drinking water but also enhances its health properties. The fully automatic functionality of Alkaione ensures user-friendly operation, making it an ideal addition to any home.
Alkaione, based in T-Hub, has made its mark in Telangana by providing household solutions to the problem of acidic water. By naturally converting acidic water into alkaline water, Alkaione removes acidic waste and enriches it with antioxidants and essential minerals like calcium, Magnesium, Sodium and potassium. This innovative product has significantly improved the health of many individuals.
Recognized by TSIC (Telangana Innovation Cell) in 2022, Alkaione received a research and development grant. It is now the most recommended alkaline water ionizer in India, driving innovation and nurturing the next generation of creative technologies
At M4T Electronics private limited, our vision is to inspire and improve the health and wellness of people across the globe, empowering them to lead vibrant and fulfilling lives. We are driven by a deep-rooted passion for well-being, and we believe that true health benefits start from within.
Our vision is not merely about selling the products; it's about making a meaningful impact on individuals and communities worldwide. We envision a world where every person has access to the transformative benefits of alkaline water, enabling them to unlock their full potential and live their best lives.
We understand that health is a holistic journey encompassing physical, mental and spiritual well-being. By harnessing the power of cutting-edge technology, we strive to create products that go beyond hydration, offering a pathway to overall wellness. Our alkaline water ionizers are designed to invigorate and revitalise, promoting balance and harmony within the body
We are on a mission to educate and empower individuals about the incredible potential of ionized water. By sharing knowledge, conducting research and collaborating with health experts, we aim to demystify the science behind alkaline water and its profound impact on our bodies. Our vision is to spark a global movement towards greater health consciousness and self-care.
Our vision extends beyond our products and reaches the hearts and minds of our customers. We are dedicated to providing exceptional customer service, nurturing long-lasting relationships, and being a trusted partner on your journey to better health. Your well-being is our utmost priority, and we are here to support and guide you every step of the way.
Every day, we strive to exceed expectations, setting the industry standard for excellence. We are committed to continuous innovation, ensuring our products evolve through the latest advancements in technology and scientific research. Through rigorous testing and quality control, we guarantee that our Ionizers deliver unparalleled performance and reliability.
Join us in our mission to inspire and improve the health and wellness of people across the globe because we believe that when we are healthy, we accomplish extraordinary things. Welcome to Alkaione, where vision meets action, and the pursuit of well-being knows no boundaries. Together, let's make the world a healthier place, one drop at a time.
For more information about Alkaione and their groundbreaking Alkaione water ionizer products, please contact +918297234141. More details can be found on the company's website: www.alkaione.com
If you have any objection to this press release content, kindly contact pr.error.rectification[at]gmail.com to notify us. We will respond and rectify the situation in the next 24 hours.