Enhancing the mind with developing new ideas to reach the heights: The Ancient Times " power to people"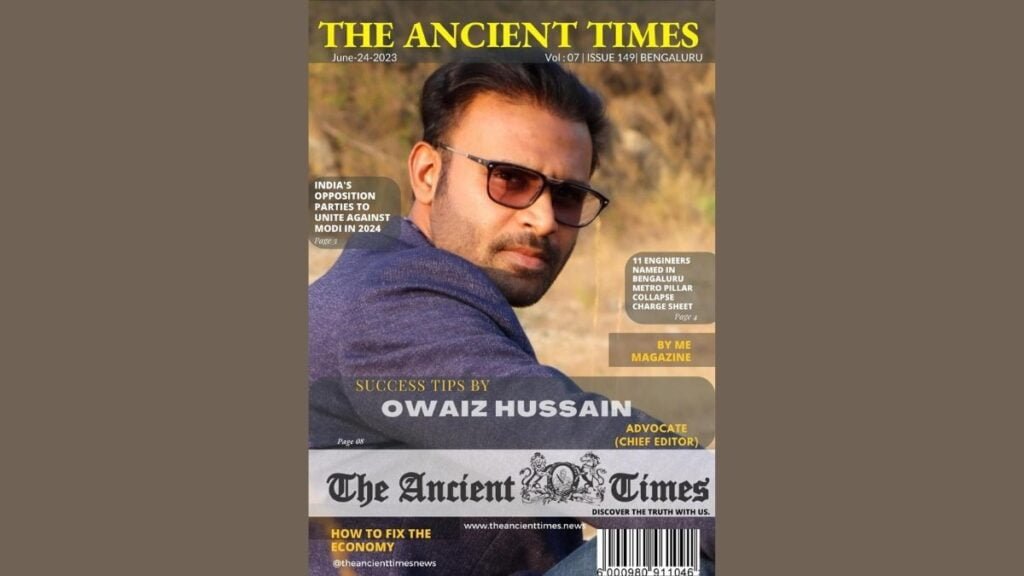 New Delhi (India), June 28: The Ancient Times, founded by Mr. Hussain Owais Sabir at Bangalore, India, in 2016. Registered under RNI Government of India and published in multi-language including English and Kannada editions, and circulated as a weekly newspaper.
Initially, The Ancient Times' first editions consisted of 200 copies, which Mr. Hussain Owais Sabir personally distributed to various locations such as Courts of Justice, Government Offices including Vidhan Sabha and Vikasa Soudha, and numerous other official establishments. In the beginning, he faced challenges in ensuring the widespread readership of the newspaper. However, his objective was to establish The Ancient Times as a platform to represent society's voice and disseminate authentic news to individuals from all walks of life.
Following a focus on circulating the offline newspaper to different cities, Mr. Hussain Owais Sabir recognized the evolving nature of modern society and the growing influence of technology. In response, he launched the online website www.theancienttimes.news. This move resulted in an immediate expansion of the newspaper's reach, covering audiences worldwide. With Mr. Hussain Owais Sabir leading the charge, he effectively promoted The Ancient Times, attracting a significant number of individuals who now actively contribute to the newspaper's success.
Over time, as the website was introduced, the audience of The Ancient Times began to grow steadily, with increasing interest in the news content and articles published on the platform. Mr. Hussain Owais Sabir, thinking outside the box, devised a method to enhance the user experience by implementing a convenient scrolling feature for articles, ensuring that viewers remained up-to-date with the latest news. Additionally, he launched an app called The Ancient Times, which is currently available for Android users on the Google Play store. Looking ahead, he has plans to release another app specifically designed for iOS users.
Employing creative thinking, he conceived a distinctive concept aimed at turning society into a network of reporters. This idea empowered ordinary citizens to gather news from their surroundings and publish it under their own names. It provided a platform where common individuals, for the very first time, could benefit by sharing their articles, news, and advertisements through a web portal. The website featured a personal login option, enabling users to publish their contributions directly. This unusual yet innovative approach opened up new opportunities for individuals to actively participate in journalism.
By actively engaging on social networking sites, he regularly publishes live news and articles. This approach has attracted a substantial number of readers and led to a rapid increase in followers from various countries worldwide, including the USA, UAE, Canada, Hong Kong, Philippines, Uganda, and Singapore. Furthermore, he has generously offered internships to numerous students hailing from different colleges across cities.
With a vision to position his newspaper among the top publications in the country, he aspires to publish The Ancient Times on a daily basis in significant quantities. However, this plan is currently hindered by limited financial resources. To overcome this obstacle, The Ancient Times welcomes sponsors who can contribute to the daily publication of the newspaper, ensuring a wider reach and providing more job opportunities to viewers and individuals seeking employment.
His beliefs are not limited to his current achievements; in fact, they are profound and purposeful. He firmly holds the belief that "Time and Health are two precious assets that we don't recognize and appreciate until they have been depleted." Guided by this conviction, The Ancient Times consistently strives to inform and educate the public well in advance, be it through breaking news or insights on food. With this mindset, Mr. Hussain Owais Sabir made the decision to organize Food Awards, recognizing and highlighting noteworthy contributions in the culinary realm.
Moreover, Mr. Hussain Owais Sabir actively promotes the wisdom of Dr. Seuss, who once said, "The more that you read, the more things you will know, the more that you learn, the more places you will go." Inspired by this sentiment, he also involves himself in other endeavors, such as sponsoring Education Awards for schools and colleges. This initiative aims to inspire and motivate the future generation, encouraging them to pursue greater heights in life.
In addition to his efforts to broaden his audience, he is currently working on the publication of The Ancient Times magazine, which will feature fresh content aimed at providing valuable information to society. This magazine is scheduled to be launched in July 2023 in Bangalore, further enhancing the reach and impact of The Ancient Times.
If you have any objection to this press release content, kindly contact pr.error.rectification[at]gmail.com to notify us. We will respond and rectify the situation in the next 24 hours.