Krishca Strapping Solutions' IPO Opens on 16th May 2023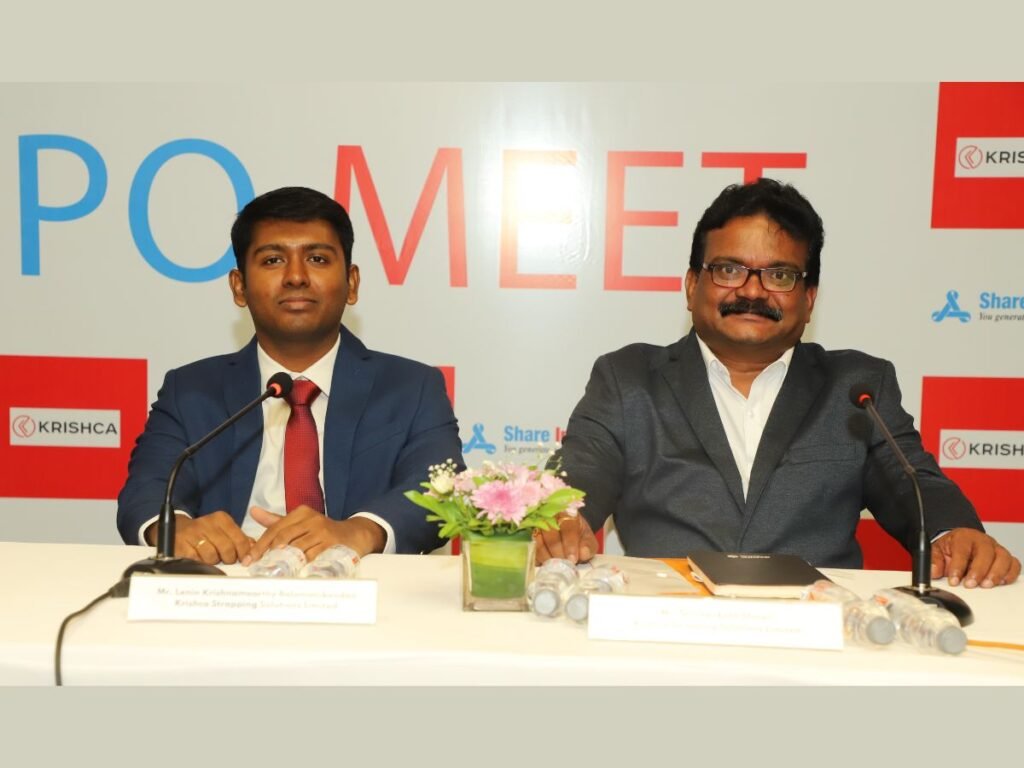 (L to R) Mr. Lenin Krishnamoorthy Balamanikandan, Chairman & MD at Krishca Strapping Solutions Ltd with Mr. Terli Venkata Shivaji, Whole Time Director at Krishca Strapping Solutions Ltd at Press Confe
Mumbai (Maharashtra) [India], May 13: Krishca Strapping Solutions Limited, one of the leading manufacturer and wholesaler of high tensile steel straps, strapping seals and strapping tools has announced its plans to go public with an Initial Public Offering (IPO) on May 16th, 2023. The company is aiming to raise ₹ 17.93 crore through this IPO, with shares set to be listed on the NSE EMERGE platform.
The fresh issue size is 33,20,000 equity shares of ₹ 10 each.
• Anchor Investor Bidding 15th May 2023
• Issue Size – 33,20,000 equity shares of ₹ 10 each
• Issue Size – ₹ 16.42 crore – ₹ 17.93 crore
• Price Band – ₹ 51 – ₹ 54
• Market Lot Size – 2,000 Equity Shares
Equity Share Allocation
Anchor Investor – 9,04,000 Equity Shares
Qualified Institutional Buyers (QIB) – 6,04,000 Equity Shares
Non-Institutional Investors (NII) – 4,54,000 Equity Shares
Retail Individual Investors (RII) – 10,58,000 Equity Shares
Market Maker – 3,00,000 Equity Shares
The net proceeds from the IPO will be utilized to fund capital expenditure for setting up of new strapping line (₹12.04 crore) and repayment of certain secured borrowing (₹3.75 crore). The issue closes on May 19th, 2023.
The Lead Manager to the Issue is Share India Capital Services Private Limited and The Registrar to the Issue is Purva Sharegistry India Private Limited.
Mr. Lenin Krishnamoorthy Balamanikandan, Chairman & Managing Director, Krishca Strapping Solutions Limited said," Our mission is to be one of the major players of the industry serving all leading customers. The IPO funding will enable us to expand our capacity, and strengthen our balance sheet by repayment of loan. We intend to grab major market share in the domestic market and enhance our presence in the export market with increased capacity and entry into packing contracts."
Mr. Anand Srivastava, Executive Director, Share India Capital Services Private Limited, a lead manager to the issue, said, "We believe that this offering will provide the company with the necessary resources to meet growth capital and enhance its market share."
If you have any objection to this press release content, kindly contact pr.error.rectification@gmail.com to notify us. We will respond and rectify the situation in the next 24 hours.