Kumar Kinshuk: The Enchanting Wordsmith Who Redefines Crime Suspense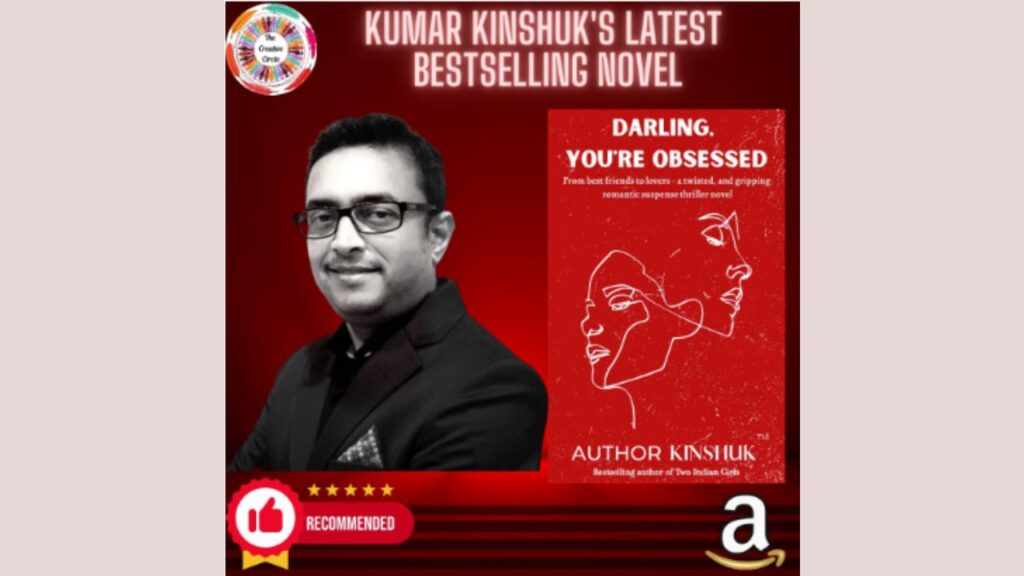 New Delhi (India), June 24: Kumar Kinshuk, a multi-talented author and graduate of prestigious institutions such as T. A. Pai Management Institute (TAPMI), Manipal, and St. Xavier's College, Ranchi, has captured the hearts of readers with his latest masterpiece, 'Darling, You're Obsessed.' With a passion for storytelling honed by his diverse professional background, Kinshuk takes readers on a mesmerizing journey filled with danger, passion, and relentless obsession.
Kinshuk's literary brilliance is nurtured by his extensive experience in various industries over the past two decades, where he honed his marketing skills and thrived as an avid salesperson. However, it is his innate talent for crafting intriguing narratives that have set him apart. His passion for literature is not confined to novels alone; he also delves into the realms of photography and Shayari (Urdu Poetry) in his free time. Kinshuk's zest for life and active participation in community celebrations further solidify his connection with people and his genuine love for human interactions. His literary contributions are continuously providing him with an esteemed presence in the literary world. He is popular for his Kanke Killing series, a collection that involves a prequel, Ritualistic Murder, followed by the trilogy Two Indian Girls, Fatal Belief, and Daybreak. This series gave him fame and recognition as a best-selling author with umpteen number of fans worldwide. Another of his work, Bariatu Tales, is a novella that takes readers on a journey through the lives of pre-gadget day kids and their encounters with ghosts and thieves. The work kindles how the flight of fancy worked in children's minds before the advent of digitalization.
Critics and readers alike have hailed 'Darling, You're Obsessed' as a tour de force in the crime suspense genre, cementing Kinshuk's position as a true master of romantic suspense. In this mesmerizing tale, Kinshuk delves into a world of danger, passion, and obsession, intertwining the lives of Inspector Kamal, Riya, and Isha in a high-stakes game of cat-and-mouse. Kinshuk's talent for character development shines through in 'Darling, You're Obsessed.' Readers are immediately drawn to Inspector Kamal, a dedicated officer torn between his duty and his growing infatuation with Riya. Kamal's internal struggle is palpable, making him a relatable and empathetic protagonist. Equally compelling is Isha, Riya's best friend, whose complex feelings for both Kamal and Riya add an intriguing layer of emotion to the narrative. Kinshuk skillfully explores their vulnerabilities and fears, making the characters feel real and flawed.
One aspect that sets 'Darling, You're Obsessed' apart is the emotional depth Kinshuk infuses into the story. The characters' relationships are fraught with tension, passion, and conflicting emotions, leaving readers deeply invested in their fates. The chemistry between Kamal, Riya, and Isha is electric, evoking a range of emotions from desire to heartache. Kinshuk's ability to capture the complexity of human emotions is commendable, adding layers of authenticity to the narrative.
Kinshuk's writing style is both evocative and atmospheric, immersing readers in the gritty world of crime and obsession. His vivid descriptions bring the settings to life, painting a picture that stimulates the senses and enhances the overall reading experience. The seamless blend of suspense and romance keeps readers hooked, eagerly turning the pages to discover what lies ahead.
'Darling, You're Obsessed' is a masterful work of suspense, showcasing Kumar Kinshuk's prowess as an author of crime thrillers. With a meticulously crafted plot, multidimensional characters, and an evocative writing style, Kinshuk takes readers on a gripping journey that explores the depths of passion and the dangers of obsession. This captivating novel is a testament to Kinshuk's ability to keep readers enthralled until the very last page, making it a must-read for fans of the genre. It is available on Kindle, Kindle Unlimited and Paperback.
Check out the Amazon link to get your copy: http://mybook.to/darlingyoureobsessed/
If you have any objection to this press release content, kindly contact pr.error.rectification[at]gmail.com to notify us. We will respond and rectify the situation in the next 24 hours.