Rakhi.com is Back with a Fresh Collection of Rakhis for Rakshabandhan 2023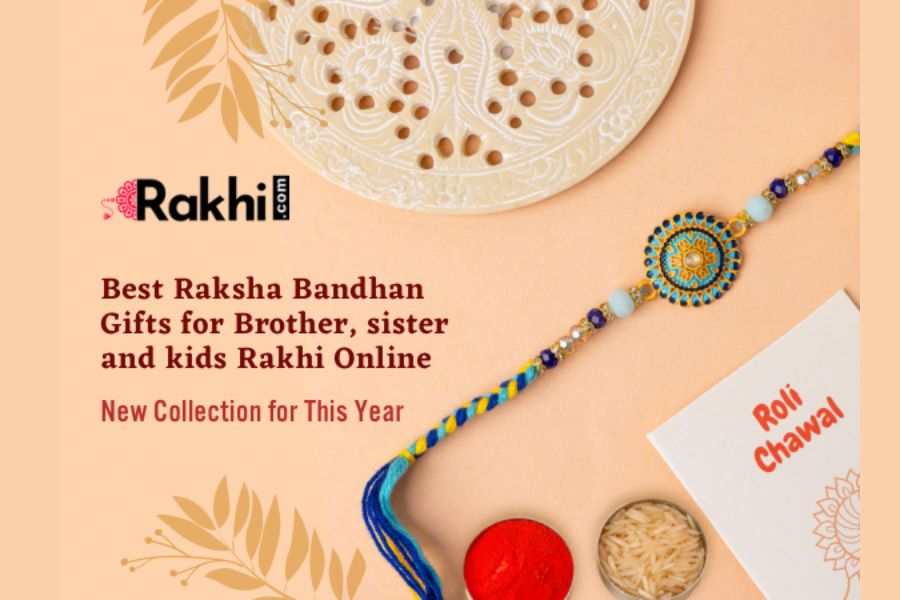 Rakhi.com makes a comeback with an exclusive range of Rakhis for Rakshabandhan 2023
New Delhi (India), July 10: Rakhi.com, the leading online platform for exquisite Rakhi collections, is thrilled to announce its return with a brand-new assortment of Rakhis just in time for the joyous festival of Rakshabandhan 2023. With a focus on quality, craftsmanship, and eco-friendliness, Rakhi.com aims to provide customers with an unparalleled shopping experience for this cherished occasion.
Latest Hand-Crafted Rakhis for Men and Kids
Rakhi.com takes pride in curating the latest and most captivating Rakhi gifts for brothers, catering to customers' diverse tastes and preferences.
This year, they present an extensive range of hand-crafted Rakhis specifically designed for men and kids. Each Rakhi is meticulously crafted to showcase intricate details and reflect the traditional significance of the festival.
From elegant and minimalistic designs to ornate and vibrant patterns, Rakhi.com offers Rakhi gifts for brothers and Rakhi gifts for sister to celebrate the bond they share.
Eco-Friendly Rakhis for a Greener Raksha Bandhan Celebration
In line with their commitment to environmental sustainability, Rakhi.com offers an exclusive collection of eco-friendly Rakhis.
These Rakhis are thoughtfully made using eco-conscious materials, ensuring a reduced ecological footprint without compromising on their aesthetic appeal.
Choosing eco-friendly Rakhi online will allow customers to express their love for their siblings while contributing to the protection of the planet.
Rakhi.com believes that celebrating Rakshabandhan should not come at the cost of the environment, and their eco-friendly Rakhis are a testament to this belief.
Diverse Range of Rakhi Types
Rakhi.com understands the importance of personalization and variety when it comes to selecting the perfect Rakhi gift for brother.
To cater to individual preferences, they offer a wide array of Rakhi types. Customers can choose from gold, silver, rudraksha, pearl, and other personalized Rakhis, enabling them to find the ideal Rakhi that resonates with their sibling's personality and style.
Whether it's a traditional Rakhi with auspicious symbols or a contemporary Rakhi with a modern twist, Rakhi.com ensures that each Rakhi is a reflection of love and affection.
Gift Hampers for a Complete Raksha Bandhan Celebration
Rakhi.com goes beyond just Rakhis and offers a delightful selection of Rakhi gift hampers. Customers can explore Rakhi with Sweets, Rakhi with Chocolates, Rakhi with Dry Fruits, and Rakhi with Gift Hampers, ensuring a complete and joyous celebration.
These thoughtfully curated Rakhi gifts hamper add an extra touch of sweetness and delight to the festival, making it memorable for both brothers and sisters.
With a combination of traditional treats and indulgent goodies, Rakhi.com ensures that the festivities are enhanced with delectable flavors and heartfelt gestures.
Worldwide Rakhi Delivery Service by Rakhi.com
Irrespective of geographic location, Rakhi.com ensures that the spirit of Rakshabandhan transcends borders. They proudly offer worldwide delivery service, allowing customers to send their heartfelt wishes and Rakhis to their brothers across the globe.
With their efficient logistics partners, Rakhi.com guarantees timely and secure delivery, ensuring that siblings feel connected despite the distance.
Whether the brother is residing in the same city or across oceans, buying Rakhi online from Rakhi.com ensures that the bond of love is celebrated with utmost convenience and reliability.
About Rakhi.com
Rakhi.com, an Australia-based online store specializing in online Rakhi delivery, expanded its operations to India. Founded by Rakesh Prajapati in 2012, this popular online store has already established its presence in countries such as the UAE, Canada, the US, the UK, and New Zealand.
One of Rakhi.com's standout features is its commitment to fast, reliable, and free delivery services. Sending gifts and Rakhis across borders can be complex, involving Customs checks and extended transit times.
However, Rakhi.com has successfully addressed this challenge. Their unique selling proposition (USP) lies in the fact that they maintain warehouses in all these countries.
This strategic setup ensures swift and timely online Rakhi delivery, particularly rakhis that are personally chosen by sisters for their brothers. After all, gifts and rakhis hold special significance when they arrive on the designated day.
Moreover, when it comes to perishable items like food, they must reach their destination promptly to avoid spoilage during transit. Recognizing this concern, Rakhi.com has established its own warehouses in these countries.
With Rakhi.com, you can effortlessly send a wide array of gift items, including chocolates and Mithais, ensuring they reach their intended recipients without any hassle.
Upon relocating to Australia in 2008, Rakesh Prajapati and his wife, Kiran Prajapati, experienced a longing for their family, particularly during festive occasions. It dawned on them just how significant festivals are in our lives, serving as a thread that binds families and loved ones together.
Additionally, the couple encountered individuals from diverse cultures and backgrounds who resided in foreign lands and yearned for their own traditions and festivals.
In 2011, shortly after being blessed with the arrival of their beautiful daughter, the couple made a momentous decision. They embarked on a mission to create a platform catering to those who hold traditions dear, giving rise to the online rakhi gift store known as Rakhi.com.
If you have any objection to this press release content, kindly contact pr.error.rectification[at]gmail.com to notify us. We will respond and rectify the situation in the next 24 hours.