Reflections on India's Public Policies: By India's Experienced Policy Makers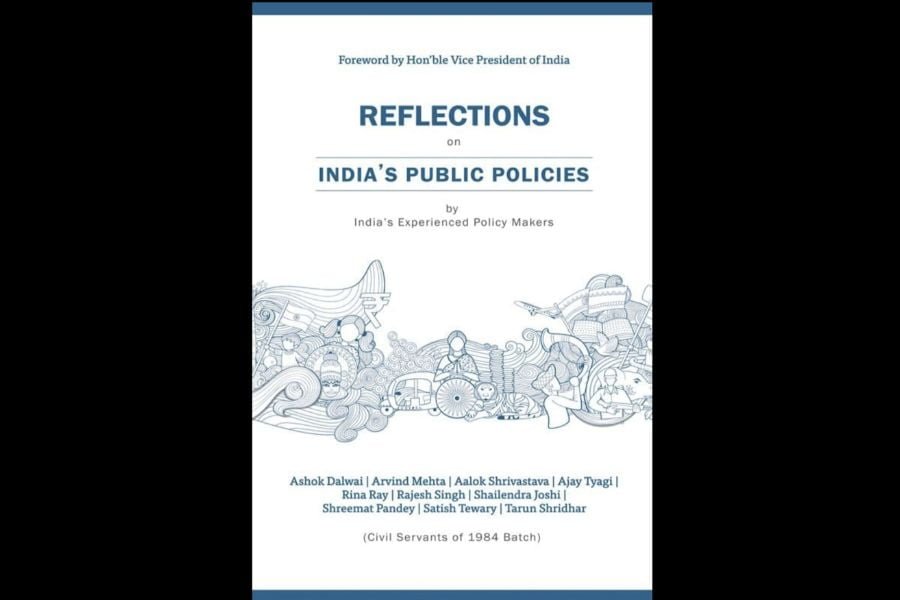 New Delhi (India), May 20: Reflections on India's Public Policies' is a labour of love crafted by a group of ten seasoned policy-makers of the 1984 batch who sift through their combined experience of over three centuries of reshaping the future of our country. From Finance to Land Usage, Education to Health, Sustainable Development to Energy, all the important factors that contribute to the growth of a nation are covered – succinctly and with great insight. The best part of this treatise is that it is written with a positive and forward-thinking approach. While identifying the most pressing issues faced by India, it does not just dwell on the problems. Instead, it offers simple, well-thought-of solutions, which are practical and efficacious – with hard evidence to back up the assumptions and concepts.
This book is different in another aspect. As most of the civil servants in India share their experiences at the personal level in the form of memoirs, there are only a few references in the public policy domain for sharing practical experiences in an objective manner. If one is looking for an objective analysis, this is the book. As more than 50% population of India still depends on the primary sector, the maximum coverage has been given to agriculture and allied subjects such as animal husbandry, fisheries, poultry, dairying and rural industrialisation. While dealing with the conservation of soil, land and water resources, attention had also been given to important social aspects such as preventing food loss and food wastage.
A major learning is that all forms of water harvesting structures are required in our country. As 'small is beautiful', so is the 'big efficient.' The book emphasises us remembering that water security is a fundamental requirement and investment is completely justifiable for such a basic public good. In so far as agriculture is concerned, it comes out clearly in the book that various inefficient subsidies kill the entrepreneurial spirit as the recovery of the cost of inputs has already been addressed. On the other hand, dairying, poultry and fish farmers need to work harder to recover the cost and generate a surplus to stay afloat. Innovation also gets pushed to the backseat, as the incentive to perform better has already been taken away from our agriculture policies.
Agro-based rural industrialisation is another window of opportunities for weaning away the surplus agricultural labour. In this connection, having a land use policy for the country is important. While dealing with topics of universal importance, namely education and health, the authors are of the view that a robust Public Finance policy needs to give attention to these two sectors for the country to reap its demographic dividends. In terms of public finances, the authors advocate that any amount of expenditure, both in centre and state sectors, on health and education is welcome's. The present system of higher and technical education offered in India has to be more relevant for the market, which is global. By assessing demand/supply mismatch and modifying the syllabi and pedagogy, a course correction needs to be done. Accordingly, it is necessary to plan to set up more institutions of higher learning as there is pressure from foreign universities and other professional institutions to enter India. In addition to providing opportunities to a large number of Indian students going abroad for higher education, the authors suggest keeping the cost of education reasonable from 'kindergarten" to "super specialisation".
Education and Health services have to be made available, accessible and affordable to all. For different reasons albeit, there is a need to have an efficient regulator in the medical and education sectors. The regulator must be independent of the State and Union Governments to provide a level playing field to both public and privately funded institutions. The Regulation has to be based more on a light, feather-touch approach and self-certification procedures which are not over-prescriptive. In short, 'trust, but verify' needs to be the mantra with a risk-based assessment mechanism. In the energy sector, we have to reconcile long-term commitments made in the conventional energy sector with fast-growing renewable energy. So far, action taken to revitalise utilities in the energy sector is insufficient to ensure the overall long-term viability of such utilities.
An interesting comparison made between service delivery systems in India and the USA clearly shows that the political interference in India in day-to-day administration adversely affects our services. Both elected and selected representatives of the people are responsible for this situation. Contrary to popular perceptions, the overall per capita expenditure in India on administration is on the lower side. Despite several constraints, the Indian system is able to deliver quality (needs further improvements) services to citizens. While discussing the market economy, it is mentioned that 'Market Discipline' ensures the growth in capital markets and guides the Banks' responses for the benefit of the overall economy in India. The need for developing a deep and vibrant corporate bond market in India is second to none to meet her growth aspirations. All in all, 'Reflections on India's Public Policies' is a must-read for aspiring and serving civil servants, academics, enlightened politicians, as well as anyone who cares for India and has an avid interest in her welfare and sustainable development.
If you have any objection to this press release content, kindly contact pr.error.rectification[at]gmail.com to notify us. We will respond and rectify the situation in the next 24 hours.