Sangeeta Majumder's splendid Kathak performance in SHIV KAILASHI with Anup Jalota and Neel Ranjan Mukherjee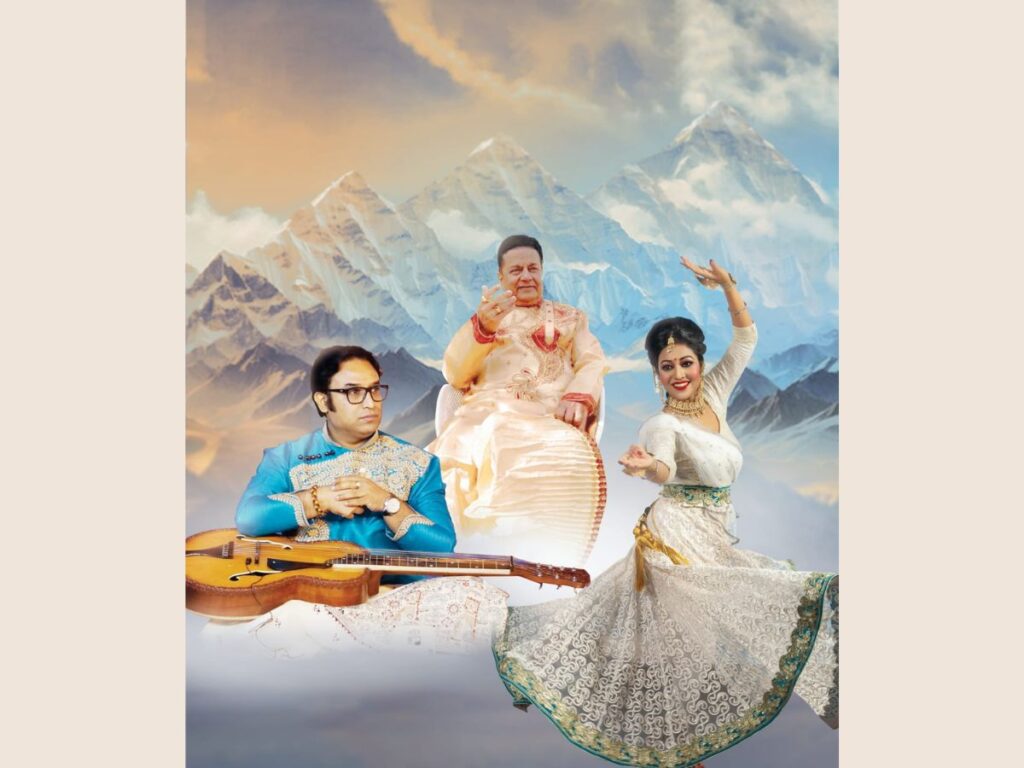 New Delhi (India), May 15: The music video album 'Shiv Kailashi' is an invocation of Shiva, sung and acted by Padmashree Anup Jalota, the Bhajan Samrat and Kathak Exponent Sangeeta Majumder with music rendered by composer Neel Ranjan Mukherjee.
The Bhajan 'Shiv Kailashi' (Har Har Girijapati) is marvellously enacted by Sangeet Natak Akademi Awardee, Anup Jalota's golden voice. It has been loved by thousands who understand the nuances of (Spirituality, Kathak & Ragas)."I really felt great to work in this fusion within the tradition…Sangeeta Majumder has choreographed and performed splendidly in Shiv Kailashi that tells a story with steps of grace which are blended with aggression depicting inspiration and a rare example of women's empowerment," observed Shri Anup Jalota. To add more, "Neel has been commendable in Shiv Kailashi".
"About Anup Jalota ji there's nothing to talk about who himself is sitting in the pinnacle of success and so humble. Neel and I learnt a lot about different professional and personal aspects from him during the work"- said Sangeeta.
SHIV KAILASHI the album is recently released by T-Series is pure classical music which touches the heart as a devotional song. The music and kathak bol were composed by India's leading Hawaiian guitar player Neel Ranjan Mukherjee and Sangeeta Majumder who is internationally known for her innovative skills, sharp movements and aangik abhinaya (that denotes expressions). As a concept, Shiv Kailashi is the first of its kind to amalgamate the melody of Hawaiian guitar with Kathak in a devotional song that made it as one of the much-awaited works acclaiming 'Har Har Girijapati Mahadev'.
Hailed as one of the best dancers from the field of pure Kathak, Sangeeta Majumder is also the Founder and General Secretary of 'Strings N Steps Academy' which has established itself as an Academy of Performing Arts and Festivals (New Delhi), also as a concept. Formerly a student at Pandit Birju Maharaj's 'Kalashram' academy & Shriram Bharatiya Kala Kendra, she's a Masters in Arts (Kathak) and a Master's in Arts (English) and Diplomas in Kathak and different subjects.
Sangeeta Majumder has performed and conducted workshops in Argentina, Austria, France, Germany, Hungary, Romania, Slovakia, Netherlands, Spain, Switzerland, United Kingdom, UAE and many more countries. To her credits Bengali Album 'Agomoni Chhonde' and the more promising albums yet to be released are Arabic Tales – Kathak'- A Fusion of Oriental Bellydance and Kathak and 'Rabi Thakurer Gaan' – The Tagore Tales (2023).
Among the accolades, Sangeeta was the winner of the 'Uttar Pradesh Sangeet Natak Academy Competition' in Kathak and was felicitated by Pandit Birju Maharaj. Among her other accomplishments includes her as Doordarshan and ICCR empanelled artist accredited to Ministry of External Affairs, India. Her Choreographic Works include 'Strings N Steps'- Amalgamation of Kathak and Hawaiian Guitar by Neel Ranjan Mukherjee, 'Echoing Shadows' – An Amalgamation of Indian Classical Dance and Poetry by Sonnet Mondal performed in Slovakia, a solo production- 'Bhanushingher Nayika' – The Heroines by Rabindranath Tagore in Spain, UK and Germany. Sangeeta has also performed 'Ramayana' at the Tirupati Tirumala Devasthanam in Andhra Pradesh, 'Rishi Aurobindo and India- Bhabani Bharati' on the occasion of 150th Birth Anniversary of Shri Aurobindo to name a few.
Neel Ranjan Mukherjee is an internationally acclaimed Hawaiian Guitar player and is one of the prime disciples of the legendary Sitar maestro Padmabhushan Pandit Debu Chaudhuri. Neel and Sangeeta, both are also under the tutelage of world-renowned Vocalist and Bhajan Samrat Padmashri Anup Jalota. Alongwith other awards, Neel is conferred upon by the Member of Parliament – House of Commons in Canada, for his outstanding performance & contribution to Indian classical music and performance in a special performance for India's Prime Minister Shri Narendra Modi and Prime Minister of Bhutan H.E. Dasho Tshering Tobgay.
Neel has performed for ICCR in Delhi, Bhubaneshwar, Bhopal and Kolkata, the Golden Jubilee Celebration of the Faculty of Music & Fine Arts of the Banaras Hindu University in Varanasi, Bangladesh National Press Club in Dhaka, the Indian Consulate in Dubai, the Embassy of India in Bangladesh, Germany, The Netherlands and Hungary. He is the first artist from India to have performed live at Radio Romania Cluj and his rare performance at Casa De La India in Valladolid, Spain.
Their latest venture 'Shiv Kailashi' is on Youtube on Bhaktisagar of T-Series channel. Padmabhushan Vocalists-duo Ahmed Hussain and Mohammed Hussain and drums – icon Shivamani among all celebrities praised it from their heart and congratulated the team. Now this is your turn. Watch out!
If you have any objection to this press release content, kindly contact pr.error.rectification@gmail.com to notify us. We will respond and rectify the situation in the next 24 hours.