Software tool that maximizes efficiency and reliability of business Investment: Best Asset and Maintenance Management Software (CMMS) by Improsys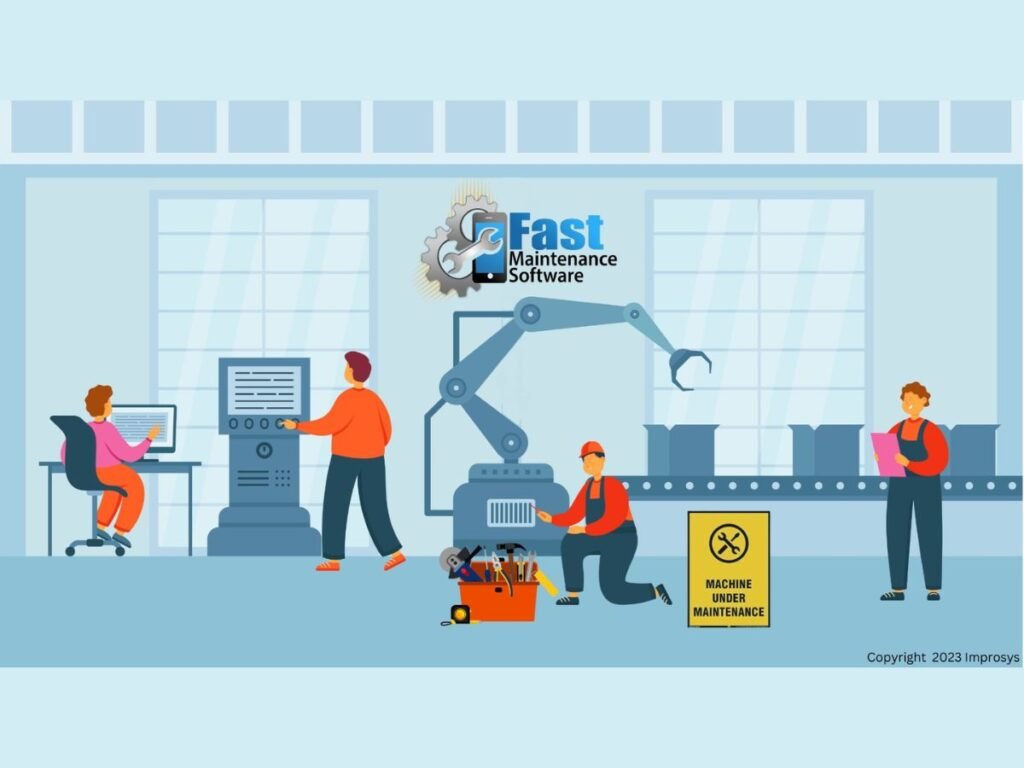 New Delhi (India), September 9: In an era where efficiency and quality of work reign supreme, businesses worldwide are constantly seeking ways to streamline their operations and reduce downtime. Industries are continually searching for methods to enhance efficiency, reduce costs, and maximize the lifespan of their assets in order to do business more effectively and efficiently. Maintenance management is a critical aspect of this pursuit, ensuring that equipment, facilities, and assets remain in optimal condition to achieve maximum OEE i.e., Overall Equipment Effectiveness. Improsys Technologies, (https://www.improsys.in) a leading innovator in software solutions, as they introduce their groundbreaking Fast Maintenance Management Software, set to transform the way organizations approach asset management and maintenance tasks.
Maintenance management has long been a complex and challenging endeavour. Traditional methods, such as paper-based systems or spreadsheets, often result in inefficiencies, lost time, and costly errors. Recognizing these pain points, Improsys has harnessed the power of cutting-edge technology to create a solution that promises to revolutionize maintenance management which can be operated by machine operators or supervisors on their mobile by using QR code scanning enabling instant alerts to maintenance engineers to act immediately to reduce downtime of assets.
Why do businesses need maintenance management software?
When it comes to embracing the benefits of a Computerized Maintenance Management System (CMMS), businesses of all sizes have much to gain. However, for the organizations, the journey towards streamlining maintenance operations using a CMMS is often met with unique challenges. This is where Fast Maintenance Software takes the lead, designed with the specific needs of all kinds of businesses in mind.
1. User Friendly Interface – Easy transition from manual systems
Shifting from traditional manual maintenance tracking methods like paper and spreadsheets can be a daunting task for businesses. Fast Maintenance Management Software addresses this concern by offering a user-friendly interface that simplifies the transition. Its intuitive design and straightforward navigation ensure that even non-technical staff can effortlessly adapt to digital processes without the need for extensive training.
2. Mobile Accessibility
Software can be accessed anytime, anywhere from mobile devices. Field technicians can easily update breakdowns, report progress, and manage asset information on-site through the mobile interface, facilitating seamless communication among team members. Management can stay informed by viewing the live asset dashboard, which provides real-time status updates on asset maintenance.
3. Live Machine Dashboard
Instant insights can be monitored into the status and performance of assets and machines with Live Machine Dashboard. The status and positions of assets, equipment in real-time, giving a clear view of the current ongoing maintenance activity on desktop, laptop, mobile, tablet, etc.
4. Preventive and Breakdown Maintenance Checklists
Software has feature to define Preventive and Breakdown maintenance checklist along with schedule of tasks and responsible person. Software gives alerts to responsible person to remind the tasks to be performed so that planning of activities can be done in advance. Planned vs completed activities can be monitored ensuring timely completion of task.
5. Work Permits
Prioritizing safety is paramount when it comes to maintenance operations. Fast Maintenance Management Software includes a robust Work Permit Management feature that not only streamlines the work authorization process but also significantly enhances safety protocols. It ensures that all maintenance tasks are conducted in a controlled and safe manner, reducing the risk of accidents or incidents associated with unauthorized or unsafe work practices. This feature provides peace of mind to maintenance teams and organizations by reinforcing a safety-first approach to maintenance operations.
6. Spare Part and Consumables Management
Simplify the management of spare parts, consumables and ensure that there always have the right components on hand with Asset Spare Part Management feature. Track inventory levels, reorder supplies as needed, and reduce unnecessary costs associated with understocking or overstocking spare parts.
7. Warranty / AMC tracking of Spares
Fast Maintenance Management Software goes beyond basic asset management. It also keeps track of warranties and Annual Maintenance Contracts (AMCs) for spare parts. By alerting users to warranty expirations and AMC renewal dates, the software ensures that assets remain under warranty protection and are always serviced in a timely manner, helping organizations optimize costs and maintain operational efficiency.
8. Asset Repairs
In the event of asset breakdowns or malfunctions, the software offers a seamless process for managing repairs. Maintenance teams can dispatch assets for repairs, monitor the repair progress, and receive them back after servicing. The reconciliation feature ensures that repaired assets are properly accounted for, reducing downtime and ensuring that equipment is always in optimal working condition.
9. QR/Barcodes for Asset and Spare Parts
Enhance asset and spare part tracking accuracy with QR and barcode integration. Easily generate and assign QR codes or barcodes to assets and spare parts, streamlining the identification process. This technology enables quick access to asset information and simplifies inventory management, reducing the risk of errors and enhancing overall efficiency.
10. KPI Dashboard – MTTR and MTBF
Measure maintenance team's effectiveness with KPI Dashboard, focusing on crucial metrics such as Mean Time to Repair (MTTR) and Mean Time Between Failures (MTBF). These metrics provide valuable insights into maintenance processes and help to make data-driven decisions for improvement.
11. Notifications via Email, SMS, WhatsApp
Stay informed and take action promptly with inbuilt notification system. Receive important updates, alerts, and reminders via email, SMS, or WhatsApp, ensuring that no critical maintenance tasks go unnoticed.
12. Cloud enabled and Cost Affordable solution
Fast Maintenance Management Software offers a cost-efficient solution for businesses of all sizes. With competitive pricing and a range of features designed to optimize maintenance operations, can achieve higher efficiency without burning a hole in the pocket.
13. Customization and Scalability
Tailor the software to meet the specific needs of organization. Whether in manufacturing, healthcare, or any other industry, Improsys's software can adapt to the organizations unique requirements. Scale maintenance management capabilities as per the business requirements. The software is scalable and can accommodate the evolving needs of the organization. The software has capability to integrate with inhouse legacy software through API.
Improsys's Fast Maintenance Management Software isn't just a tool; it's a game-changer for businesses looking to minimize downtime, reduce operational costs, and enhance OEE. With its user-centric design, real-time monitoring, and robust feature set, it empowers organizations to take control of their maintenance processes like never before.
Imagine a world where costly breakdowns are a thing of the past, where assets operate at peak efficiency, and where maintenance teams work seamlessly together. Improsys is making this vision a reality with its cutting-edge software.
Improsys Technologies offers Productivity and Quality improvement software solutions for managing the businesses like ERP Software, WMS software, CRM software, Planning Software, Customer Complaint management software, Audit Management software, Inspection and SPC software, APQP, FMEA, PPAP, MSA software, Task management software helping organizations to digitize their operations to stay ahead in competition by reducing costs, improving quality, deliver and customer satisfaction.
In conclusion, Improsys's Fast Maintenance Management Software represents a significant step forward in the world of maintenance management. Its intuitive interface, real-time monitoring capabilities, and comprehensive feature set make it a must-have tool for organizations seeking to optimize their maintenance operations. Embrace the future of maintenance management with Improsys, and watch business thrive in the age of efficiency. The more detailed features and software demo can be obtained by registering interest on https://www.fastmaintenancesoftware.com
If you have any objection to this press release content, kindly contact pr.error.rectification@gmail.com to notify us. We will respond and rectify the situation in the next 24 hours.