Unlocking Convenience and Value with Mobilegoo.in: Selling Old Phones Hassle-free
New Delhi (India), June 23: In an exclusive interview with MobileGoo.in, they reaffirmed their commitment to becoming the ultimate solution for individuals seeking to responsibly recycle and sell their mobile phones. With a seamless selling process, secure payment options, and a user-friendly interface, MobileGoo. aims to provide unmatched convenience and reliability to its users. They highlighted the importance of environmental preservation and expressed their dedication to responsible recycling practices, aiming to reduce electronic waste and minimize the ecological footprint. This article delves into MobileGoo.in's extensive range of affordable and dependable devices designed to cater to customers looking to sell their old mobile phones. Their focus on convenience, reliability, and environmental consciousness sets them apart as a trusted platform for selling your old mobile phones.
Sell Your Old Phones Effortlessly: MobileGoo.in Makes It Simple and User-Friendly!
During the interview with MobileGoo.in, their emphasis on a user-friendly platform emerged as a pivotal feature, catering to individuals seeking to sell their old phones. By prioritizing user experience, MobileGoo.in is revolutionizing the way mobile phones are sold, offering an intuitive and effortless interface that streamlines the entire process. Here are the main points discussed:
1. Hassle-free selling: MobileGoo.in ensures a hassle-free experience for users by simplifying the process of selling old phones. They understand that selling a device can be a daunting task, so they have designed their platform to make it as effortless as possible.
2. Step-by-step guidance: MobileGoo.in guides users through the entire selling process, providing step-by-step instructions. This ensures that individuals are supported at every stage, from listing their device to receiving payment. Users can feel confident and at ease, knowing that they have clear guidance throughout the process.
3.  Intuitive interface: MobileGoo.in takes pride in their intuitive interface, which enables even individuals with limited technical expertise to navigate the website seamlessly. They have designed the platform with simplicity and ease of use in mind, ensuring that anyone can effortlessly sell their old phones without any technical hurdles.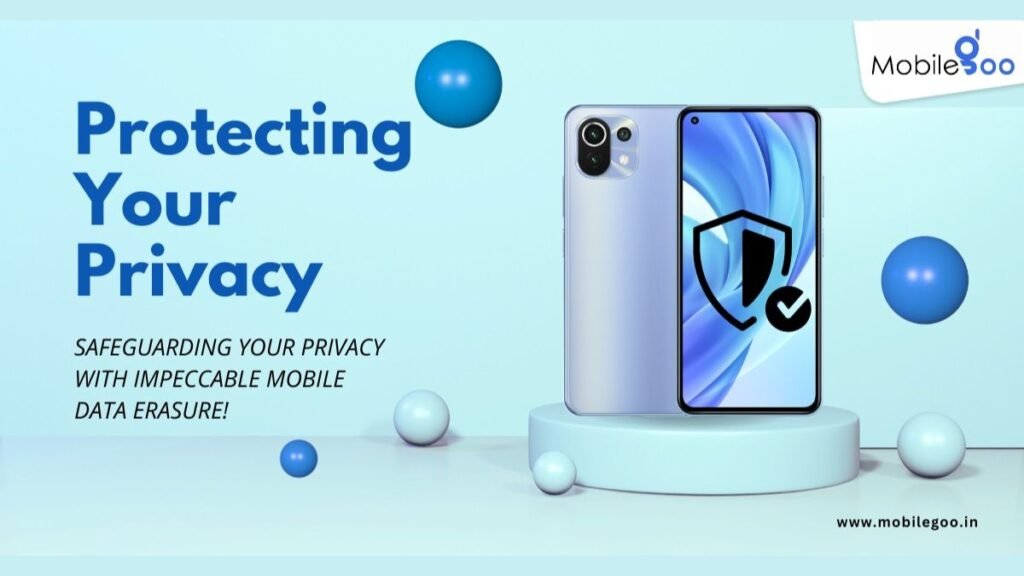 In addition to providing a seamless selling experience, MobileGoo.in offers the opportunity to purchase high-quality refurbished phones through their sister platform, MobileGoo.shop. Understanding that customers may be looking for affordable and reliable devices, they curate a selection of refurbished phones that are restored to a like-new condition. These phones undergo rigorous testing and refurbishment processes, ensuring their functionality and performance are on par with brand new devices. By offering these refurbished options, MobileGoo.in extends their commitment to meeting diverse customer needs and provides a trusted source for those seeking affordable and reliable mobile phones.
Protecting Your Privacy: MobileGoo.in Ensures Secure Data Wiping for Your Old Mobile Phones
During our conversation, with MobileGoo.in, they highlighted their commitment to safeguarding user privacy through secure data wiping for old mobile phones. Here are the key points discussed:
Data Security: MobileGoo.in recognizes the utmost importance of data security and privacy during the process of selling or disposing of old mobile phones. They fully acknowledge the need to safeguard personal information stored on devices to maintain confidentiality and prevent any potential misuse.
Robust Data Wiping: MobileGoo.in assures users that their personal data will undergo a thorough and secure wiping process before the device is sold or disposed of. This comprehensive procedure guarantees the permanent removal of sensitive information such as contacts, messages, photos, and browsing history from the device.
Confidentiality and Peace of Mind: By prioritizing secure data wiping, MobileGoo.in aims to provide users with a sense of peace and assurance throughout their entire experience on the platform. Users can confidently trust that their personal data will be handled with the utmost care, ensuring their privacy is diligently protected.
Your Trusted Destination for Selling Old Mobile Phones Hassle-Free!
During our exclusive interview with MobileGoo.in they reiterated their commitment to providing instant cash and fair compensation for old phones through their platform.
They highlighted the following key points, emphasizing the advantages of instant cash payment and ensuring sellers receive the best value for their devices. MobileGoo.in's strong emphasis on user security and a hassle-free experience further solidifies their reputation as a reliable platform, offering swift financial benefits and peace of mind to individuals looking to sell their old phones:
1. Instant cash payment: MobileGoo.in ensures that sellers receive instant cash for their old phones upon completion of the sale. This means that individuals do not have to wait for extended periods to receive their payment, providing them with immediate financial benefit.
2. Best value guarantee: MobileGoo.in guarantees the best value for old phones, ensuring that individuals receive fair compensation that accurately reflects the worth of their devices. By offering competitive prices, they aim to provide sellers with a satisfying selling experience and ensure they are properly compensated for their old phones.
3. 100% safe and hassle-free process: MobileGoo.in places a strong emphasis on user security and a hassle-free experience. They have implemented robust security measures to protect the sellers' personal information and ensure a safe transaction process. Additionally, they have streamlined the selling process to make it easy and convenient for users, minimizing any potential complications or difficulties.
Experience Seamless Selling
MobileGoo.in goes above and beyond to enhance convenience for its users by offering free doorstep pick-up services for old phones. This exceptional service eliminates the hassle of mailing or delivering devices, ensuring a seamless selling experience
Below are some key advantages of MobileGoo.in:
1. Instant Cash: MobileGoo.in guarantees sellers immediate payment for their old phones, ensuring swift and hassle-free financial transactions. By eliminating unnecessary delays, sellers can enjoy the convenience of instant cash, providing a timely boost to their finances.
2. Best Value: MobileGoo.in strives to offer the highest value for old phones, ensuring sellers receive fair compensation that accurately reflects the worth of their devices. With competitive rates and thorough market analysis, MobileGoo.in ensures sellers are properly rewarded for their old phones.
3. 100% Safe and Hassle-free: MobileGoo.in places a strong emphasis on security and a hassle-free process. Sellers can rest assured knowing that the selling process on MobileGoo.in is secure and effortless. Robust security measures are in place to protect sellers' personal information, providing peace of mind throughout the transaction.
4. Expert Advice: Trained professionals are readily available to provide guidance and recommendations throughout the selling process, ensuring sellers make informed decisions and achieve the best possible outcomes.
5. Free Doorstep Pick-up: MobileGoo.in provides a standout feature of free doorstep pick-up services, sparing sellers from the hassle of mailing or delivering their old phones. By collecting the devices directly from the seller's doorstep, MobileGoo.in maximizes convenience and streamlines the selling experience.
6. Instant Data Transfer: Sellers can effortlessly transfer all their data from the old phone to a new one without delay or difficulty. MobileGoo.in offers instant data transfer options, allowing sellers to seamlessly transition to their new devices without any interruptions or inconvenience.
At MobileGoo, you not only have the option to sell your old phones hassle-free but also explore their extensive range of refurbished, like-new phones available at MobileGoo.shop. With a commitment to quality and customer satisfaction, MobileGoo offers a seamless experience for both selling and buying. Their online store, MobileGoo.shop, showcases a wide selection of reliable and affordable refurbished phones.
By purchasing from MobileGoo.shop, you can upgrade to a like-new phone that meets your needs and budget while enjoying the peace of mind that comes with MobileGoo.in's dedication to providing top-notch devices and excellent customer service. Discover the convenience and value of purchasing refurbished phones from MobileGoo.shop today.
Immerse yourself in a wide range of options while staying up-to-date with the latest news and offers on their Facebook and Instagram pages. 
Website:- https://mobilegoo.in/
Instagram:- https://www.instagram.com/mobilegoo.in
Facebook:- https://www.facebook.com/mobilegooin
If you have any objection to this press release content, kindly contact pr.error.rectification[at]gmail.com to notify us. We will respond and rectify the situation in the next 24 hours.