Yashoda Medicity, Indirapuram and Draeger India Join Forces to Establish South Asia's one of the Largest Modular ICU Setup and Cutting-Edge Medical Gas Management System in India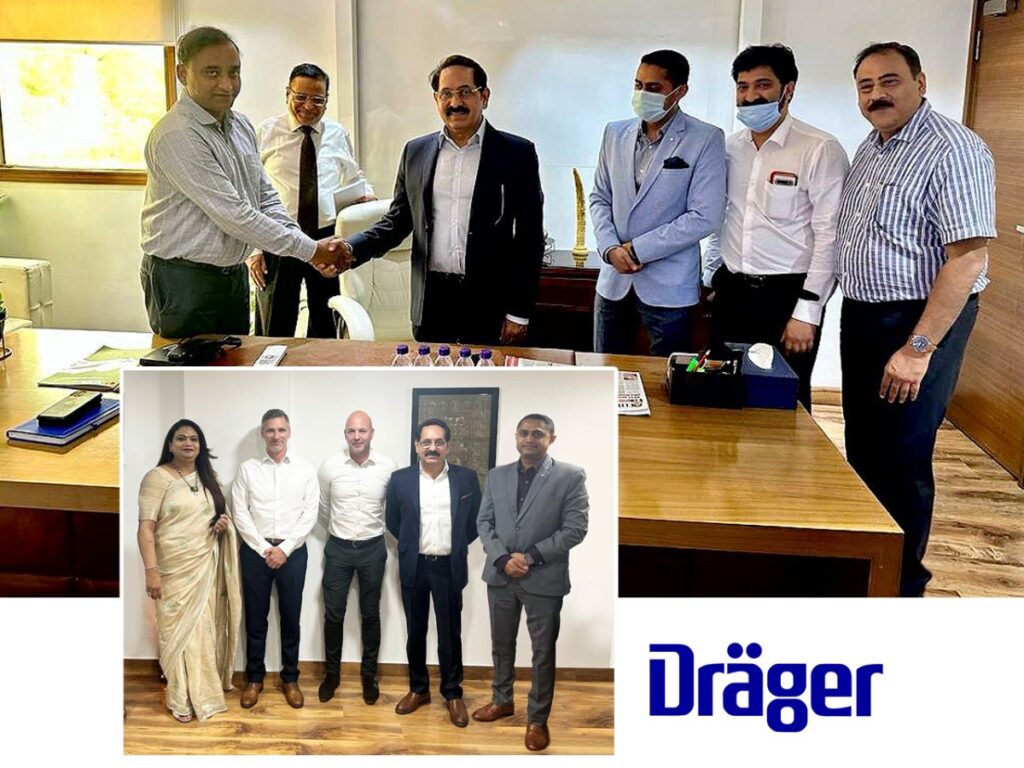 – The partnership between Yashoda Medicity, Indirapuram and Draeger India Private Ltd. brings together their collective expertise in hospital management, medical technology, and patient-centric care
– Aiming to establish a state-of-the-art healthcare facility in India that integrates the latest technologies, exceptional patient comfort, and optimal clinical outcomes
– Setting a benchmark for critical care facilities in the region
New Delhi (India), August 4: Yashoda Medicity, the upcoming healthcare facility by Yashoda Foundations in Indirapuram, is collaborating with Draeger India, a renowned global medical and safety technology solutions provider. Yashoda Medicity is the new addition to the renowned healthcare institution Yashoda Super Speciality Hospital, well acknowledged for its exceptional patient care and facilities. Together, Yashoda Medicity and Dräger are embarking on a groundbreaking initiative to establish one of the largest modular Intensive Care Unit (ICU) setup in South Asia. The focus of this project is to prioritize infection prevention control, patient and staff safety, and enhanced hospital efficiency, while ensuring adaptability to respond to the ever-evolving needs of the hospital.
The upcoming Yashoda Medcity project in Indirapuram, Ghaziabad, spans across 8 acres of land and will house a state-of-the-art 250-bedded modular ICU. This landmark infrastructure project will significantly strengthen the healthcare sector in Delhi NCR, Uttar Pradesh, and neighboring states of India.
Dr. P. N Arora, Chairman and MD of Yashoda Super Speciality Hospitals, Kaushambi and Trustee of Yashoda Foundations expressed his enthusiasm about the collaboration, stating, "Our partnership with Draeger India marks a significant milestone in our commitment to delivering exceptional healthcare services. The exceptional modular ICU setup in South Asia will allow us to provide unparalleled patient care, ensuring safety, efficiency, and setting the highest standards of healthcare delivery in India".
This monumental collaboration reflects Yashoda's unwavering commitment to fostering ambitious collaborations and investments within the healthcare landscape of the country.
"This collaboration underscores our dedication and expertise in designing and constructing holistic healthcare facilities that perfectly aligns with our shared vision of improving healthcare delivery in South Asia. This state-of-the-art facility will be a remarkable addition to our offerings in India. As a company, we are proud to be part of this ambitious project and look forward to the positive impact this endeavor will have on healthcare delivery in the region," said Dhritimay Dhar, Vice President of Sales and Marketing at Draeger India.
With its reputation for cutting-edge products and technological advancements, Dräger brings invaluable expertise to the table. Their strong legacy combined with profound understanding of the needs of healthcare providers, positions them to significantly contribute to the development of the hospital's infrastructure. This includes offering consultation and installation services for medical gas management systems, modular ICU setups, operation theaters, and other therapeutic care technologies.
"We are delighted to partner with Yashoda Medicity and Yashoda Super Speciality Hospital to establish the facility that integrates the latest technologies, exceptional patient comfort, and optimal clinical outcomes. The modular ICU's incredible customization and design flexibility will not only enhance patient safety and operational efficiency but also provide the flexibility to easily scale up or down to meet evolving needs. Undoubtedly, this infrastructure has the potential to revolutionize the patient and care-giver experience in India, setting a new standard for excellence", said Christian Wurm, Regional Marketing Manager, APAC Region, Draeger Singapore.
The partnership between Yashoda Medicity and Draeger India brings together their collective expertise in hospital management, medical technology, and patient-centric care. The project will not only strengthen the infrastructure of Yashoda Medicity, Indirapuram but also present a progressive benchmark that advances critical care facilities in the region.
"We are thrilled to embark on this momentous endeavor with Draeger India," said Dr. Upasana Arora, CEO & Managing Director of Yashoda Super Speciality Hospitals and Trustee of Yashoda Foundations. "This collaboration represents a significant milestone in our mission to provide world-class healthcare services to our patients. This initiative will play a transformative role in shaping the future of healthcare ecosystem, and we are pleased that we have taken the first steps towards its realization," added Dr. Upasana.
The construction of the medical gas management system and the modular ICU setup is already underway and is expected to be completed within the next few months. Once operational, the facility will significantly enhance the critical care capabilities of Yashoda Medicity, providing patients with access to state-of-the-art medical care in a cutting-edge environment.
Disclaimer
Dräger is an international leader in the fields of medical and safety technology. Our products protect, support, and save lives. Founded in 1889, Dräger generated revenues of around EUR 3 billion in 2022. The Dräger Group is currently present in over 190 countries and has more than 16,000 employees worldwide. Please visit www.draeger.com for more information.
About Yashoda Super Speciality Hospital, Kaushambi:
Yashoda Super Speciality Hospital, Kaushambi is a renowned healthcare institution with NABH & NABL accreditation dedicated to providing comprehensive medical services and exceptional patient care globally. With a strong legacy of excellence, Yashoda-Kaushambi is committed to delivering compassionate and world-class healthcare treatment.
About Yashoda Foundations:
Yashoda Foundations (Trust), established in 1999, is devoted to public charity, both within India and across the world, with an unwavering commitment to non-discrimination. Their mission encompasses promoting higher education, healthcare, vocational courses, and primary education for the underprivileged. By establishing universities, hospitals, and recreational facilities, they strive to uplift society, with strong commitment to inclusivity. Through unwavering dedication and compassion, Yashoda Foundations has left a lasting impact, improving the well-being of the communities they serve.
About Yashoda Medicity:
Yashoda Medicity, is an upcoming Quaternary Care Super Specialty & Cancer Hospital, housing 600+ beds in Phase-1, aiming to serve communities across the nation and beyond. Renowned for its centers of excellence, the hospital will have top-notch clinicians and cutting-edge technologies, delivering exceptional care in Oncology, Organ Transplant, Gastroenterology, Cardiology, Robotic Surgery, Neuro Sciences, and other fields.
If you have any objection to this press release content, kindly contact pr.error.rectification@gmail.com to notify us. We will respond and rectify the situation in the next 24 hours.