ISR DaVinci Soccer Bot Championship 2023 in the Sun City of India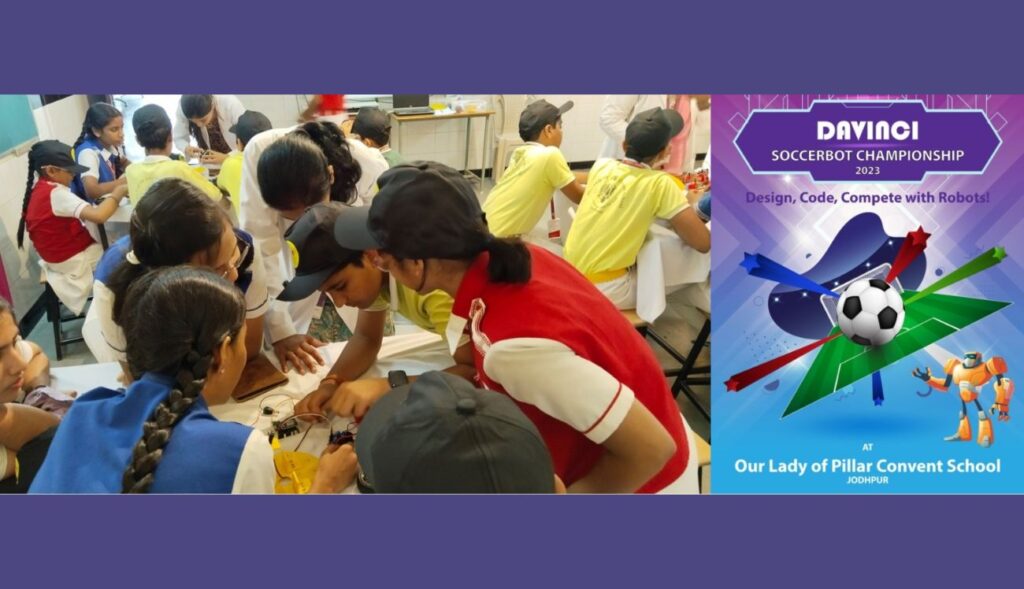 New Delhi (India), It's finally here! The most awaited and spectacular event of the year, 'ISR DaVinci Soccer Bot Championship 2023' has kicked off in Jodhpur, Rajasthan, the Sun City of India.
This is not just a game of soccer but a showcase of the amazing fusion of sports and technology. 12 teams of brilliant students will compete with their own Soccer Robots, which they have designed, built and programmed themselves under the guidance of the expert facilitators of International STEAM Research (ISR).
This is a unique opportunity for the students to demonstrate their teamwork, skills, innovation, creativity, problem-solving abilities and strategies in a fun and engaging way. They will also learn how to manage the entire championship, from planning to execution.
The event is hosted by one of the most prestigious schools in Jodhpur, 'Our Lady of Pillar Convent School', which was the first school in Rajasthan to implement ISR STEAM Experiential Learning in 2022. This is a hands-on learning approach that is aligned with the NEP2020 and aims to develop students' critical thinking, creativity, collaboration and communication skills.
The ISR DaVinci Soccer Bot Championship is more than just a competition. It is an exciting and holistic experience for the students to become mindful problem-solvers and productive Global Citizens.
ISR empowers schools to provide their students with Experiential Learning based on Science and Technology through the use of Engineering and Artistic processes based on the principles of Mathematics called STEAM with the help of futuristic technologies.
Its intention is but harness the essential transferable skills behind them, which are vital for a thriving economy and a safe, sustainable society. In order to do so, ISR provides scalable, sustainable, inclusive and integrated STEAM programmes and research utilizing the expertise of forward thinkers, administrators, teachers and institutional support.
The exponential technological growth and rapid advancement or reshaping of both workforce and workspace are inevitable. The threat of most of today's jobs being done by robots in the future is looming large; however, this also means new types of jobs will emerge and being Future Ready is the only way forward.
The best way schools can help students become future-proof or future-ready is by helping students to think about their thinking, by indulging in Experiential learning with a hands-on methodology and by sharpening their Metacognitive Skills. The proven methodology to implement Experiential learning is through integrated S.T.E.A.M (Science, Technology, Engineering, Arts and Mathematics) programmes. STEAM promotes growth and change in mental processes related to thinking, reasoning, memory and other areas of brain development acquired from the consolidation of knowledge gained through experiences. The experiential nature of learning and constructing knowledge is the core concept of constructivism and integrated STEAM education.
Although the company was established in Kolkata, India, in 2020, and the company has its presence pan India, recently, the company was incorporated in Delaware, USA.
If you have any objection to this press release content, kindly contact pr.error.rectification[at]gmail.com to notify us. We will respond and rectify the situation in the next 24 hours