Record Breaking: Biggest Creator Gathering in Mumbai – InfluenZer 2K23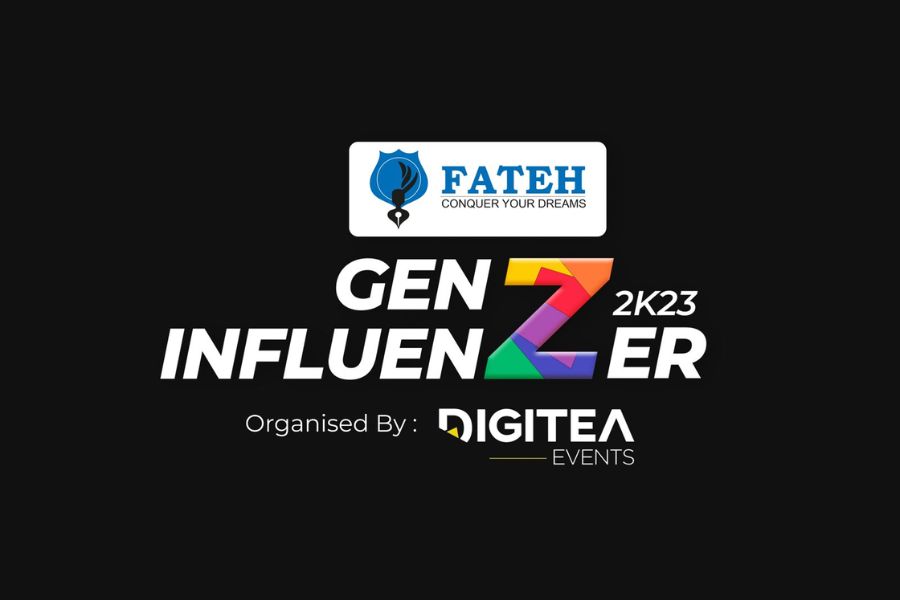 New Delhi (India), August 18: Get ready for a groundbreaking event that's set to redefine the world of social media influence as we know it! In a jaw-dropping spectacle that's guaranteed to leave you awe-inspired, InfluenZer 2K23 is coming to Mumbai on August 19th, presented by Fateh Education and organized by the minds at Digitea Events. Not bring just any other gathering; it's a monumental step towards setting an official record for the largest assembly of social media celebrities ever witnessed under one roof. And guess what? There are no passes for sale; this is an exclusive invite-only event!
With a combined following of a staggering 40 million plus, over 600 social media celebrities and creators will converge in Mumbai for a day that promises to be nothing short of historic. But it's not just the impressive numbers that make this event stand out; it's the motive and approach that truly sets it apart. In an era where social media wields immense influence, InfluenZer 2K23 aims to delve deep into both ends of the spectrum – the creators and their creations.
On one side, this extravaganza celebrates the dreamers and visionaries who have transformed their passions into digital sensations. For those who once struggled for a platform, this is their moment to shine on a runway of global recognition, fame, and success. But InfluenZer 2K23 isn't stopping there; it's diving into the flipside of social media's glitz and glamour.
The event head-on confronts the elephant in the room: the facade of fabricated lifestyles and the pressure to conform to unreal standards. InfluenZer 2K23 understands the urgency of addressing these concerns as they shape the very fabric of our society. This isn't just a gathering; it's a platform for discussions, insights, and breakthrough revelations that could revolutionise the future.
It's not every day that an event with such magnitude and purpose emerges on the scene. If you're a creator, a trendsetter, or a visionary in the making, InfluenZer 2K23 is your golden ticket to a transformative experience. This event isn't a one-off wonder; it's part of an ongoing commitment to steer the creator economy in the right direction. Fateh Education comes ahead to support this great initiation. They have been in the education industry Since 2004 and have guided over 35,000 students to Conquer their dreams. Having a visa success rate north of 99 goes to show that they are experts at what they do. Their experienced counselling team is headed by an IIM Calcutta alumnus who will help you get into the right universities that meet your requirements. We have been sending students abroad with an unmatched scholarship record. Their contribution to making this happen is impeccable. And yes! The minds behind the GEN-Z event are the GEN-Z of today's generation! A dynamic and unstoppable youth-led force, team DIGITEA, has taken center stage. Young visionaries Harshak Sinha, Vaarun Sinha, Ansh Mamgain, Mahi Khan, and Rupal Singh, along with their team, are not just dreamers; they're the driving force behind this revolutionary concept.
DIGITEA is a powerhouse of production, events, and technology all rolled into one. But it's not just about business for them; it's a mission, a passion, and a movement. Burning the midnight oil, fueled by their insatiable curiosity and passion, team DIGITEA has toiled relentlessly. It's the purest intention to create something extraordinary – a platform for tailor-made discussions that delvelops deep into the captivating realm of social media and influencers. Get ready to sip from the cup of inspiration they're offering, because the future looks incredibly bright – and it's being shaped by the relentless spirit of DIGITEA!
So mark your calendars and brace yourselves for an unparalleled rendezvous of brilliance, innovation, and authenticity. InfluenZer 2K23 isn't just an event; it's a movement that will ripple through time, shaping the very core of the digital world. Get ready to witness history in the making as creators unite for a cause that's larger than life itself.
If you have any objection to this press release content, kindly contact pr.error.rectification[at]gmail.com to notify us. We will respond and rectify the situation in the next 24 hours.