Bengaluru Takes the Lead in Advancing Mental Health Dialogues at SAATA's 7th Biennial Conference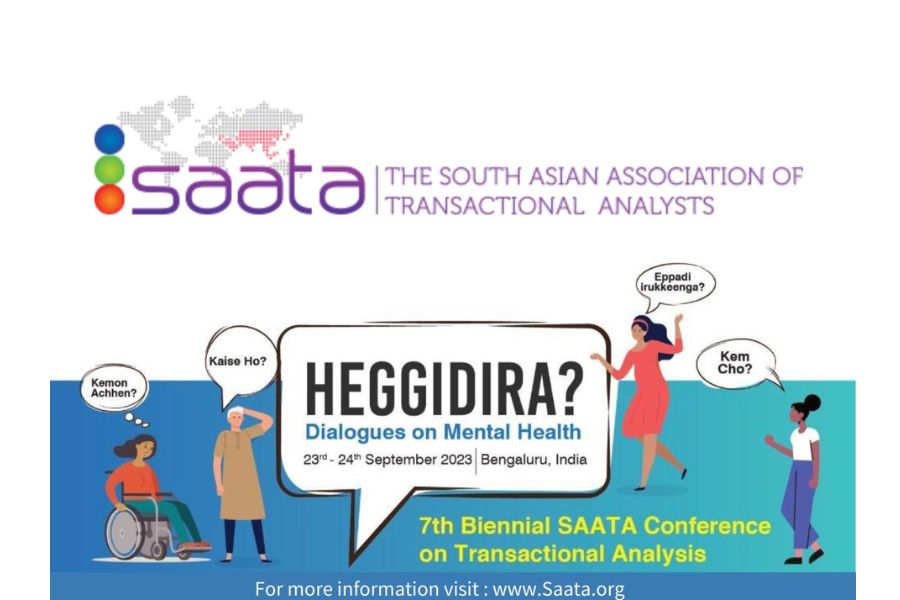 The conference aims to be a transformative journey, providing a comprehensive understanding of diverse mental health aspects through engaging dialogues
Slated to be held on September 23-24, 2023, at the luxurious Magarath Hotel, this year's conference is much more than a mere gathering of professionals.
Bengaluru (Karnataka) [India], September 1:The South Asian Association of Transactional Analysis (SAATA) has once again taken the helm in advancing the conversation around mental health by announcing its 7th Biennial Conference. Slated to be held on September 23-24, 2023, at the luxurious Magarath Hotel, this year's conference is much more than a mere gathering of professionals. With the poignant theme "Heggidira? – Dialogues on Mental Health," the conference serves as a rallying cry for the global mental health community to unite, share knowledge, learn, and grow.
Beyond Business As Usual
While many conferences tend to operate within the confines of a standard business model, SAATA's event breaks the mold. The attendees, ranging from Transactional Analysis (TA) students to mental health experts, academicians, and researchers, will gain invaluable wisdom from renowned practitioners from around the globe. The focus is on exploring mental health issues through the unique lens of Transactional Analysis, offering a fresh perspective to a diverse audience.
A Platform for Rich Interactions
One of the conference's most exciting features is the extraordinary networking opportunities it offers. Attendees will find themselves part of a passionate community, sharing experiences and forging meaningful connections. For psychology students, in particular, the conference represents an invaluable learning environment, challenging their preconceptions and widening their horizons on mental health topics.
An Immersive Experience
Over two days, attendees will delve into the multifaceted world of mental health. The conference aims to be a transformative journey, providing a comprehensive understanding of diverse mental health aspects through engaging dialogues. It is meticulously designed to offer a balanced, holistic approach to mental well-being.
Thought Leaders Take the Stage
Adding gravitas to the conference is an impressive roster of keynote speakers and panelists. These industry leaders will tackle an array of urgent topics, such as mental health challenges, accessibility of mental healthcare services, and the growing incidence of mental illnesses in young adults.
A Call to Action
But perhaps what sets this conference apart is its emphasis on active participation. Attendees are encouraged to become contributors to the ongoing global mental health dialogue. The event is not just an educational exercise; it's an open invitation to collaborate with trailblazers in the field and influence the future of mental health discourse.
More than an Event, It's a Movement
In summary, SAATA's 7th Biennial Conference is not merely an event—it's a concerted effort to change the way society approaches mental health. It aims to normalize mental health conversations and instigate a paradigm shift in public perception. With registrations already open, the conference is set to be a pivotal moment in SAATA's remarkable journey in the mental health sector.
SAATA continues to be a luminary in the world of mental health, with its steadfast commitment to awareness, education, and holistic well-being. This upcoming conference is set to be another jewel in the crown of their ongoing endeavors, marking a significant milestone in their distinguished history.
To Register Visit: https://saata.org/page/saata-conference-registration
If you have any objection to this press release content, kindly contact pr.error.rectification[at]gmail.com to notify us. We will respond and rectify the situation in the next 24 hours.