Rediscover Mobility: Non-Surgical Solutions for Knee Pain at Epione Pain Management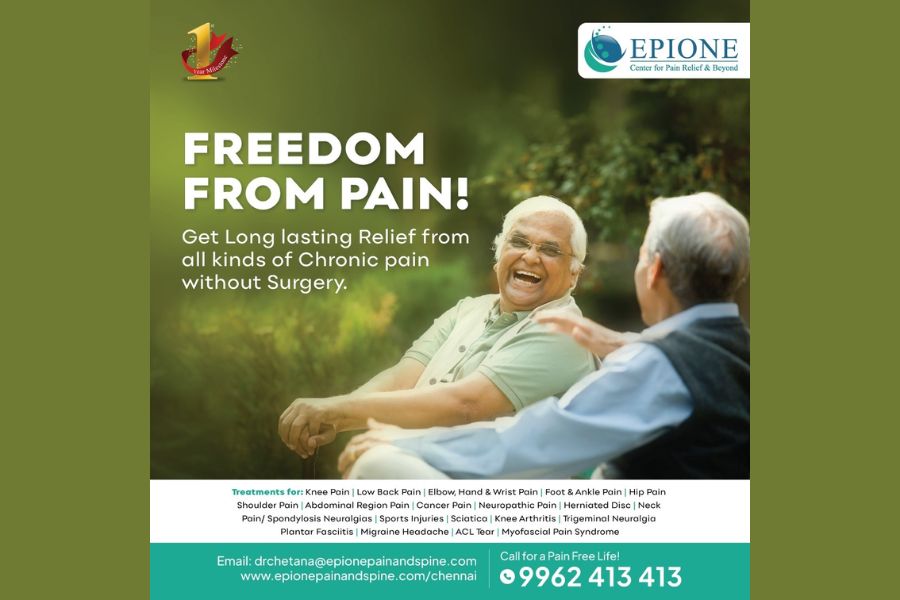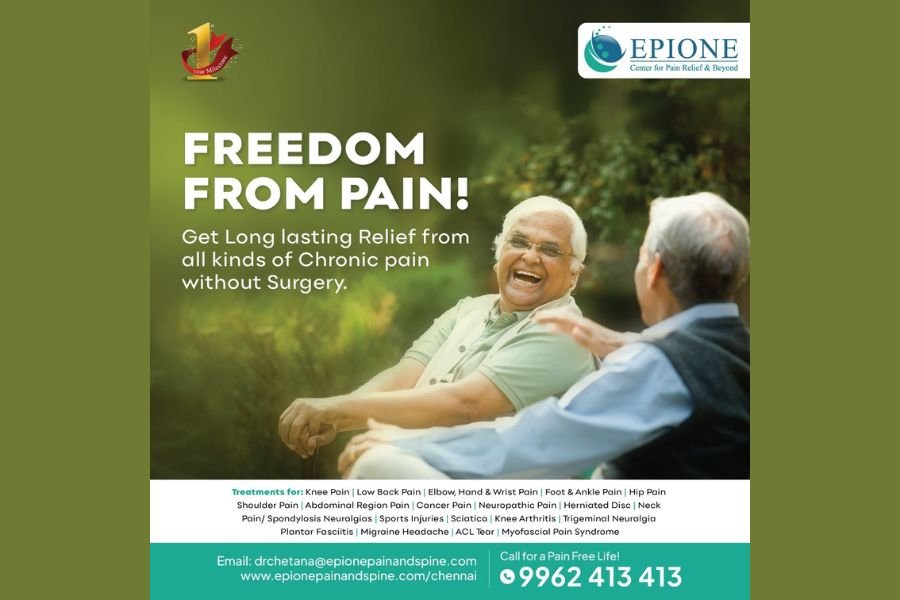 Rediscover Mobility: Non-Surgical Solutions for Knee Pain at Epione Pain Management
Chennai (Tamil Nadu) [India], September 12: Knee pain can be debilitating, affecting both young and old alike. Whether it's caused by an injury, osteoarthritis, or wear and tear, finding relief is a priority. At Epione Pain Management, we offer non-surgical knee pain treatments that can help you regain your mobility and improve your quality of life.
Knee Pain: A Common Dilemma
Knee pain is a prevalent issue that can disrupt daily life and hinder mobility. It is a concern that affects individuals across all age groups. Whether your knee pain is the result of an injury, age-related degeneration, or a medical condition like osteoarthritis, the impact on your life can be profound. At Epione Pain Management, we understand the challenges you face when dealing with chronic knee pain.
Comprehensive Non-Surgical Solutions
At Epione Pain Management, we specialize in non-surgical interventions that provide effective relief from knee pain. Our approach is tailored to your unique needs, offering a range of cutting-edge treatments to help you regain your mobility and enhance your overall well-being.
1. Regenerative Medicine:
• Platelet-Rich Plasma (PRP) Therapy: PRP injections harness your body's natural healing properties to stimulate tissue repair and reduce inflammation.
• Stem Cell Therapy: This treatment utilizes the regenerative potential of stem cells to repair damaged cartilage and tissues in the knee.
2. Physical Therapy:
Our customized exercise programs aim to strengthen the muscles surrounding the knee joint, improving joint stability. Targeted manual therapy techniques are employed to alleviate pain and restore your range of motion.
3. Injections:
• Corticosteroid Injections: These injections are effective in reducing inflammation and relieving pain, offering you relief from knee discomfort.
• Hyaluronic Acid Injections: These injections help lubricate the knee joint, reducing friction and enhancing joint function.
4. Pain Management Techniques:
• Advanced Pain Management Strategies: Procedures such as radiofrequency ablation are employed to interrupt pain signals effectively.
• Neuromuscular Re-Education: This technique helps improve joint function and mobility.
5. Lifestyle Modification:
• Expert Guidance on Weight Management: Our team provides valuable advice on managing your weight, reducing stress on the knee joint.
• Dietary and Nutritional Advice: We offer dietary recommendations and nutritional advice to support joint health.
Our Commitment to Your Well-Being
The experienced pain management specialists at Epione are dedicated to providing personalized care. We firmly believe in exploring non-surgical options as a priority before considering invasive procedures. Your well-being and comfort are at the forefront of our approach.
Don't allow knee pain to limit your life. At Epione Pain Management, we offer cutting-edge non-surgical solutions that can help you regain your freedom of movement and live pain-free. Our commitment to your health and well-being is our top priority.
If you're ready to take the first step toward a pain-free life, contact Epione Pain Management today. Rediscover the joy of movement and experience the Epione Advantage in managing knee pain without surgery.
For a Pain Free Life Call: 9962 413 413
If you have any objection to this press release content, kindly contact pr.error.rectification[at]gmail.com to notify us. We will respond and rectify the situation in the next 24 hours.