Introducing "Some Broken Hearts": A Captivating Collection of Short Stories by Shashanka Ghosh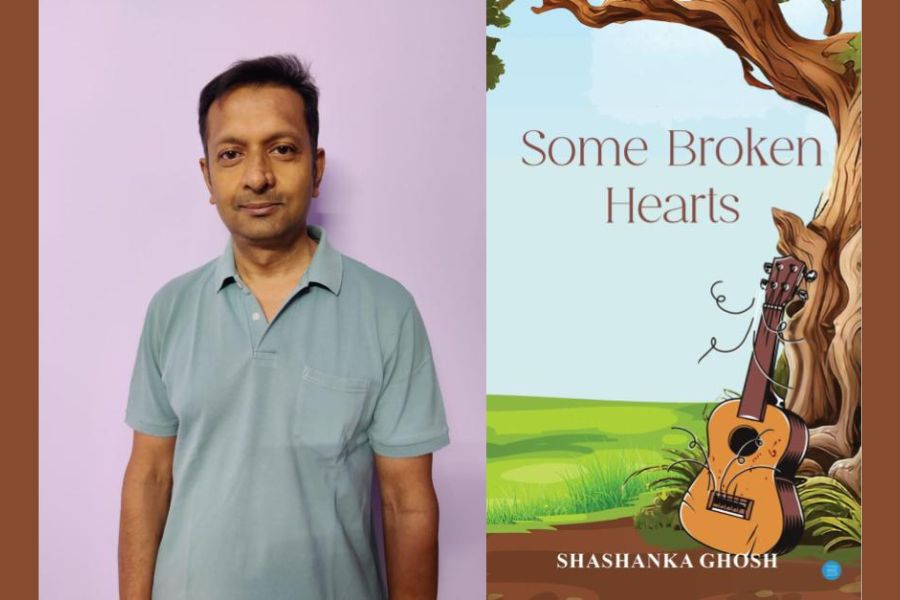 New Delhi (India), June 26: BlueRose Publishers is proud to present "Some Broken Hearts," a captivating collection of twelve short stories by the talented author Shashanka Ghosh. The book explores the intricacies of human relationships and the everyday struggles we face, promising to take readers on an emotional roller coaster ride.
Mr. Syed Asad, the Managing Director of BlueRose Publishers, expressed his excitement about publishing Shashanka Ghosh's debut book. "We are thrilled to present 'Some Broken Hearts' to readers. The author has poured his heart and soul into these stories, and we believe they will resonate deeply with the readers," said Mr. Asad.
Born in Jaipur and raised in various cities across northern and eastern India, Shashanka Ghosh embarked on a career in marine engineering after graduating with a B.Tech degree in 1997. His journey in the merchant navy eventually led him to the position of Chief Engineer in 2008. Now residing in Faridabad, Haryana, with his mother, wife, and daughter, he has fulfilled his lifelong dream of becoming a published author.
"It is an incredible feeling to see my book in print. Writing has always been close to my heart, and this collection of short stories is a culmination of my passion for storytelling," said Shashanka Ghosh. "Each story in 'Some Broken Hearts' reflects the struggles, joys, and complexities of human existence. I hope readers will find themselves immersed in these narratives, evoking a range of emotions and leaving them with a thoughtful mood and a smile."
From tales of love and relationships to familial conflicts and unspoken emotions, the book offers a glimpse into the ordinary yet extraordinary aspects of our lives. Stories like "Companions," "Cheesy Love," "Unrequited Love," "The Instinctive Couple," and "Sober Love" explore various shades of love and relationships that color our lives.
In "Companions," two souls find solace in their shared loneliness, forming an unlikely bond that transcends societal norms. "Cheesy Love," tells the story of two separate couples, one scurrying for survival and the other failing to survive in love. "Unrequited Love" delves into the bittersweet pain of loving someone who cannot reciprocate those feelings, leaving one heartbroken yet forever changed.
"The Instinctive Couple" explores the magnetic pull between two individuals whose love is marked by spontaneity and passion, leading them on a tumultuous journey of self-discovery. Meanwhile, "The Sober Love" uncovers the beauty of a relationship built on trust, where two souls find healing and strength in each other's presence.
"Some Broken Hearts" is not solely focused on romantic love. It delves deeper into the complexities of familial bonds and connections that shape our lives. In "The Unspoken Distance," the author delves into the often-relatable conflict between a caring mother and her spirited child, highlighting the struggle to relate to others' way of life.
"The Stolen Pride" delves into the dynamics of an overbearing father and his yearning son who desires both love and equality. It examines the challenges faced by individuals striving for acceptance while remaining true to themselves. Meanwhile, "Silence" explores the profound connection between a grandfather and his grandson, where words become unnecessary in their relationship, and silence speaks volumes.
With each story, Shashanka Ghosh invites readers to embark on a journey of introspection and emotional resonance. The collection promises to leave readers lingering in the aftermath of each story, evoking a myriad of emotions that will stay with them long after they have turned the last page.
Apart from his exploration of human relationships, he also reveals plans to foray into the realm of fantasy, promising future literary endeavors that will transport readers to new and imaginative worlds.
Readers are encouraged to grab a copy of "Some Broken Hearts" and embark on a journey of heartfelt storytelling. The book is now available for purchase at leading online portals. Don't miss the opportunity to experience the magic of his words and the power they hold to touch your heart.
BlueRose Publishers is a renowned self-publishing house dedicated to promoting and nurturing talented authors. With a commitment to quality and creativity, BlueRose Publishers strives to bring diverse and engaging literary works to readers worldwide.
Author website: https://shashankaghosh.com/
Purchase it at: https://www.amazon.in/dp/9357412816?ref=myi_title_dp
If you have any objection to this press release content, kindly contact pr.error.rectification[at]gmail.com to notify us. We will respond and rectify the situation in the next 24 hours.