Laxmi Duggirala's 'Spirituality Simplified'A Journey from Passion to Publication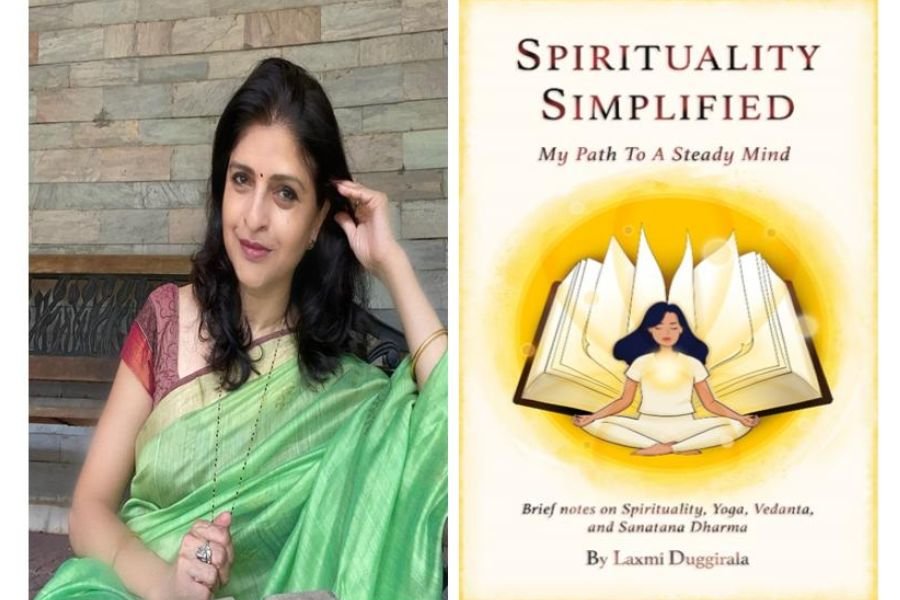 New Delhi (India), September 15: At BlueRose Publishers, we are delighted to introduce you to the remarkable journey of author Laxmi Duggirala, a multifaceted individual with a passion for spirituality and a dedication to making a difference in the world. Her debut book, "Spirituality Simplified," is a testament to her deep understanding of the subject and her commitment to sharing her knowledge with the world.
Introducing Laxmi Duggirala, a 62-year-old Kakinada resident with a rich and varied background. Her experiences encompass fashion design, entrepreneurship, co-founding the Inatman Foundation, and mastering the art of yoga instruction. Additionally, she holds a postgraduate degree in English Literature, possesses a 300 RYT Sivananda Yoga certification, and has successfully completed a short story writing course at Stanford University.
From Entrepreneurship to Authorship:
Laxmi Duggirala's journey is nothing short of inspiring. With a successful career spanning three decades in the clothing business, she has also made her mark as the co-founder of Inatman Foundation, a non-profit organisation dedicated to the education of underprivileged girls. Her commitment to social causes and her deep involvement in philanthropy reflect her compassionate and giving nature.
As a trained yoga teacher from Sivananda Yoga Vedanta Centre in Uttarkashi, Laxmi found her spiritual calling. Her passion for spirituality, service, reading, and travel has led her on a mindful path of self-discovery and growth. She diligently practises sadhana, embracing discipline as she progresses on her spiritual journey.
The Debut of "Spirituality Simplified":
Publishing her first book, "Spirituality Simplified," has been a profound milestone for Laxmi Duggirala. When asked about her feelings regarding this achievement, she shares, "I feel content and grateful because writing this book fulfilled my passion for the subject, my creative itch, and interest in sharing my learnings."
A Journey from Reader to Writer:
Laxmi's love for reading and her practice of taking notes on meaningful content paved the way for her writing journey. Her belief in the process of shravana (reading), manana (reflecting), and nididhyasana (assimilating knowledge) aligned perfectly with her transition from reader to writer.
Inspiration Behind "Spirituality Simplified":
The inspiration behind Laxmi's book comes from her extensive reading on spirituality, her Yoga Teacher Training, the teachings of her Gurus, her personal experiences on the spiritual path, and her daily sadhanas. These elements converged to inspire her to write a book that simplifies profound spiritual concepts.
What "Spirituality Simplified" Offers:
"Spirituality Simplified" is a concise yet deep exploration of spirituality, Sanatana Dharma, Upanishads, and Yoga. For beginners interested in spirituality, it serves as a gentle introduction to the subject. For those already well-versed in spirituality, the book acts as a valuable reference guide.
Beyond Writing:
Apart from her writing endeavours, Laxmi Duggirala runs Inatman Foundation, a non-profit organisation that selects underprivileged young women based on merit after the 10th grade, providing them with education and mentorship until they complete their education and secure employment. It is a pan-India Section 8 non-profit company dedicated to empowering young women.
The encouragement and support offered by BlueRose Publishers play a vital role in nurturing and promoting new literary talents. It's a testament to the power of creativity and the written word. This infusion of fresh perspective often leads to innovative and transformative works.
The Road Ahead:
Laxmi Duggirala's journey as an author is just beginning. She is already working on her next project and intends to explore the realms of nonfiction, particularly in the self-help and spirituality genres.
A Message to Aspiring Writers:
To budding writers, Laxmi offers a simple yet profound piece of advice: "Write passionately, as if you are writing for yourself, and be authentic. Learn the subject thoroughly before writing."
A Closing Note:
Laxmi Duggirala's "Spirituality Simplified" carries within its pages the wisdom and insights born from years of dedication and introspection. In a world often clouded by misunderstandings and misconceptions about spirituality, her book is a beacon of clarity, inviting readers to embark on their own journeys of self-discovery and spiritual growth. As you explore the pages of "Spirituality Simplified," may you find inspiration, reflection, and a deeper connection to the profound teachings it encapsulates. BlueRose Publishers is honoured to be a part of Laxmi Duggirala's journey and looks forward to sharing her wisdom with readers around the world. Stay inspired, take care, and keep learning.
Amazon/Author Website Link: Amazon – https://amzn.eu/d/1Nxn2a3
Facebook: http://www.facebook.com/profile.php?id=100089132864360
If you have any objection to this press release content, kindly contact pr.error.rectification[at]gmail.com to notify us. We will respond and rectify the situation in the next 24 hours.