My Poems – Verse From the Heart: A Journey of Passion and Inspiration by Vijay Pal Singh Tonk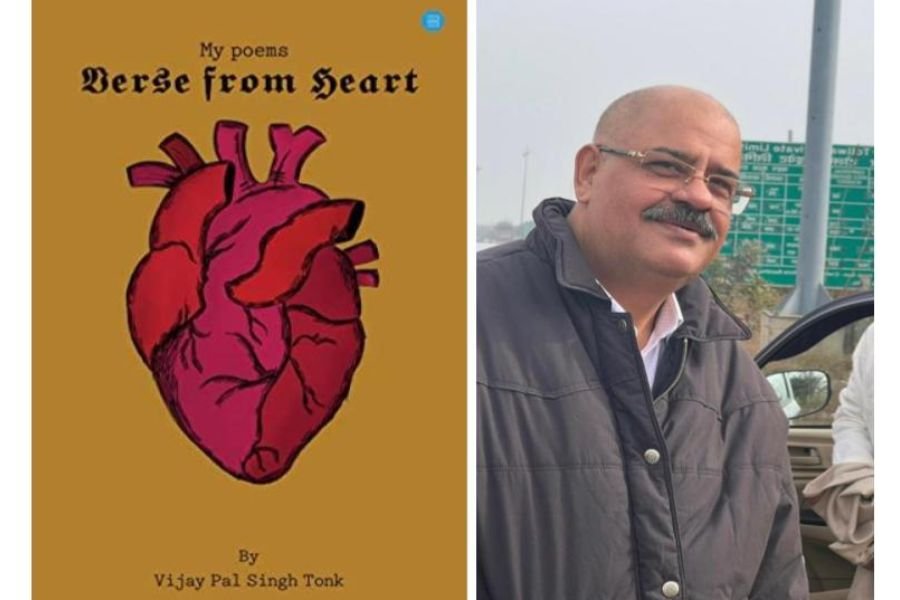 New Delhi (India), August 29: In today's fast-paced world, where the digital age dominates our lives, there is still something captivating about the written word, especially when it comes from the depths of one's heart. Vijay Pal Singh Tonk, hailing from the Sonipat district of Haryana state, has embarked on a literary journey that resonates with passion, inspiration, and a love for the written word. His recently published book, "My Poems – Verse From the Heart," encapsulates his unique perspective on life, culture, nature, love, peace, beauty, and social issues.
Syed Arshad, as the Managing Director and Founder of BlueRose Publishers, must be proud to present this collection of poems to the world. The ability of the reader to connect with the themes of the poems is a testament to the poet's skill in expressing emotions and evoking nostalgia, taking the readers back to their old school days.
Vijay Pal Singh Tonk's affinity for writing and reading traces back to his school and college days. As a student of English literature, he immersed himself in various genres, developing an innate understanding of the artistry of language. Hours spent with pen and paper were not merely a pastime; they were a gateway to his imagination, a realm where stories came to life. It was through this process that he discovered his true calling—writing.
"My Poems – Verse From the Heart" is a collection of poems that transcends boundaries and touches the souls of readers in myriad ways. Vijay's verses offer solace, intellectual stimulation, and a musicality that resonates deeply. From contemplating the wonders of nature to exploring the complexities of human emotions, his poems have the power to evoke a range of emotions and ignite introspection.
The beauty of poetry lies in its ability to be interpreted differently by each reader. Vijay Pal Singh Tonk's poems encompass a multitude of themes, making them accessible to a wide audience. His words flow effortlessly, providing readers with a gateway to explore the depths of their hearts and minds. Each poem is a testament to his genuine passion for writing and his desire to connect with others through his words.
Beyond writing, Vijay Pal Singh Tonk is a man of many talents. Painting and listening to music are among his other creative endeavours. Despite his multifaceted nature, he remains committed to his job as a senior manager at Indiabulls Housing Finance Limited, where he has dedicated 16-17 years of his career.
It's always inspiring when BlueRose Publishers and poets collaborate to bring meaningful literature to the readers. Books like these have the power to resonate with people from all walks of life and provide a refreshing escape to the world of emotions and memories.
Having tasted the joy of publishing his first book, Vijay Pal Singh Tonk is eager to continue his writing journey. He has already penned works on farmers, life, and its values. Currently, he is exploring the theme of women's empowerment, using his skills to shed light on this important subject. His determination to inspire others through his writing is evident in his heartfelt words:
"Never say despair,
and never say die,
when the going gets tough,
only the tough can make it fly."
Vijay Pal Singh Tonk's book, "My Poems – Verse from the Heart," is a testament to the power of passion and the importance of pursuing what truly moves us. Through his evocative verses, he invites readers to embrace their own unique passions, reminding them that they are capable of greatness. As he encourages fellow writers and readers alike to be their best, Vijay Pal Singh Tonk's message resounds: never underestimate the impact of your words and never doubt the power of your dreams.
For those seeking solace, intellectual stimulation, or a simple appreciation of the written word, "My Poems – Verse From the Heart" offers a literary journey that is both captivating and inspiring. Vijay Pal Singh Tonk's collection of poems will undoubtedly leave a lasting impression on readers, reminding them of the boundless beauty that can be found in the written word.
To purchase the book, please visit: https://www.amazon.in/dp/9357413340?ref=myi_title_dp
If you have any objection to this press release content, kindly contact pr.error.rectification[at]gmail.com to notify us. We will respond and rectify the situation in the next 24 hours.