Rishi Tiwari: Inspiring Lives with the Power of Words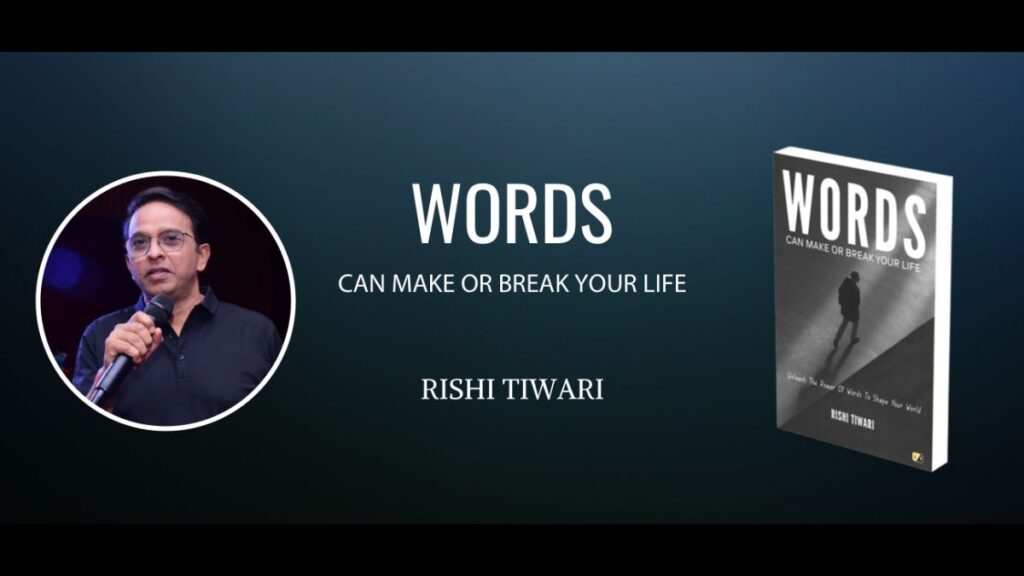 New Delhi (India), September 17: Rishi Tiwari is an entrepreneur with a passion for writing. He believes in the power of storytelling to impact lives positively. He started his journey of writing with his first book "Words – Can Make or Break Your World", which explores the potent impact of words on our lives. Rishi is a newcomer to the writing world, but his perspective promises resonance and lasting influence. He is passionate about using his words to connect with readers, provoke thought, and encourage growth.
In "Words – Can Make or Break Your World", Rishi Tiwari explores the power of words to shape our thoughts, emotions, relationships, and success. Drawing from personal experiences and a deep understanding of linguistic influence, Rishi reshapes our view on mindful communication. The book takes readers on a journey to unveil how words can mold our lives, for better or worse.
Amazon link to the book: – https://amzn.eu/d/3LEOt7a
Let's delve into the author's insights: –
Q1. What message do you want to convey through your book?
Ans: The primary message I aim to convey through my book, "Words: Can Make or Break Your Life," is the profound influence that words have on our lives. I want readers to recognize that the words they use, both in their internal dialogue and in their interactions with others, hold tremendous power. These words can shape our thoughts, emotions, relationships, and, ultimately, our life's trajectory. I want readers to understand that becoming mindful of their words and their impact can lead to personal growth, improved relationships, and a more positive and fulfilling life.
Q2. What inspired you to write a book on this topic?
Ans: The inspiration behind writing this book came from a deep-seated fascination with the incredible power of words. Throughout history, words have been used to inspire revolutions, comfort the grieving, motivate individuals to achieve greatness, and bring about profound change in society. I observed that many people underestimate the impact of their words, both on themselves and on those around them. I wanted to explore this concept more comprehensively, drawing from personal experiences and the experiences of notable individuals, to shed light on how words can indeed make or break our lives.
Q3. Can you share a personal experience where the impact of words played a significant role in your life?
Ans: Certainly, I can share a personal experience where the impact of words played a significant role in my life. A few years ago, I was feeling lost and clueless about the way my life was progressing. At a certain point, I began to doubt my ability to achieve my goals in life. During this time, I had a long discussion with a close friend. After listening to me, he simply said, "Don't worry, everyone goes through this phase at some point. I believe in you, and I know you can overcome this." Those words, simple yet incredibly powerful, had a profound impact. They reignited my self-belief and determination. I pushed forward, overcame the negative feelings, and eventually started to take a positive approach towards life. This experience highlighted to me the transformative power of positive and supportive words, which served as a source of motivation during a challenging period.
Q4. Can you explain the concept of "positive" and "negative" words and their effects on our mental and emotional well-being?
Ans: The concept of "positive" and "negative" words revolves around the emotional and psychological impact that words can have on our mental well-being. Positive words are those that uplift, motivate, and inspire. They can boost self-esteem, create a sense of empowerment, and foster optimism. For example, words like "believe," "hope," and "love" are inherently positive and can elicit feelings of joy and motivation.
Conversely, negative words are those that diminish, discourage, or harm. They can erode self-confidence, create self-doubt, and contribute to feelings of despair or sadness. Examples of negative words include "failure," "worthless," and "impossible," which can hinder personal growth and emotional well-being.
The effects of positive and negative words are profound and extend to our mental and emotional states. Positive words can improve our mood, enhance our resilience, and even boost our physical well-being. On the other hand, negative words can lead to stress, anxiety, and a diminished sense of self-worth. Understanding the impact of these words can empower individuals to choose their language thoughtfully, both in self-talk and in their interactions with others.
Q5. What advice do you want to give your readers?
Ans: The advice I would like to offer to my readers is to become more mindful of the words they use. Words are not just tools of communication; they are agents of influence and transformation. By consciously choosing positive and empowering words, readers can enhance their self-esteem, strengthen their relationships, and navigate life's challenges more effectively. I encourage readers to reflect on their own experiences and consider the impact of words in their lives. Start with the way you talk to yourself; be kind and supportive in your self-talk. In your interactions with others, choose words that uplift and encourage. Remember that words have the power to shape your reality, so use them wisely to create a life filled with positivity, purpose, and meaningful connections.
Amazon link to the book: – https://amzn.eu/d/3LEOt7a
If you have any objection to this press release content, kindly contact pr.error.rectification[at]gmail.com to notify us. We will respond and rectify the situation in the next 24 hours.