Transform Your Outdoor Space with WPC Exterior Louvers: A Complete Guide Introduction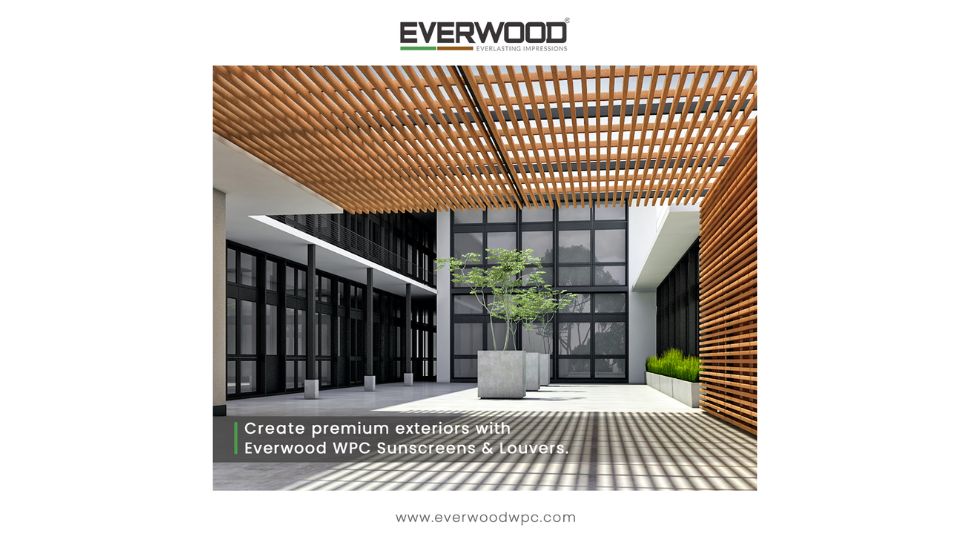 Chennai (Tamil Nadu) [India], September 1: With the concept of outdoor living catching up fast, people keep looking for ways to transform their exterior spaces into something aesthetic, functional, and appealing. Among the various distinct architectural solutions that help achieve this, WPC external louvers are a popular and versatile choice.
WPC Louvers
WPC louvers, also known as Wood–Plastic Composite louvers, are innovative architectural elements designed for use in outdoor spaces. They are made from a combination of wood fibres and plastic materials, creating a durable, versatile, and aesthetically pleasing solution for various exterior applications.
Advantages of WPC Louvers
Low maintenance: WPC louvers offer an excellent alternative to wood, mild steel, and aluminium louvers because of their resistance to moisture, UV radiation, and temperature fluctuations and as they do not require any staining, sealing, or painting to retain their good looks over a long time.
Durability and Structural Strength: The inherent characteristics of the material bestow WPC louvers with extraordinary durability and tenacity towards adverse weather conditions like no other material. The unique raw material combination of wood fibres and plastic offers enhanced stability and structural strength to WPC louvers, ensuring unparalleled performance over the years.
Sustainability: Nearly 90% of the raw materials in WPC louvers, recycled wood flour and HDPE thermoplastics are from secondary sources that would either be dumped in landfills or burnt. This minimizes the demand for virgin wood and minimizes waste. WPC louvers can be recycled during their lifetime, reducing their carbon footprint.
Versatility in Applications: WPC louvers can be used to construct pergolas, gazebos, or outdoor rooms that offer shade and privacy, and a cozy atmosphere for relaxing, dining, and entertaining. They can be installed in rooftop gardens, lounges, and recreational areas to enhance both aesthetics and comfort.
Installation and Care
WPC louvers are relatively easy to install, and they can be adapted to various mounting systems and architectural designs. Installation involves careful planning, precise execution, and a keen eye for design. Cleaning the louvers periodically to remove dirt and debris and performing repairs, if any, promptly can prevent minor issues from escalating.
Design Innovations
WPC louvers lend themselves to various design ideas and concepts to match your personal preferences and the overall aesthetic of your outdoor space.
WPC louvers create a sleek and modern look when used as a striking backdrop for outdoor seating areas or as decorative panels on exterior facades. With their natural wood texture and finish, they can be combined with stone elements, vintage furniture, and lush greenery to create a rustic feel and experience.
Aesthetically pleasing vertical gardens can be formed by allowing climbing plants to weave through louvers. You can create unique sunshades or decorative partitions by arranging WPC louvers in a grid or diagonal layout to add visual interest and depth to your outdoor area.
Versa WPC Louvers
With WPC louvers the possibilities for creativity and innovation are endless. Versa WPC planks are the perfect solution for creative pursuits. With their natural colours and textures, Versa WPC planks display premium prefinished wood looks. They are available in different widths, thicknesses, and surface finishes to suit different design requirements.
Versa planks come with a 10-year warranty against colour fading & cracking and an assured product lifetime of 25 years. With an unmatched high density, Versa WPC louvers are therefore the hardest and strongest choice for sturdy exterior applications.
Conclusion
WPC louvers are a versatile tool that can elevate outdoor spaces in countless ways. They offer a blend of design, functionality, and sustainability that transforms ordinary areas into extraordinary destinations. With WPC louvers, you can shape outdoor spaces that reflect your vision and enhance the overall quality of life for you and your guests.
If you have any objection to this press release content, kindly contact pr.error.rectification[at]gmail.com to notify us. We will respond and rectify the situation in the next 24 hours.