Vishal Maurya: A Beacon of Change and Harmony Receives Proud Indian Parliament Award 2023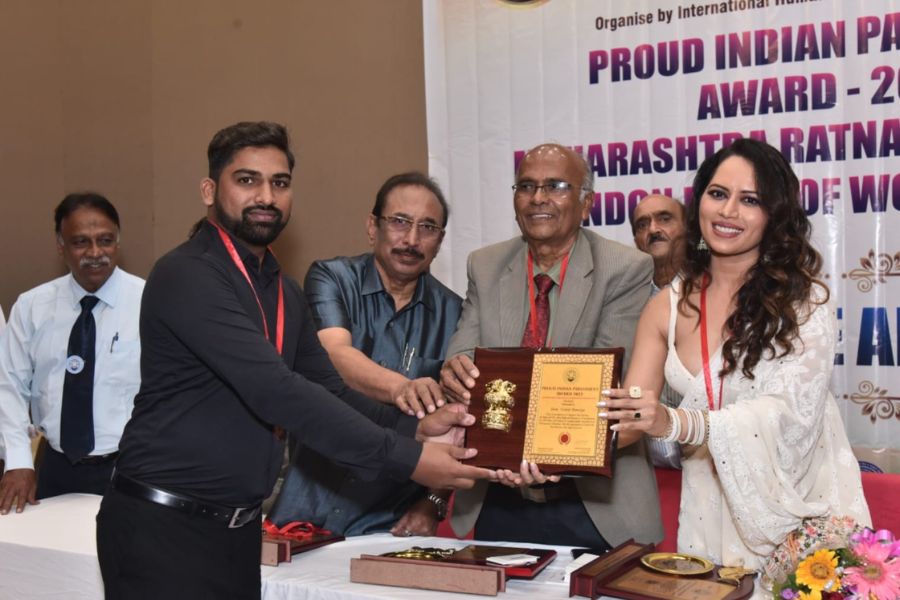 Mr. Maurya's prowess extends to the literary and cinematic spheres as well.
Mumbai (Maharashtra) [India], August 23: In a grand event held at Mayor Hall in Andheri West, Mumbai, the nation witnessed the heartening celebration of Mr. Vishal Maurya's unwavering commitment to societal betterment and national unity. A luminary in the realm of Indian writers and a steadfast social reformer, Mr. Maurya was honored with the distinguished Proud Indian Parliament Award 2023 for his exceptional contributions during times of adversity and his resolute efforts towards fostering harmony within the nation.
This prestigious event was a collaborative endeavor orchestrated by influential institutions, including the International Human Rights Organisation, Book of World Records London, Talk India News 24, and Paliwal Entertainment. The recognition further gained prominence through its endorsement by esteemed bodies like the International European Accreditation Forum, the London Book of World Records, the International Human Rights Ambassador, the All India Anti-Corruption Parliament Committee, the All India Journalist Rights Parliament Forum, and the Book of World Records USA.
The life journey of Mr. Vishal Maurya is a testament to his dedication to crafting a better world. As the founder of multiple influential social activist organizations, including the Tathagat Foundation, Find Missing Children, and Missing Person India, he has been instrumental in advocating against the harrowing issues of missing children and child labor that plague our society. His advocacy for education and his unyielding campaigns against cyberbullying and missing person cases have solidified his reputation as a stalwart in the realm of social reform.
However, his contributions are not confined to the realm of activism alone. Mr. Maurya's dedication to safeguarding the rights of children, particularly those ensnared by substance abuse, has been commendable. He has extended his support beyond legal boundaries, offering emotional solace and guidance. His collaborations with significant organizations such as the National Crime Investigation Bureau (NCIB) and Child Line-1098 have undoubtedly been transformative, providing a glimmer of hope for numerous young lives.
Mr. Maurya's prowess extends to the literary and cinematic spheres as well. With two anthology stories to his credit, his creative endeavors have served as a conduit to address societal concerns. His cinematic ventures, including the impactful "Hamar Ganga", shedding light on child trafficking and "Blooming Ray," amplifying the Right to Education, epitomize his belief in art as a vehicle for change.
The Proud Indian Parliament Award 2023 stands as a testament to Mr. Maurya's exceptional contributions, resonating hope, compassion, and progress in society. The event was graced by the presence of illustrious celebrities, distinguished ministry-level officers, eminent IPS and IAS officers, the Chairman of the London Book of World Records, the International President and Vice President, and representatives from more than 25 esteemed news and media houses.
Mr. Vishal Maurya's tireless endeavors epitomize the potential of a single individual to ignite change and promote unity. The Proud Indian Parliament Award 2023 serves as a marker of his inspiring journey as a writer, social reformer, and advocate for peace, highlighting his indelible impact on society.
If you have any objection to this press release content, kindly contact pr.error.rectification[at]gmail.com to notify us. We will respond and rectify the situation in the next 24 hours.