Raju Dabhade and Tapan Acharya calls on Indian Olympic Association President After Roll Ball Being Recognised and Added In National Sports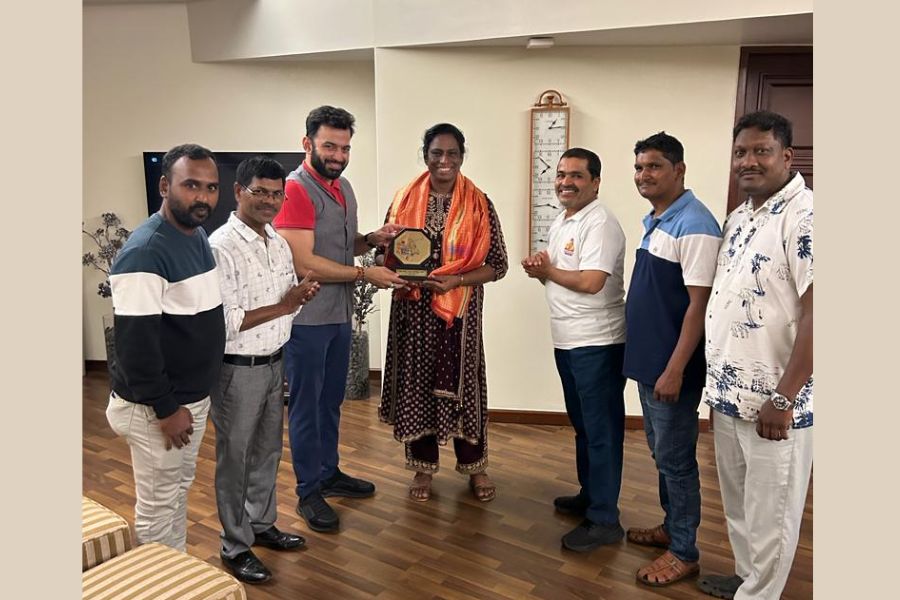 New Delhi (India), July 5: In an exciting development for the Roll Ball community, the inclusion of Roll Ball as an official sport in the highly anticipated National Games 2023 has been announced. This milestone achievement was made possible through the dedicated efforts of Roll Ball Founder Raju Dabhade, along with the unwavering support of federation members. The Roll Ball community recently had the honor of meeting with the esteemed President of the Indian Olympic Association, P.T Usha ji, to express their gratitude for this momentous recognition.
Roll Ball, a fast-paced and dynamic sport that combines elements of roller skating and handball, has captured the hearts of sports enthusiasts across the nation. Despite its popularity, Roll Ball had not been previously included in the prestigious National Games. The inclusion of Roll Ball in the upcoming National Games marks a significant step forward for the sport and its dedicated players and fans.
During the courtesy visit to the Indian Olympic Association, Roll Ball Founder Raju Dabhade, accompanied by Tapan Acharya President and the Secretary of Goa Roll Ball, Anil Gaonkar, expressed their heartfelt appreciation to President P.T Usha ji for recognizing Roll Ball as an official sport in the National Games. The meeting served as an opportunity to extend gratitude for the support and encouragement shown towards the sport's growth and development.
Speaking about this momentous achievement, Tapan Acharya, President of Goa Roll Ball, stated, "We are thrilled and immensely grateful for the inclusion of Roll Ball in the National Games. This recognition not only validates the hard work and dedication of the Roll Ball community but also opens doors to greater opportunities for athletes to showcase their skills on a national stage."
The announcement of Roll Ball's inclusion in the National Games comes on the heels of another exciting development – the unveiling of the Pro Roll Ball League. This league aims to provide a platform for talented Roll Ball players to compete at a professional level, further raising the profile and popularity of the sport.
Roll Ball enthusiasts, sports enthusiasts, and the general public are eagerly looking forward to witnessing the exhilarating matches and displays of skill that Roll Ball has to offer in the upcoming National Games 2023. The inclusion of Roll Ball in this prestigious sporting event not only underscores its growing prominence but also highlights the commitment of India towards promoting diverse and engaging sports.
Please visit: https://www.instagram.com/p/CtouFagKMvx/?igshid=MTc4MmM1YmI2Ng==
If you have any objection to this press release content, kindly contact pr.error.rectification[at]gmail.com to notify us. We will respond and rectify the situation in the next 24 hours.