Kalakriti 2023: A Kaleidoscope of Creativity and Intellect Hosted by JAIN College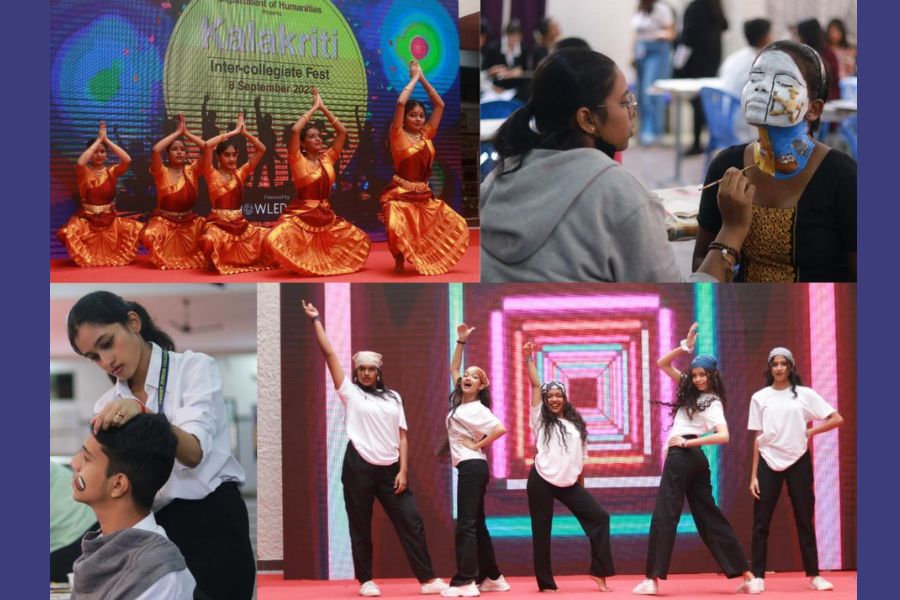 Department of Humanities at JAIN College, V V Puram successfully hosted its much-awaited inter-collegiate fest, "Kalakriti 2023."
A Day of Art, Wisdom, and Freedom in the Heart of Bengaluru. What started as an exciting day full of promise concluded as an unforgettable experience for all involved, reaffirming the power of art, wisdom, and freedom in shaping the leaders of tomorrow.
Bengaluru (Karnataka) [India], September 9: Today marked a significant milestone for the Department of Humanities at JAIN College, V V Puram, as it successfully hosted its much-awaited inter-collegiate fest, "Kalakriti 2023." The fest was not just an event but a vivid celebration of creativity, intellect, and camaraderie. Powered by Knowledgeum, the fest welcomed all Pre-University students and saw participation from over 200 students representing more than 15 prestigious colleges in Bengaluru.
Inauguration Ceremony
The fest was inaugurated by Dr. S N Nataraj, Principal of JAIN College, V V Puram. He was accompanied by Dr. Nalini Satishchandra, Principal of JAIN College, Jayanagar, and Mr. Jagdish Chandra, Head of the Humanities Department at JAIN College, V V Puram. The luminaries lit the ceremonial lamp, marking the beginning of a day-long celebration of art, wisdom, and freedom.
A Platform Beyond Festivities
Kalakriti goes beyond the conventional definition of a college fest. It serves as a unique platform that amalgamates intellectual discourse and artistic performances. Designed to educate, entertain, and engage, Kalakriti aims to foster holistic development among students.
Events that Captivated Minds
The fest featured eight riveting events on a single stage, each designed to challenge and engage the young minds:
Adalat: A simulated courtroom experience where participants took on the roles of lawyers, arguing cases in parliamentary language.
Bijutsu Sekai: An anime artistry event that allowed participants to express their creativity through face art.
Parivartan Pitch: A platform for pitching innovative product ideas aimed at making lives easier and adding value to society.
REELative: A challenge to create 60-second reels that carry powerful environmental or social messages.
Dancemataz: A high-energy dance-off featuring diverse themes and creative interpretations.
Emoji Alaap: A musical event where participants performed songs that matched assigned emojis.
Neta of the Year: An event for crafting a unique political party while assuming the role of a politician.
Mr/Ms Kalakriti: A multi-layered competition that crowned one winner based on intellectual, artistic, and humorous dimensions.
Winning Streak
Christ Junior College emerged victorious as the overall champions of Kalakriti 2023, standing testament to their well-rounded skills and talents.
A Commitment to Holistic Education
In his address, Dr. S N Nataraj, Principal of JAIN College, V V Puram, said, "Kalakriti is the ultimate platform for students to unleash their creativity, showcase their talents, and embrace innovation. It's where students can paint their ideas, debate with conviction, dance with passion, and pitch solutions that make a difference."
About JAIN College
JAIN College is a renowned pre-university college committed to providing an educational environment focused on student learning. It is equipped with qualified faculty and offers a highly valuable pre-university education that is accessible and affordable. The college aims to empower students from all backgrounds and provides numerous opportunities for them to display their talents through various events
If you have any objection to this press release content, kindly contact pr.error.rectification[at]gmail.com to notify us. We will respond and rectify the situation in the next 24 hours.