Universal AI University Chancellor Discusses Future of AI Education and Innovation on NEWSMAKERS Talk Show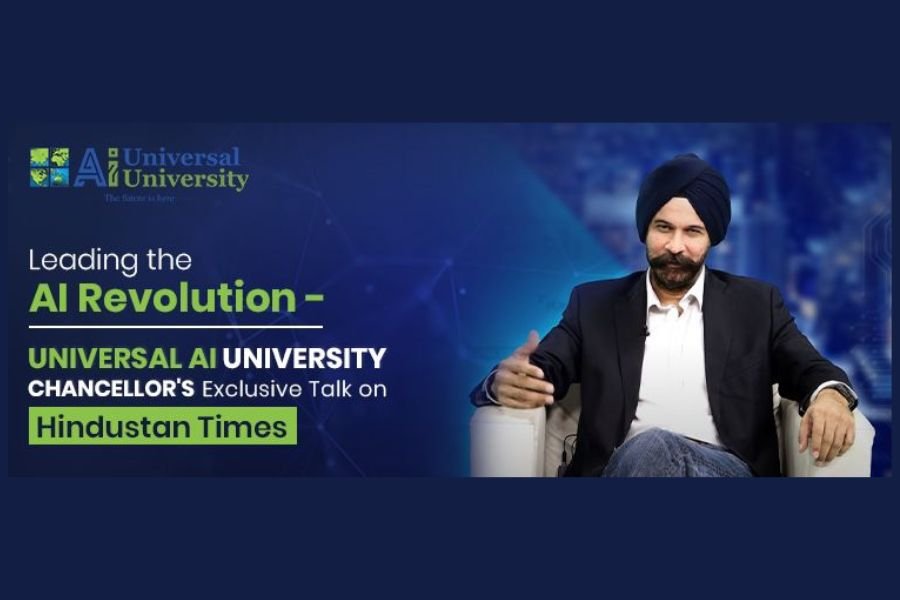 New Delhi (India), September 18: In an enlightening and insightful conversation, Mr. Tarundeep Singh Anand, the visionary Founder and Chancellor of Universal AI University, was invited as a featured guest on the latest episode of the NEWSMAKERS Talk Show by Hindustan Times. The episode, which delved into the future of AI education and innovation, provided a platform for Mr. Anand to share his expertise and vision for the rapidly evolving landscape of artificial intelligence education.
Mr. Tarundeep Singh Anand, a trailblazing figure in the field of education and technology, is the driving force behind Universal AI University. His journey from a dedicated educator to a visionary leader has been marked by a relentless pursuit of excellence in education and a deep commitment to harnessing the power of AI for the greater good.
Under his dynamic leadership, Universal AI University has emerged as a pioneering institution dedicated to equipping students with the knowledge and skills needed to excel in the era of AI and digital transformation. Mr. Anand's passion for education and innovation has played a pivotal role in shaping the university's mission and its commitment to nurturing future leaders with character.
During the episode of NEWSMAKERS, hosted by the Hindustan Times, Mr. Anand engaged in a thoughtful discussion on the future of AI education and innovation. The conversation touched upon several key themes that are reshaping the educational landscape, including the role of AI in education and how AI plays a significant role in shaping different industries, including education.
Mr. Anand believes, "The Age of AI is upon us and no industry is going to be left untouched.". It is the transformative impact of AI that led Mr. Anand to think about starting an educational institution that holistically caters to the ever-evolving AI driven world.
One of the central themes of the discussion revolved around the transformative potential of AI in education. Mr. Anand emphasised that AI is not just a technological tool but a catalyst for reimagining the way we teach and learn and a way to increase the country's GDP by at least 1.5%.
He highlighted how Universal AI University has embraced AI to create personalised learning experiences while also being in the lap of nature – Karjat. The university is not only about experiential learning and AI but also fosters sustainability through various drives arranged within the campus.
When asked about the eligibility criteria for admission, Mr. Anand was straightforward and claimed, "We believe in all rounders'. There are five areas that are considered when a student applies; academics, entrance exam, extracurricular activities, leadership potential, and communication skills. He added that "We are big on sports' and therefore have integrated sports into the curriculum.
He also added that his vision is to have faculty that are not just focused on theory but who know what is required and have faced the challenges head on to create a classroom that imparts not just education but experience.
He further added that the faculty needs to create the magic in the classroom where students are engaging instead of staying passive, and that is something he looks for.
As the conversation unfolded, it became clear that Universal AI University, under the visionary leadership of Mr. Tarundeep Singh Anand, is at the forefront of shaping the future of AI education and innovation. The institution's dedication to excellence, innovation, and ethical values sets it apart as a beacon of transformative education in the 21st century.
The episode on the NEWSMAKERS Talk Show provided a unique opportunity for a wider audience to gain valuable insights into Mr. Anand's vision and the profound impact of Universal AI University on the educational landscape.
About Universal AI University: Universal AI University is a pioneering institution dedicated to providing cutting-edge education in the fields of Artificial Intelligence, Machine Learning, Data Science, and more. Founded by Mr. Tarundeep Singh Anand, the university is committed to equipping students with the skills and knowledge needed to excel in the ever-evolving world of technology and innovation. Visit the official website or call the toll free number: 70260 23000
About NEWSMAKERS Talk Show: NEWSMAKERS Talk Show, hosted by Hindustan Times, features conversations with thought leaders, visionaries, and innovators who are making a significant impact on society and the world. It provides a platform for insightful discussions on a wide range of topics, including technology, education, business, and beyond.
If you have any objection to this press release content, kindly contact pr.error.rectification[at]gmail.com to notify us. We will respond and rectify the situation in the next 24 hours